Lima is quickly becoming known worldwide for its innovative food culture and the popular Miraflores district is front and center in this culinary explosion. The best restaurants in Miraflores rank among the top in the world, making it the perfect place for food lovers to base themselves for a few days and sink their teeth into Lima's scene.
Luckily, the food available in this amazing district runs the gamut from dirt-cheap to luxuriously upscale, so there is something out there for all types of budgets. You can find almost any of the varied and rich Peruvian cuisines in Miraflores, from typical jungle delicacies to exquisite highland dishes. Check out our list below of The Best Restaurants in Miraflores to find out some of our favorites for each type of eater.
Looking to travel to Peru?
Now is the perfect time to start planning your trip to Peru! And it seems like for many, the perfect start to their trip is one of the Day Trips from Lima operated by Peru Hop!
1. Maido
Recently ranked among the top 10 best restaurants in the world, Maido is Lima's premier destination for Nikkei cuisine, a delightful mixture of traditional Japanese dishes and techniques with native Peruvian ingredients. If you've never had this style of food before, it truly occupies its own category–something different, something unique and, for many, something completely new.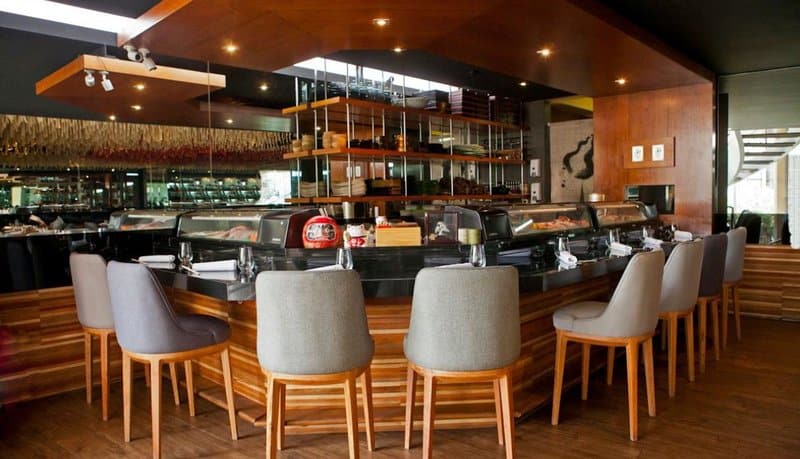 2. Central
Another one of the top 10 best restaurants in the world, this world-class spot takes Peruvian cuisine to a whole other level. Dishes at Central are sorted by elevation–that should tell you everything you need to know about this place. Central is perfect for true food nerds who would love a lesson on local agriculture to go with their meals. With totally unique dishes that are beautifully plated and sublimely crafted, it's easy to see why this is considered one of the best restaurants in the world.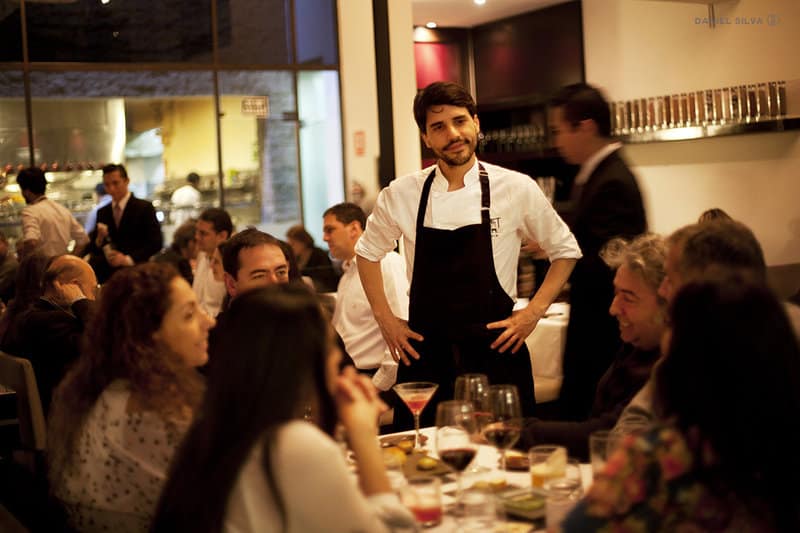 3. Saha
Saha is a new restaurant that offers a fresh and contemporary take on Peruvian flavors. With an array of world-class chefs working together to bring you some unbelievably good cuisine, Saha is the perfect spot for those who want to experience true Peruvian food in a fresh environment. There is a wide selection of innovative cuisine that gives you a window to the true flavors of the traditional dishes. You can also expect to accompany your dishes with classic cocktails with original twists, or freshly made juice and refresco (another traditional Peruvian sample).
4. El Señorio de Sulco
Traditional Peruvian cuisine is on the menu here, and with style! Come here to try upscale versions of popular classics like cau cau, ají de gallina or carapulcra. El Seńorio also offers its Buffet Peruano every Sunday afternoon if you're keen to try a whole smorgasbord of various Peruvian offerings.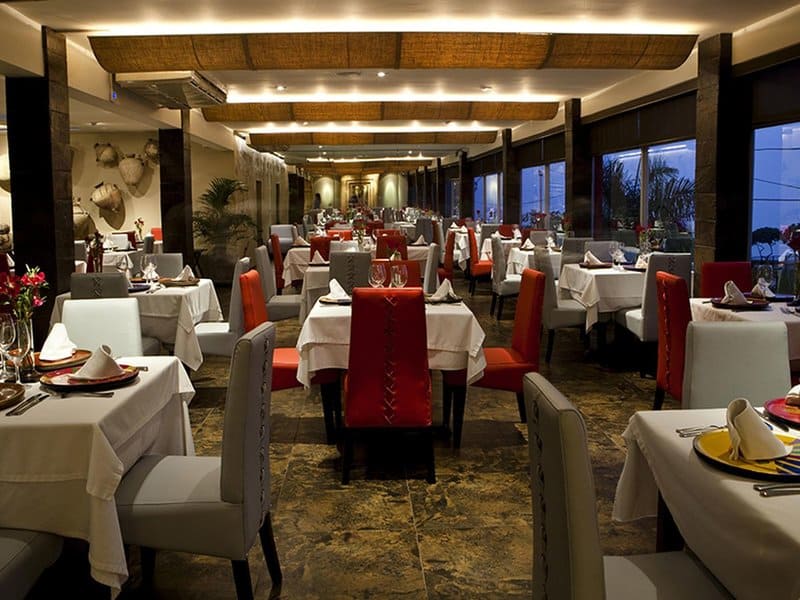 5. Las Brujas de Cachiche
Named for the legendary witches of the southern town of Cachiche, this restaurant serves a bewitching blend of regional dishes from all across Peru. Their impressive bar selection also promises to supply the perfect potion for making your spirits take flight. Las Brujas de Cachiche is an ideal place to pass a night in Miraflores and experience some of the magic of Peruvian cuisine.
6. Huaca Pucllana
This one is worth mentioning just for being the site of one of the most impressive pre-Inca ruins in Lima, surreally nestled among the modern high-rises of Miraflores. The fact that you can also dine on top-notch Peruvian criolla cuisine at the foot of the pyramid should make Huaca Pucllana a can't-miss dining destination if you've got the time and the budget. Favorites here include ají de gallina, cau cau and chupe de camarones.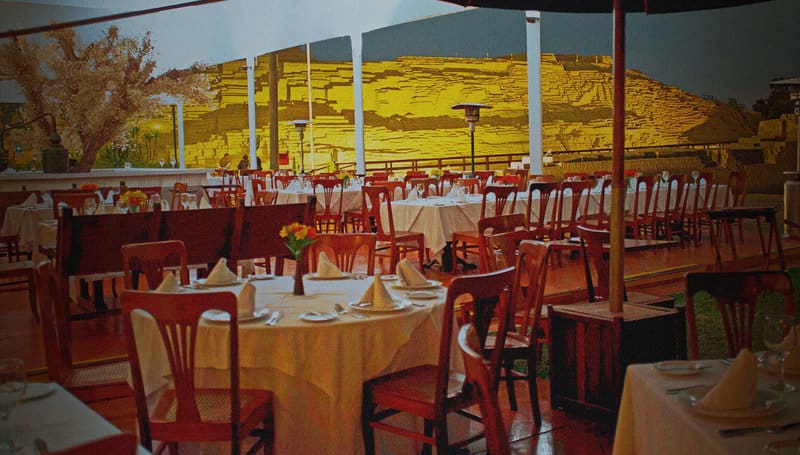 7. Ámaz
Just about everyone who visits Peru will end up trying famous dishes like lomo saltado and pollo a la brasa at some point. More adventurous types may even try some cuy (guinea pig) in Cusco or Huaráz. Very few people, however, have a chance to taste the food from Peru's mostly unexplored jungle frontier. Ámaz and its parent restaurant Malabar in San Isidro, are seeking to change that by bringing the amazing riches of the most biologically diverse region on Earth to a big city audience. Using ingredients like snail and paiche (a massive Amazonian river fish) with native Amazonian fruits and vegetables sourced directly from the jungle, Ámaz serves some of the most creative meals this side of Iquitos.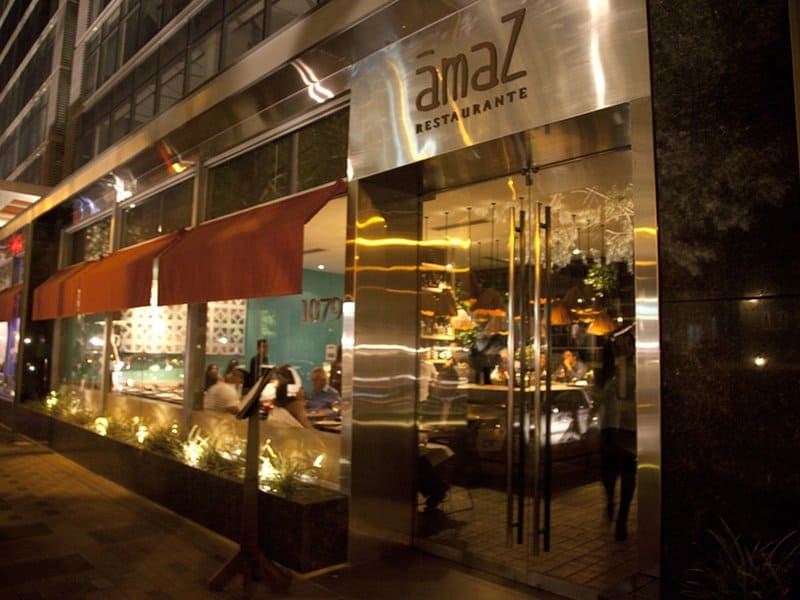 8. Cosme
This casual gem is able to pull off a rare compromise between cost and style. While not in Miraflores proper, Cosme is situated in the nearby district of San Isidro and is worth traveling to. The pricing is affordable even while the food is innovative, high quality and, dare we say, hip. The menu pays tribute to a true mixed bag of culinary inspirations with Thai, French, American, Italian and, of course, Peruvian influences. Cosme makes a great meeting place for a date, a casual cocktail hour, a business lunch, or anything really.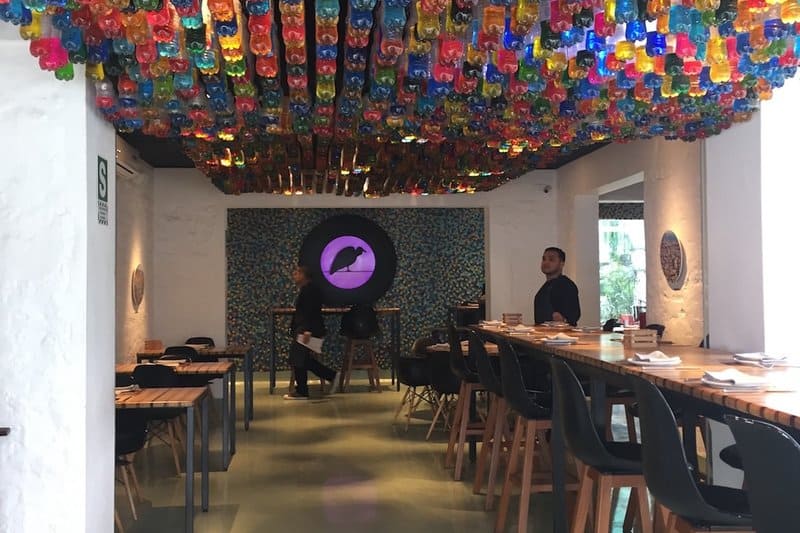 9. Tanta
Tanta is the creation of famous chef Gastón Acurio and is now an international chain, with several stores in Peru and locations in Chicago, Buenos Aires and Santiago. What sets this one apart is its extraordinary view. Situated in the stylish and modern Larcomar mall in Miraflores, Tanta is the perfect place to sip a cocktail and watch the sunset. Dinner here features several different tasty categories, with pasta, sandwiches, salads, a few chifa (Peruvian-Chinese food) dishes all making appearances.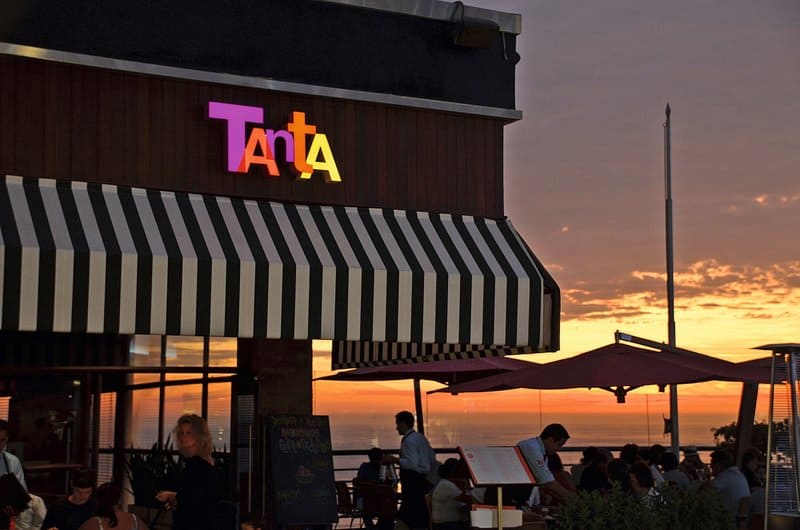 10. Anticuchos de la Tia Grimanesa
Anticuchos, a savory dish of marinated beef hearts whose name comes from the Quechua words anti (Andes) and kuchu (cut, as in a cut of meat), might be the most well-known street snack in all of Peru. Tía Grimanesa, the proprietor of this particular anticuchería, started out in one such street stand, serving anticuchos along with customary sides like boiled potatoes and spicy ají sauce for decades, slowly building up a loyal clientele before finally opening up a full restaurant. If you're going to try anticuchos, you might as well try them from the kitchen of a legend like Señora Grimanesa.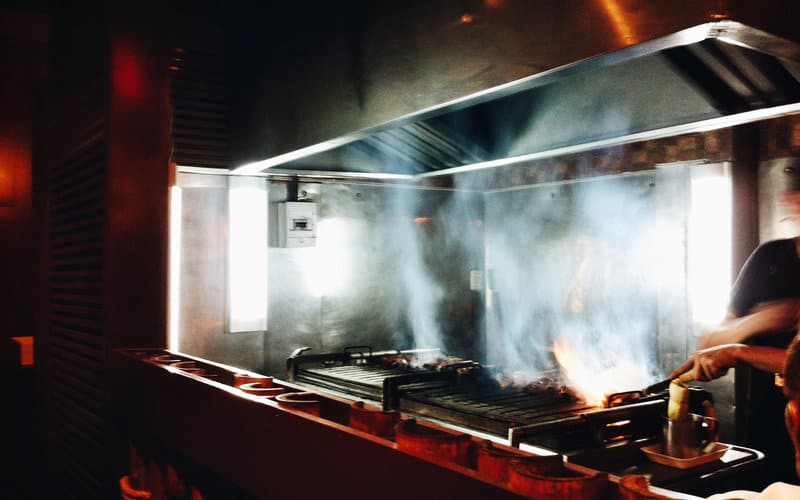 11. Tarboush
Food from the Levant (the geographical term for the eastern Mediterranean region containing places like Lebanon, Syria and Palestine) actually fits surprisingly well with the Peruvian palate. Marinated meat that's been roasted on a vertical spit, served with potato fries and salad over rice or in a wrap–you can see how the culture that gave birth to anticuchos might appreciate such a thing. That's why it's no surprise that Tarboush serves excellent authentic Levantine food like shawarma and falafel right in the heart of Miraflores, and at an extremely affordable price, to boot.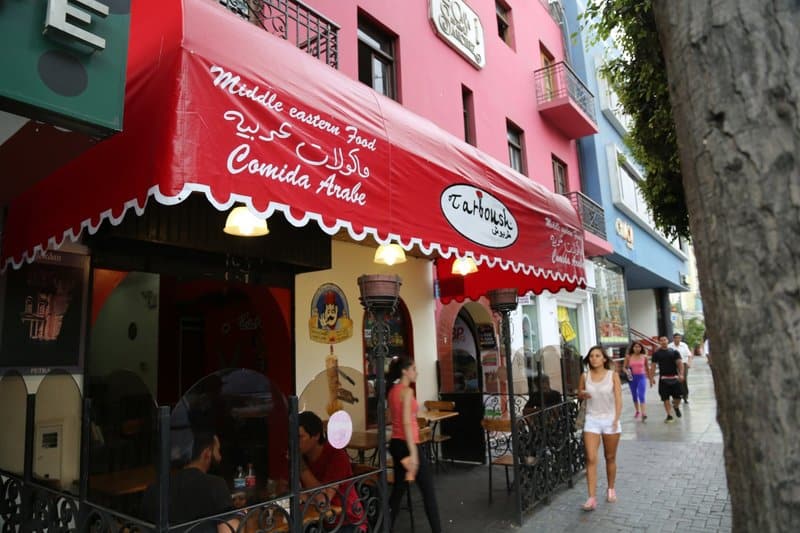 12. La Lucha Sanguchería
With its location right next to Kennedy Park as well as a new location a few blocks away on Av. Jose Larco, La Lucha Sanguchería is very conveniently located and extremely popular. You can get Lima standards like chicharrón or butifarra along with international fare like club sandwiches and hamburgers for a very reasonable price (around $4 USD). They also make great smoothies and coffee if you want to just pull up a chair, sip a drink and do some people-watching.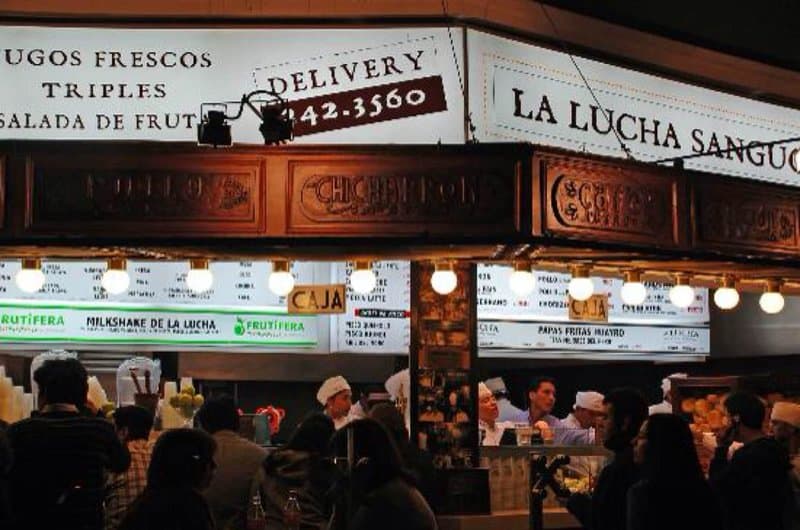 13. Pardo's Chicken
Rotisserie chicken, or pollo a la brasa as it is known here, is nothing short of an institution in Peru. Pardo's is a chain, but don't let that discourage you from trying it. This is simple food done well. The chicken is spot-on and comes with all the traditional sides (french fries, salad and a plethora of dipping sauces). This is a great place to stop if you're looking to fill your belly with some hearty food for an extremely affordable price.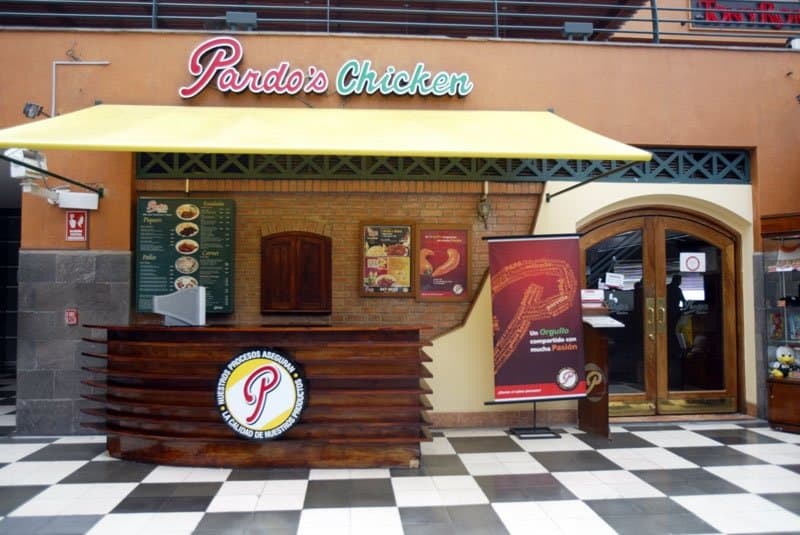 14. Street food at Parque Kennedy
The main park in Miraflores, Parque Kennedy, is chock full of street vendors selling all kinds of delicious and, most-importantly, cheap food. You can find popcorn, churros, mazamorra (purple corn pudding), butifarras (ham sandwiches) and much more right in the park.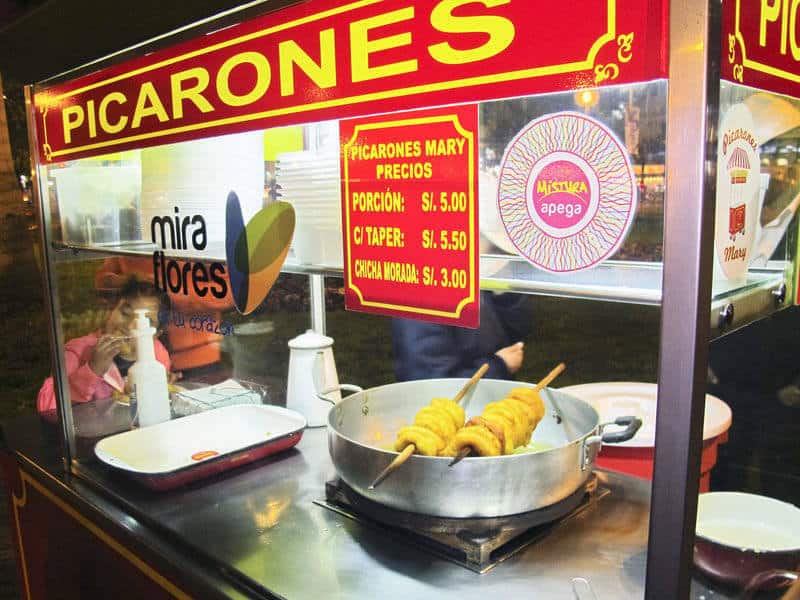 15. "Menu" spots
Luckily for those on a strict budget, Peru has the concept of the set-lunch "menu." This is essentially like a grown-up version of cafeteria food: restaurants will cook up a huge amount of one or two dishes and sell servings of it, usually accompanied by an appetizer of soup or salad and a drink, for cheap to working-class patrons. Many of these places will not even have names, but you can identify them by their signs or whiteboards outside listing the day's offerings and the price. Check out our handy blog on the Peruvian Set-lunch Menu for tips on how to find one.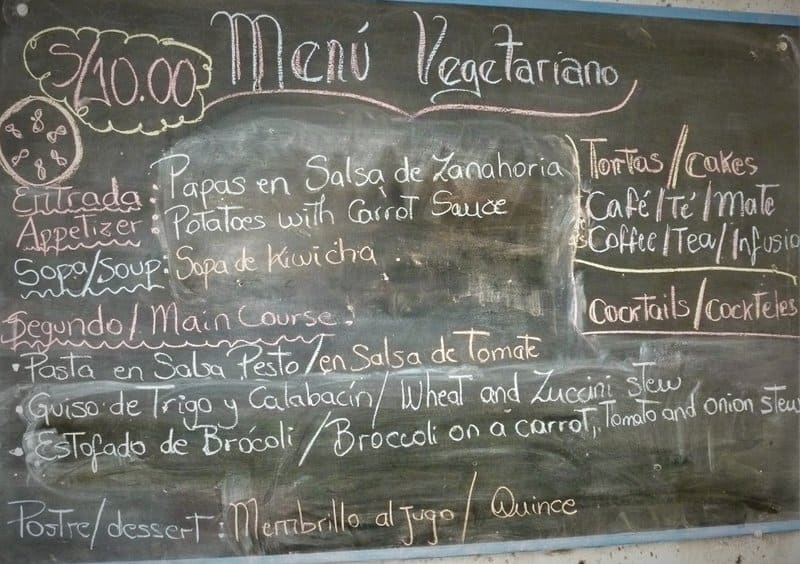 ---
Well, if nothing else, at least you know you won't go hungry during your stay in Miraflores! For some advice on what else to do besides eat while you're here, make sure to check out our blog about What to Do in Miraflores and enjoy your time in this pleasant coastal enclave.