What to Do in Miraflores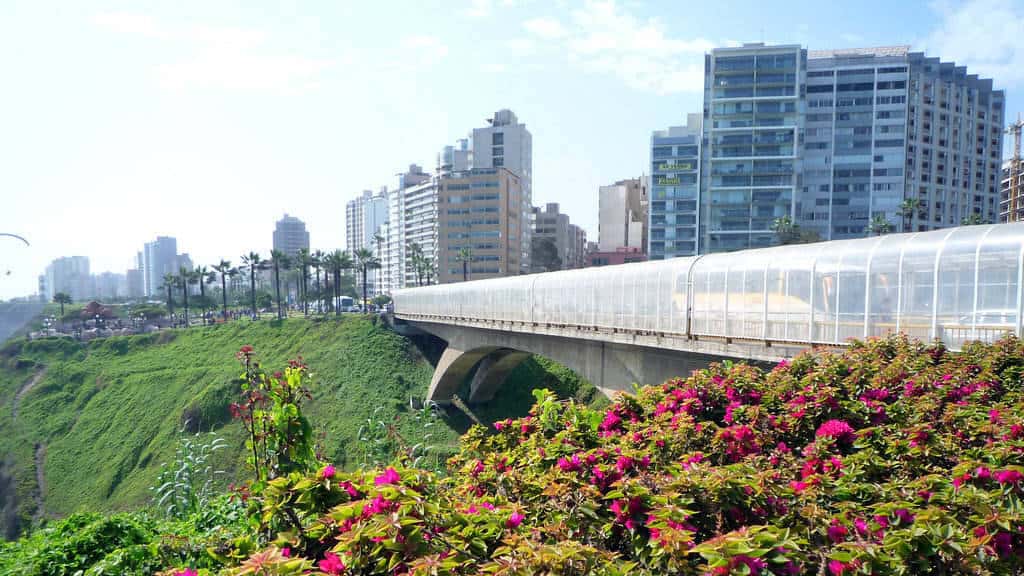 Located about 10km from the central city, Miraflores is generally considered the district of Lima with the most to offer for tourists. This is where you'll find the majority of the hostels and hotels, as well as tour agencies, bars, restaurants and other essentials. If you end up in Miraflores as the vast majority of tourists do, the options may seem a little overwhelming and you're probably wondering what the best, can't-miss activities are. Look no further than this blog. Keep reading to find out everything you need to know about what to do in Miraflores!
About Miraflores
Miraflores has a long history, as it was one of the first areas settled by the Spanish after the founding of colonial Lima. It was the site of an important battle between Chile and Peru during the War of the Pacific, which is how it's earned its nickname of "Heroic City." For most of the 19th century it was known as a beachfront resort town outside of the main city. However, as the city of Lima has continued to expand, Miraflores has been absorbed into the larger Lima metropolitan area and has become one of its most well-known districts. It is now an important center for shopping, entertainment, nightlife and tourism.

So, What to Do?
There is an amazing variety of things to do in Miraflores; there is something here for just about everybody. Here are some of our favorite activities:
Visit Huaca Pucllana
These pre-Inca ruins provide a stark contrast with the modern high-rises and urban traffic that encircle it. That's what makes Huaca Pucllana especially interesting to visit. Where else can you see such ancient structures juxtaposed with all the trappings of modernity? There is also an upscale restaurant at the foot of the pyramid which serves traditional Peruvian cuisine, if you want to conclude your tour with a delicious meal.
Walk the Boardwalk
One of the best ways to take in some breathtaking views of the Pacific Ocean is to go for a stroll on the malecón (boardwalk). Situated along the cliffs overlooking the famous costa verde, the boardwalk goes on for 10km and is popular among both tourists and locals, who use it to go jogging, walk their dogs, or ride bikes.
Relax by the Pool
Have a drink and enjoy the sunshine by the pool at Pool Paradise Lima, the only hostel in all of Lima with a pool. Sometimes all the chaos of a big urban area can be overwhelming, so spend some time chilling at this secret haven in the heart of the city.
Pet the Cats at Kennedy Park in Miraflores
Parque Kennedy is the "Central Park" of Miraflores. Well-known for its delicious food stands and entertaining street performers, it is a popular hangout among tourists, locals, students and anyone else. It is also quite famous for its large population of stray cats, which you will find lounging in the grass or curling up for a nap on a bench throughout the park. Every Sunday in the early evenings, crowds of tourists and locals alike descend on the park for traditional dancing and occasional live music, so make sure not to miss the fun, regardless of whether or not you can dance salsa and cumbia.
Shop for Souvenirs at Artisan Shops
Spanning several blocks of Av. Petit Thouars are a number of excellent artisanal markets and shops. Here you can find traditional crafts, artwork and clothing from every region in Peru. This is the perfect place to pick up authentic souvenirs and gifts for cheap prices, since you can shop around at different vendors and compare prices.
Go to the Farmer's Market
The Bioferia in Parque Reducto No. 2 is a farmer's market that is open every Saturday in Miraflores. Here you will find all the best in healthy, organic fresh fruits and vegetables, including an astounding array of exotic species that you can only find here in Peru. The farmer's market is also a great place to shop for local cheeses, coffee and other gourmet products.
Visit a Museum
While the city's most famous museums are mostly located in the central district of Lima, there are several good museums in Miraflores that are worth checking out as well.
Ricardo Palma Museum. A museum dedicated to the life and works of Ricardo Palma, one of Peru's most famous writers. It is located in Palma's former house in Miraflores.
Amano Pre-Columbian Textile Museum. This museum houses the private textile collection of Mr. Yoshitaro Amano. Here you can find a we
alth of interesting textiles from the pre-Columbian period that have been unearthed in archaeological digs throughout Peru.
The Place of Memory, Tolerance and Social Inclusion. This museum documents the violence that was committed by both the communist Shining Path rebels and the Peruvian national security forces during the 1980s and 1990s, which lead to the deaths of an estimated 70,000 people. This was an extremely tragic time in Peru's history and this museum is an important memorial and record of it.
Treat Yourself to Some World-Class Dining
Peruvian food is quickly becoming known as one of the most interesting and delicious world cuisines, combining European, African, Japanese, Chinese and Native influences into one incredible fusion. Two restaurants in Miraflores, Central and Maido, were recently included in the top 10 restaurants in the world. For those on a stricter budget, there are also plenty of more economic options available as well as delicious street snacks sold around Parque Kennedy.
---
ENTERTAINMENT TIP: If looking for fun at night, or to watch sports during the day, or even a taste of home, visit the Wild Rover Hostels Chain for great food, sports and beer! Entrance to their bars is free even for non-guests
---
Go Paragliding
The coastal cliffs overlooking the ocean in Miraflores are said to host perfect conditions for paragliding. Not only will you experience an adrenaline rush–you'll also have the best view in town. There are several companies offering affordable training programs for beginners at agencies in Miraflores, or you can compares prices and book on findlocaltrips.com.
Go Surfing
Miraflores is known as a great place for beginning surfers. The beaches of Makaha and Waikiki are both friendly to surfers and are considered good beginners. For first timers, there also happen to be plenty of surf schools based in Miraflores that'll have you hanging ten in no time.
…
The options above should be more than enough to keep you entertained during your stay in Miraflores. If you've found something else that you enjoyed and we haven't included it here, please let us know in the comments!