Chowing Down on Ceviche in Lima's Chorrillos District
A guest post by Laura Elise
Looking for a traditional treat in Lima? Skip Larcomar and Miraflores and instead head to Lima's seaside Chorrillos district, home to some of Lima's oldest operating seafood stands…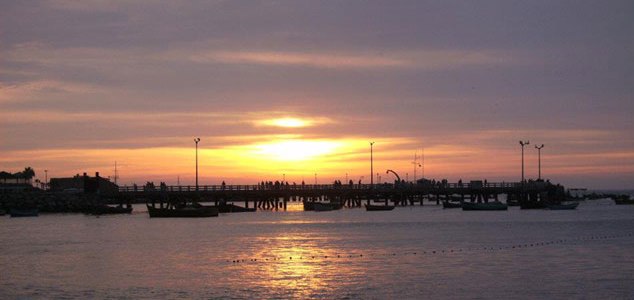 Chorrillos Fish Market and Inza Brisa Marina
Right past Barranco and down on the beach is the Mercado Pescadores de Chorrillos (the Chorrillos Fish Market), which serves up traditional Peruvian ceviche, the national dish consisting of fresh fish marinated in lime juice, seasoned with onions and aji. The dish is commonly served with a side of boiled-on-the-cob choclo (a type of Andean corn), Peruvian toasted corn kernels called cancha, and sweet potato.
When you arrive at the market, pass the chaotic parking lot and say "thanks, but no thanks" to all the vendors asking for your business. Head straight to Inza Brisa Marina, which serves up if not the best then at least the friendliest sea-side meals in Lima.
Inza Brisa Marina is one of the market's several family-owned restaurants. A tiny kitchen, some lamented menus, and a collection of red plastic patio furniture completes this inviting but unpretentious stall that serves startlingly large and delicious portions of ceviche, arroz con mariscos, and escabeche de pescado.
Quick Tip:
The best way to sample some of the most iconic dishes of Peru is to visit
The Peruvian Experience.
This is where you can learn about the history, culture, and the food of the gastronomic capital of South America.
The original owner and operator was Mercedes Inza who started serving regulars back during the market's unofficial founding in the 1960s. Back then, the market was simply a cluster of beachside kiosks where families sold fish from baskets to hungry beachgoers. Under umbrellas adorned with sponsor logos — primarily the distinctive neon yellow and blue of Inca Kola, the leading soft drink in Peru — the market grew in size and popularity until local fishermen joined together in the 1980s to create an official administration and legal market to sell their wares. It was around this time that Mercedes' daughters took over daily operations.
Today, Mercedes' two daughters, Doris and Rocio, as well as son-in-law Jose, continue to sell food fresh from the sea. They work on the left side of the market among the other food stalls; the right side is reserved for vendors who pile still-flopping fish and crawling crustaceans coated with sea salt along lengthy tables to tempt buyers. A rocky pier extends out into the ocean where children chase prehistoric-looking pelicans and fishermen offer boat rides to travelers (for a small charge).
A meal in humble Chorrillos is a stunning contrast to a night out in one of Lima's chic cevicherias, which are growing in popularity as Peruvian cuisine enjoys a global boom. Both options provide a realistic taste of modern Peru, but if you're looking to mingle with the middle-class locals and escape the tourists — or just want to enjoy delicious seafood on the seaside for a good price — a trip to the Chorrillos market is highly recommended.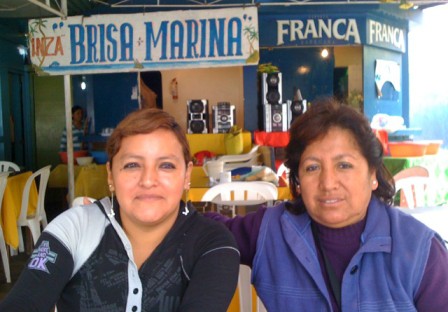 ---
ENTERTAINMENT TIP: If looking for fun at night, or to watch sports during the day, or even a taste of home, visit the Wild Rover Hostels Chain for great food, sports and beer! Entrance to their bars is free even for non-guests
---
All photos © Laura Elise