Santa Rosa de Lima: Peru's Most Iconic Female Saint
Venerated in life and death, Santa Rosa de Lima, with the original name of Isabel Flores de Oliva, was born on April 20th 1586 in Lima Peru. She became the first Saint in all the Americas after spending her whole life helping others and dedicating herself to the church. Many miracles have been attributed to Santa Rosa, so much so that she earned the term of the patron of Lima and Peru and 50 years after her death, she was canonized.
The History of Santa Rosa
Santa Rosa was born in a hospital in Lima, the capital city of Peru and quickly earned the nickname of 'Rose' due to the beautiful rose-colored cheeks she had as a child.
Born into a poor family with many brothers, Santa Rosa learnt to sing and write poetry thanks to her mother. Her mother was dedicated to teaching the daughters of the nobility at the time so was well educated. Santa Rosa was good at sewing, and so through this, Rosa helped to support her family.
At that time Lima was very religious because of the arrival of the Spanish. Consequently, many people considered healings and any other kind of medicine a miracle. As Santa Rosa grew up she constantly manifested her will to help other people and focused on her religious calling. This helped to foster a stronger will to help other people.
She also made a vow of virginity, against the will of her parents who wished to marry her. After much insistence her parents gave up on their plans of marriage and allowed Saint Rose to follow her spiritual life. Rose also cut her hair off to resist the eyes of men and tried to enter the Dominican order, but she was unable to as there was no convent in Lima.
Throughout all of this she continued to live with her family and continued helping with housework and caring for people in need. Rosa's virtues extended all her life dedicated to the education of children and taking care of sick people.
Rose managed to build a place where she could take care of the sick people. This hospital became known by everyone in the city of Lima and was very popular. Everyone believed that Rosa was able to remedy their illnesses and their miseries through the power of her faith.
Legend says that it was in this hospital that Santa Rosa managed to heal the sick people just by showing them an image of Jesus. Santa Rosa called it "Little Doctor" and began to pray with the sick patient. After a few days of praying with Santa Rosa, the sick people were reported to have healed from nowhere, and so more and more started believing in Santa Rosa and her miracles. From here on, the devotion to Jesus and the Catholic religion expanded across the continent.
It is also said that Rose helped a man who, like her, was destined to one of the most recognized in Peru and Latin America: San Martín de Porres.
Years passed and Santa Rosa's devotion was only growing stronger. By the year of her death, Santa Rosa was suffering from the rejection of her family and friends. This rejection caused Rose spirituality to mature, allowing her to communicate with plants and animals.
History tells us that Santa Rose reached the peak of her religious arc when she met and married Jesus on August 26th. Unfortunately, Rosa caught tuberculosis at the age of 31, and at that time there was no cure. She fell seriously ill and spent her last few months at the home of a notable accountant of the government.
Rosa died in the early hours of August 24, 1617. She had prophesied her death to Father Leonardo Hansen to fall on this exact day. On the day of her funeral, the devotees who came to pay her respects tore her clothes in the hopes of keeping a memory of her for themselves, and the crowd acclaimed her as a saint. Today her remains are venerated in the Santo Domingo Basilica, with a notable devotion of the Peruvian people (and all of South America).
When Was Santa Rosa Named Saint Rose of Lima?
50 years after her death, Rosa became the first person born in the Americas to be canonized by Pope Clement.
Nowadays, crowds of people gather at the "Well of Desires" the place that was once Rosa's home. The well reminds us of the moment in which Rosa threw the key of her chastity belt down the well, in order to make perpetual penance for all sinners.
Soon after her death, a large number of people began to visit the well, asking for miracles and to show their thanks by throwing letters in this well.
Years pass by and more and more people gather at the well of desire to ask for miracles and send letters to Saint Rose. The well is located inside the Church and the Sanctuary of Saint Rose of Lima. The church reaches its maximum capacity every August 30th, when Peruvian people proudly celebrate Saint Rose of Lima's Day.
Why is The Day of Saint Rose of Lima Celebrated on August 30th?
Saint Rose of Lima was canonized by Pope Clement on August 30th 1671. Since then, every August 30th the people of Lima pay tribute to the patron saint of the city: Santa Rosa de Lima. The Vatican also celebrates this festivity on August 23rd.
Since her beatification, a feast day in her honor was added in 1729 to the Roman Catholic Church but the feast of Saint Rose of Lima is celebrated a week later owing to conflicting events in their calendar.
Even before her canonization Saint Rose was known throughout South America, where her memories still remain with her followers. Nowadays, she's the patron saint of Peruvian National Police, the Army of Argentina and Filipinas.
Her portrait can be seen on the 200 soles note, which is the most valuable in all Peru. Unfortunately, this bill is barely used by Peruvian people due to its rarity, so much so that the lack of use of this bill that some might consider it false, and many establishments won't accept it.
The day of Santa Rosa de Lima is celebrated every August 30th as a national holiday. Lots of religious processions take place around the city of Lima, before finishing where Saint Rose's remains are currently kept.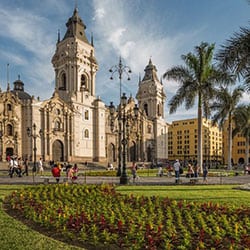 50 Things to Do in Lima
Discover 50 things to do in Lima, Peru, including museums, culinary destinations, submarines, cliff-jumping monks and more…
Sign up now and receive info about
all Peru destinations for 2021 travel!