Peru Travel Itinerary – Our Top 3 Picks for 2023
So, you're planning a trip to the mystical country of Peru? For those who want to discover the best of this wonderful country, we've put together the 3 best travel routes, with different itineraries so you can find the perfect trip. Short on time? Don't panic, here we've told you what you must see and what can be missed.
ITINERARY 1: THE SOUTHERN PERU TRAIL
This is our favorite route and also tends to be for other travelers when they visit Peru for the first time. The best option is to travel by bus to see some of the main highlights of Peru, enjoy the scenery along the way and get to places where flights just won't get you.
The easiest and safest way to do this trail is by taking the Peru Hop bus. They are the first and only hop-on, hop-off bus system in Peru, in which you can stay however long you want in any of the destinations, letting you enjoy travel at your own pace. Having already helped more than 150,000 travelers discover Peru since 2013 and with a 96% rating on Tripadvisor, it shouldn't be a surprise as to why they're the recommended option.
How To Peru Tip: Travel with
Peru Hop
to see some of the country's incredible hidden gems only known by locals.
We will be following their itinerary for the south trail as their bus goes to both the bigger and smaller landmarks along the Southern Peru trail, while also including free tours into some hidden gems in the destinations. The Peru Hop guys say you can do this route in a minimum of 6 days, but if you're not in a hurry then you can take your time and hop on and off the bus as you please. We did the whole trail in 12 and can say everything was perfect.
As you will be traveling in a country of varying altitudes, which can range from Lima (sea level) to Arequipa (2,328m) to Cusco (3,400m) to Puno (3,810m), make sure you take preventative measures to combat altitude sickness. It's best to take your time and not rush your travel plans if you can help it.
Itinerary Southern Peru Trail (12 days) with Peru Hop
Day 1: Lima/Paracas
Get picked up from your hotel/hostel early morning and make your way towards Paracas. Paracas is a small, beach town home to the Ballestas Islands (the Peruvian Galapagos) and the Paracas National Reserve
Visit smaller spots on your way to Paracas and enjoy a chilled afternoon in this seaside town, and spend your time eating good ceviche and relaxing in the sun.
Day 2: Paracas/Huacachina (afternoon bus) 
See the Ballestas Islands and the National Reserve in the morning and go sandboarding in the afternoon.
Day 3: Huacachina to Nazca (to Arequipa overnight).
Visit a Pisco Vineyard and sample Peru's famous alcoholic beverage. See the Nazca Lines from the Nazca Lines Viewing Tower.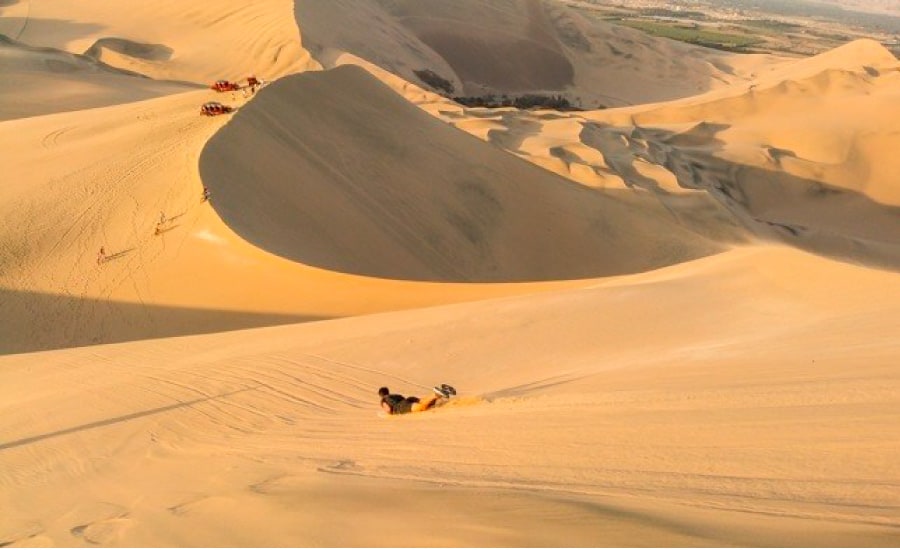 Don't miss the legendary Nazca lines!
Tower option: See the Nazca lines from the viewing tower on your way to Nazca. The Peru Hop bus stops at the viewing tower en route to Nazca, you can climb up with them for free.
Flight option: Take a morning flight over the lines (starts from $80 + S/50 airport tax)
Note: Nazca itself doesn't have a lot to do or see apart from a couple of good museums: Museo Maria Reiche and Museo Didactico Antonini.
Day 4: Arequipa.
Arrive in the "White City" of Arequipa and take it slow. At 2,328m, you might be feeling the effects of the altitude. Explore the city by foot, and watch people in the main square. Try delicious local dishes, such as rocoto relleno (stuffed peppers – believe us, it tastes better than it sounds!) and queso helado (an ice cream-like dessert). For more information on the beautiful colonial city check out the Official Arequipa webpage
Day 5-6: Colca Canyon.
Join a trek (2/3 days) or tour (1/2 days) of Colca Canyon. Get a glimpse of the majestic Condor in an otherworldy landscape.
Colca Canyon Tour or Trek?
If you are generally fit and like hiking, take a trek. The 2-day trek is a more intense version of the 3-day trek, so if you want to take it slow, opt for a 3-day trek. If you prefer to see Colca from the comfort of a bus and hop on and off for photo stops, take a tour.
Note: If you are planning to do a trek, it could be a good idea to spend an extra day in Arequipa to acclimatise your body to the altitude.The altitude in Chivay (a town you'll pass through on your Colca tour/trek) is 3,630m.
Day 7-9: Arequipa to Puno (early morning bus)
Leave Arequipa early and visit The Floating Islands in Lake Titicaca at Puno and spend the night on one of the islands with a local family. Alternatively, you could also visit the floating islands in one day or even a 2-hour excursion but then you will miss out on Amantani Island.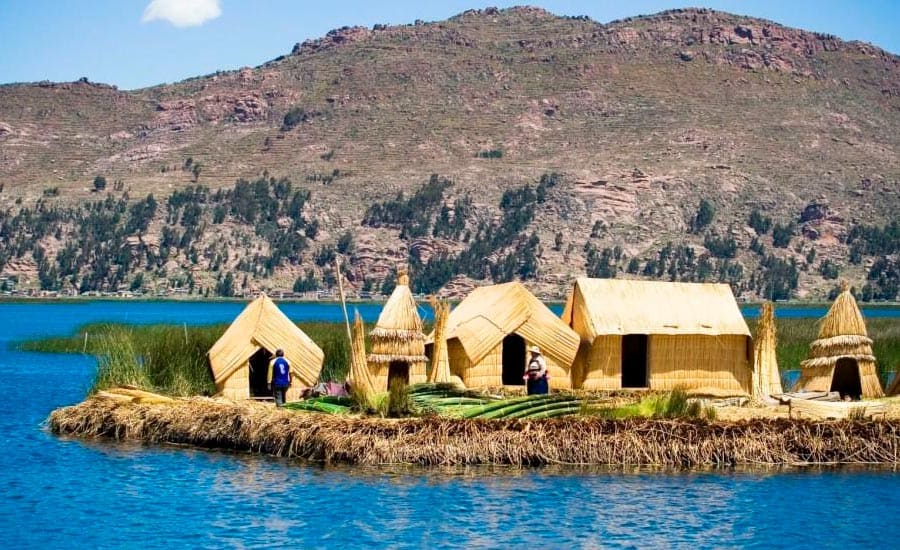 Day 10: Cusco (arrive in overnight bus)
Discover the hilly city by foot, wander its cobbled streets and narrow walkways, and relax in the main square. Don't rush too much as the altitude is still pretty high (3,400m). Check out the city's lively nightlife.
Did you know…
Peru Hop
has been voted the #1 bus company in Peru on TripAdvisor.
Day 11-12: Machu Picchu (Classic 2 day train)
Don't miss! Peru's national treasure, Machu Picchu. Machu Picchu can be done in one day, but in order to get the best experience and see the spectacular sunrise over the citadel, it's best to take at least 2 days, spending one night in the town of Aguas Calientes, and departing early the next morning to visit Machu Picchu. Other (longer) options include the Inca Trail, Salkantay, or Inca Jungle. Most treks are 4 days including your visit to Machu Picchu. Explore your possibilities before deciding which one suits you best.
Day 13: Cusco to Lima (Plane or Bus)
Get back to Lima by bus or plane and end your trip.
---
ENTERTAINMENT TIP: If looking for fun at night, or to watch sports during the day, or even a taste of home, visit the Wild Rover Hostels for great food, sports and beer! Entrance to their bars is free even for non-guests
---
Want to see more of Cusco?
It's easy to see why Cusco is often travellers' favourite destination in Peru: an Inca city with great heritage, cobbled streets and narrow passages where you can discover something new at every turn… Take yourself back in time, and forget about the passing days. The countryside is lusher and more varied than Lima's desert-like landscape, and if you head out of the city itself, you'll realise days upon days can be spent exploring the region and its fertile plains.
Tips Cusco area:
One top choice is the Sacred Valley in the Andean highlands (can be visited on a day trip from Cusco). Here you'll find colonial villages, such as Pisac (which has a fantastic Sunday market), Ollantaytambo (a quaint Inca village and fortress), and Maras (known for its hillside salt pools, where this mineral is naturally produced).
Another day trip from Cusco that is becoming very popular is Rainbow Mountain (or Vinicunca), an incredible, colourful striped rock formation (it can also be done as a longer hike to its peak, typically in 6 days). A one day trek includes 15km of walking, 5 to 6 hours up and 4 to 5 hours down. The level is challenging, with elevations between 4,326m and 5,020m.
After a Bolivian adventure?
You can extend your trip all the way to La Paz or Uyuni and cross the border between Puno and Copacabana. La Paz sits sky high; in fact, it's the highest administrative capital city in the world, at 3,650m.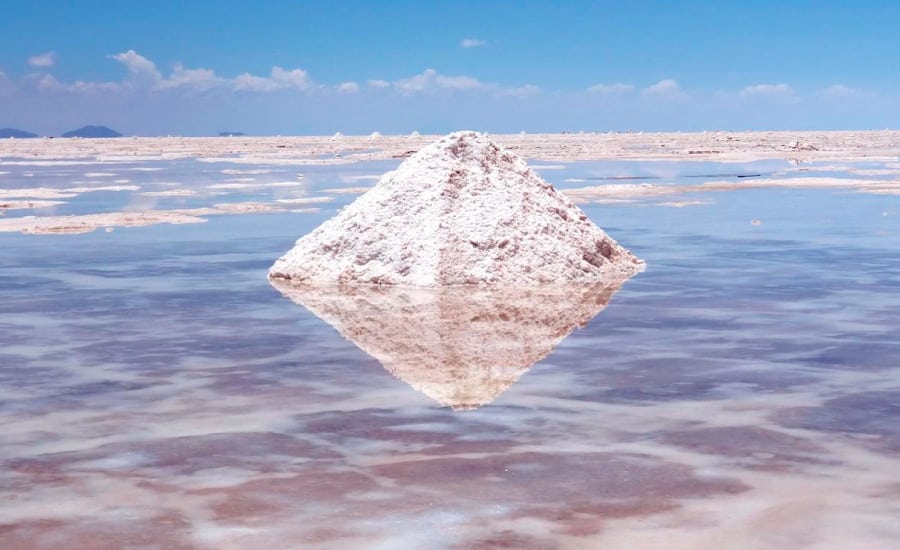 Visit the charming fishing town of copacabana and take the boat to Isla Del Sol. This sunny island has no cars, and is filled to the rim with Incan treasures. A perfect escape between two nations.
Take an overnight bus from La Paz to Uyuni (not with Peru Hop), and see the breath-taking, incredible Salt Flats. Depending on your schedule, you can choose how many days you'd like to go on a 4×4 tour, exploring this strange and beautiful landscape. The most popular options are the 1 and 3 day tours. Tip: Try to go in the rainy season (December to March) to get the most amazing, "mirror-effect" photos!
Bike down "Death Road". Situated 56km northeast of La Paz, head here if you're brave enough to take on the "world's most dangerous road", a steep and snaky descent, through mountain peaks, low clouds, and dramatic waterfalls.
Bolivia's varied landscapes and sweepingly high altitudes make it ideal for hiking and exploring. Some great treks you can do close to the city include: El Choro (3 days; 50km), the famous Huayna Potosi (2-3 days; very difficult!), and for something less hardcore, the Muela del Diablo and Moon Valley area, just a short taxi ride away from La Paz.
Short on time?
Follow their minimum itinerary and you can get from Lima to Cusco in just 6 days, leaving you enough time for Machu Picchu. If you're even more pushed for time, Peru Hop has shorter passes between Lima and Cusco. "Get to Cusco Quick" and "Get To Lima Quick"can be done in as little as 3 days, just seeing Paracas, Huacachina, Nazca, and Cusco.
ITINERARY 2: INTO THE WILD (JUNGLE)
Want to get even more off the beaten track? Head north to Iquitos, the gateway to the Amazon. Get ready for the ultimate Amazonian adventure, one filled with exotic animals, indigenous tribes, and pure tropical rainforest.
In the rainforest, don't expect luxury accommodation – set yourself low expectations! Insects, strange jungle noises, cold showers, and little/no electricity (although there may be a power generator which runs for a few hours a day, allowing you to charge your electricals). This basic style of living is completely normal for the locals… It may change the way you think!
Bring long sleeved lightweight tops and trousers, plenty of mosquito repellent, and take anti-malaria tablets. Use the mosquito netting and tuck it in around your bed when you sleep!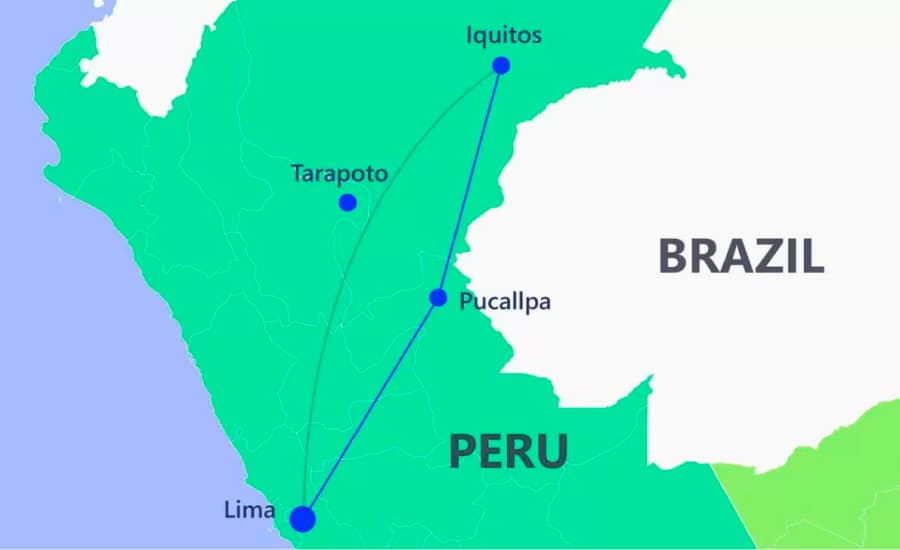 Day 1: Lima to Pucallpa (plane from Lima to Pucallpa)
You can take the plane from Lima to Pucallpa, which lasts approx. 1 hour. Alternatively you can take a bus from Lima to Pucallpa (20 hours).
Day 1-5: Pucallpa to Iquitos (by slow boat)
Meet fellow travellers, share stories. Look out for river life, such as pink and grey dolphins. Enjoy the slow passage of time. See the riverside towns which the boat will stop at along the way. See further down for more information on the boat.
Day 4-5: Iquitos (arrive by boat)
The capital of the Peruvian Amazon is the gateway to the jungle, tribal people, and rainforest lodges. Iquitos is a port city and the largest city in the world non-reachable by land! There is plenty to see in and around Iquitos…
Tips Iquitos:
Belen floating village (houses on stilts) and market (find anything and everything!).
San Juan handicraft market in the San Juan district of Iquitos.
The Manatee Orphanage.
Try the rainforest gastronomy.
Iquitos and Belen can get dangerous. Ask your accommodation for safety advice.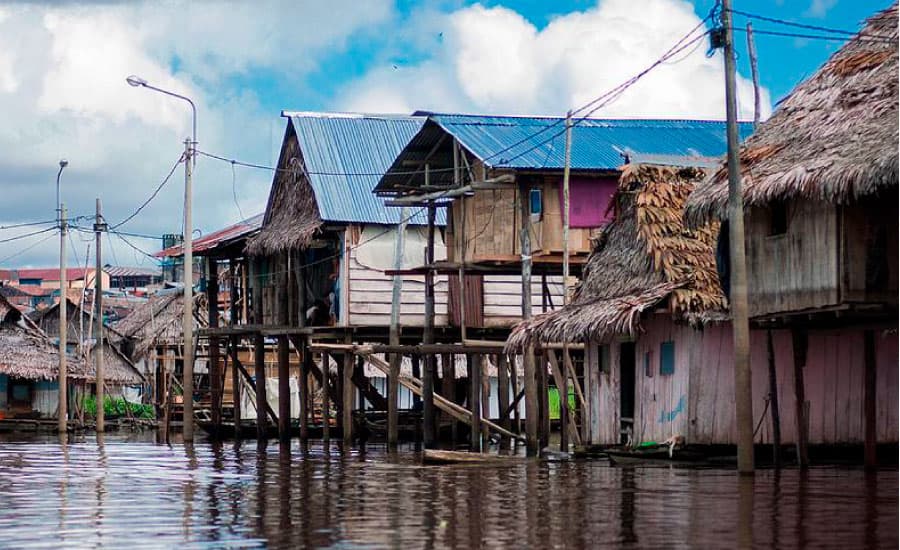 Day 6: Iquitos & Butterfly Farm
Spend some time by the Amazon River, and visit the Pilpintuwasi Butterfly Farm, which has over 20 Amazon butterfly varieties, as well as birds, and animal species, including monkeys, sloths, and jaguars. After, go to the Alligator Farm (Fundo Pedrito), located further down the river.
Day 7: Iquitos & Monkey Island
Take a day excursion to Monkey Island, located on the Amazon River.
Day 8-10: Iquitos & the Pacaya Samiria National Reserve.
Spend at least 3 days (or more) visiting this area of flooded tropical forest on a cruise, a paradise for nature lovers. See local villages, diverse wildlife (including macaws, caimans, and dolphins), and do jungle hikes and night walks. You will stay at one of the jungle lodges.
Day 10: Fly back to Lima
Get back to Lima by plane. It will take you about 1h45min.
About the boat trip:
Take a slow boat (known as a "lancha") to Iquitos. These carry cargo and passengers, and cost approx. 100 soles.
A hammock (this can be found in the market), a mosquito net and repellent, a plastic container and utensils, bottled water, soap, shampoo, plastic bags (for rubbish, and for protecting your item from water) snacks, toilet paper, and flip flops (for the showers).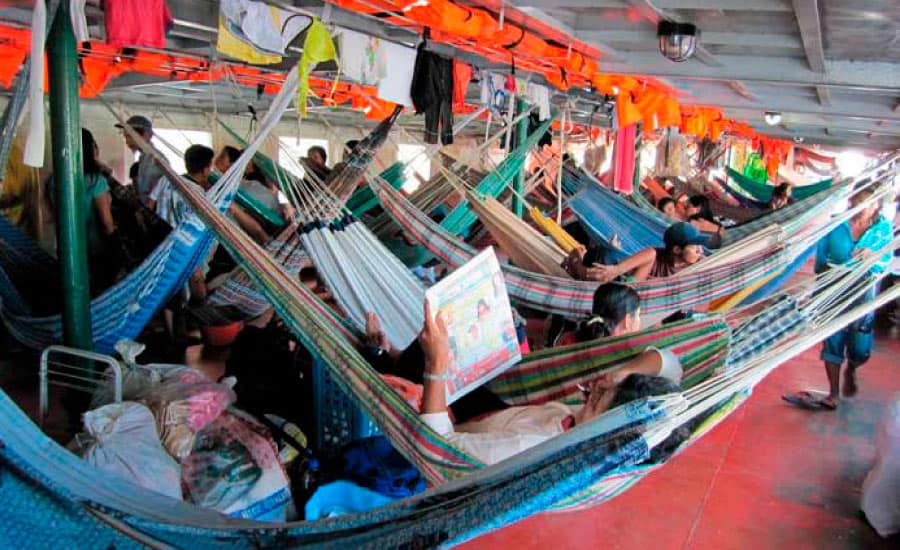 Tips Boat Trips:
"Henry" boats are recommended to take.
Haggle on the price.
You can pay more for a small cabin ($50 USD/150 soles).
Meals are provided throughout the boat journey, but the food isn't the best!
Take a couple of books to read, and cards to play etc.
The trip can take anything from 3 to 5 days, but bear in mind the boat may not leave as scheduled, so factor in extra days for any delays.
This is a unique experience, one you'll remember for the rest of your life!
If you cannot get enough of relaxing on a jungle boat, you can extend your trip and take the boat in Iquitos all the way to manaus Brazil!
The best time to do this is when the river is high, as the boat is less likely to be slowed down. The months from November to July are good, with March, April, and May being ideal.
Cannot get enough Jungle? 
Visit Tarapoto, "the Land of the Waterfalls". A flight from Iquitos will take about 1 hour.
Tips Tarapoto:
Nature Reserve: Alto Shilcayo, located 3km from the centre of T. Here you'll find monkeys and birds, and 5 waterfalls. Here you can do day trips or overnight treks covering more land and ending on the other side of the reserve. A basic hostel is situated in the middle of the reserve.
Cataratas de Ahuashiyacu: 40m waterfall, foun 45min away from T. Can take a 4-hour tour. Or take a combi in the direction of Yurimaguas.
Cataratas de Huacamaillo: Less touristy and involves 2 hours of hiking and crossing rivers.
Visit the village of Lamas, which has an indigenous population. Take a guided tour from Tarapoto (35 soles) or go independently in a combi (30mins journey for 5 soles)
Laguna Azul: Lake. Go for a day or overnight tour (camping and nice bungalows available). Here you can swim, fish, boat across the lake, other water sports, zip-lining, horse riding, or visit waterfalls
Chazuta: village, it has nice pottery and nearby waterfalls and thermal baths
ITINERARY 3: UP THE PACIFIC COAST
Need some beach time? You've come to the perfect place! Although Peru isn't exactly a tropical paradise, it has a long – nearly 2500 km – coastline running along the Pacific Ocean. On this route, we're going to focus on the beaches north of Lima, which are free of the smog which envelops the country's capital for a good half of the year. This is the perfect way to escape the city, whether you're after relaxing beaches, surfing spots, or seaside gastronomy, you'll find it all – and more – on this route!
Of course, if beach after endless beach doesn't sound like paradise to you, we've thrown in some culture and history to mix things up a little.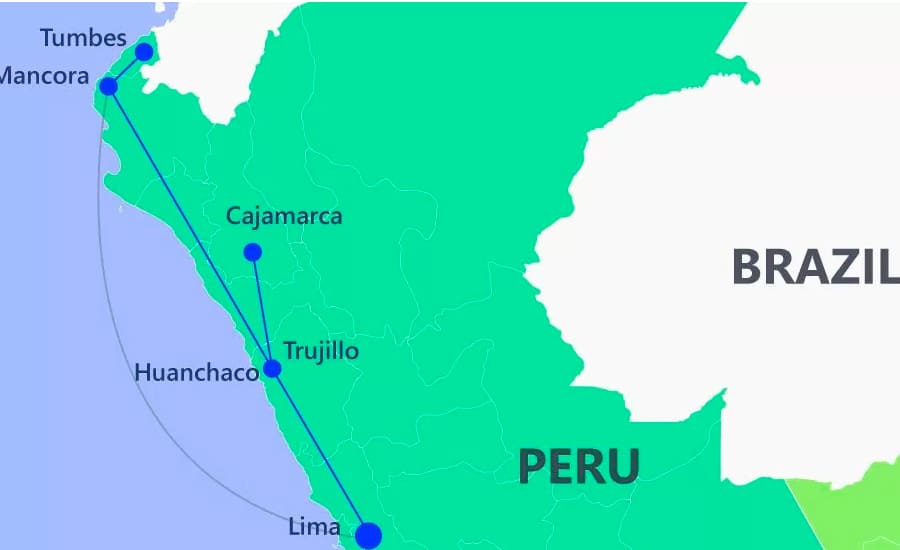 Day 1: Lima (Overnight bus to Trujillo)
Lima's beaches aren't Peru's best, but they provide a quick escape from the city, and you can easily find a surfing school if you go down to the Miraflores Playa Redondo. A short trip along the Costa Verde south will take you to Chorillos, where the crowded Playa Agua Dulce is found. There is also a bustling fish market (Muelle de Pescadores), where you'll see quaint fishing boats, a plethora of outdoor restaurants, and gangs of pelicans searching out their next meal, great for a photo stop.  Alternatively, get a bird's eye view of the coastline and try paragliding in Miraflores.
Tips Lima: 
Explore its popular neighbourhoods, the bohemian Barranco where you'll find romantic colonial mansions and dilapidated but beautiful buildings, and the glamorous, exclusive Miraflores with its malecon, palm-tree filled parks, and chic Larcomar shopping centre. Of course, you can't miss a trip to the historic centre.
Lima has plenty of museums where you can immerse yourself in the country's art and history, with long lost tales of Spanish conquistadores, Inca Emperors, and stolen treasure.
The culinary scene here is world famous: Limeños are proud of their finger-lickingly delicious gastronomy; indeed 3 of the world's top 50 restaurants 2017 are in Lima and Lima's ceviche (Sliced raw fish with lime juice) is godly.
Go paragliding and enjoy the best view in Lima!
Check out our blog on the 50 things to do in Lima for more ideas.
Sleep on an overnight bus to Trujillo (8-10 hours). Or, stay in Lima and experience a night out in Peru's capital city! Take an early bus to Trujillo the following morning. A flight between Lima and Trujillo is 1h10min flight.
Day 2-3: Trujillo.
A small city known for its sunny year-round climate. Spend some time wandering its colonial streets. Try delicious seafood at Mar Picante.
Tips Trujillo: 
Trujillo has a unique architectural style. Roam its streets and enjoy its wonders.
The pre-Colombian citadel of Chan Chan is a giant mud city, spread over 20km-squared – be amazed at its construction. Take a guide so you can appreciate and understand the ancient site. Take a taxi or combi from Trujillo.
Huacas del Sol y de la Luna (The Temples of the Sun and the Moon). Even older than Chan Chan, these pre-Colombian pyramid-like structures are found 10km from Trujillo. Get there in a combi or taxi from Trujillo (15 soles).
Huaca Dragon has some great dragon wall carvings.
Day 3-4: Trujillo to Huanchaco
Desperate to get back to the beach already? The chilled surfer town of Huanchaco is just 20 minutes away. Take a bus from Trujillo, which will take you 12km northwest to Huanchaco. Once a quiet fishing village, now a popular spot to visit, this is a surfing town with a seriously mellow vibe.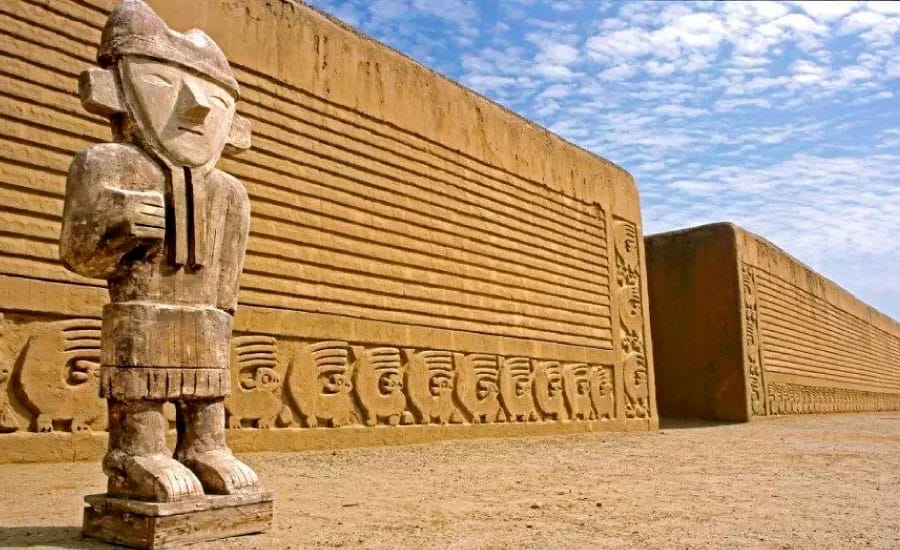 Watch the fishermen navigate on their narrow reed boats.
Go surfing.
Grab some food and a beer and watch the waves. Go back for more surfing.
Day 4-7: Huanchaco to Trujillo to Cajamarca (morning bus)
Rise and shine early, and travel back to Trujillo. From there, catch the morning bus to Cajamarca. (7h30min)
Cajamarca is a peaceful city, and one which holds great historical importance for Peru: Atahualpa, the last Incan Emperor, was kept prisoner here. Visit the Cuarto del Rescate (ransom room) where the Spanish held Atahualpa captive.
Tips Cajamarca:
Go to the Baños del Inca: Natural hot springs located 5km out of the centre. This place also has historical importance; it was said Atahualpa was bathing here when the Spanish invaded.
See Ventanillas de Otuzco: An ancient burial site, with tombs built into the cliff side, looking like little "windows". A short journey from the city centre.
Take your camera to Cerro Santa Apolonia: Climb up the stairs for a panoramic city view.
Relax and take a moments peace in the Plaza de Armas, especially pretty at night.
Sample Cajamarca's cheese and milk – this place is one of the best producers in Peru.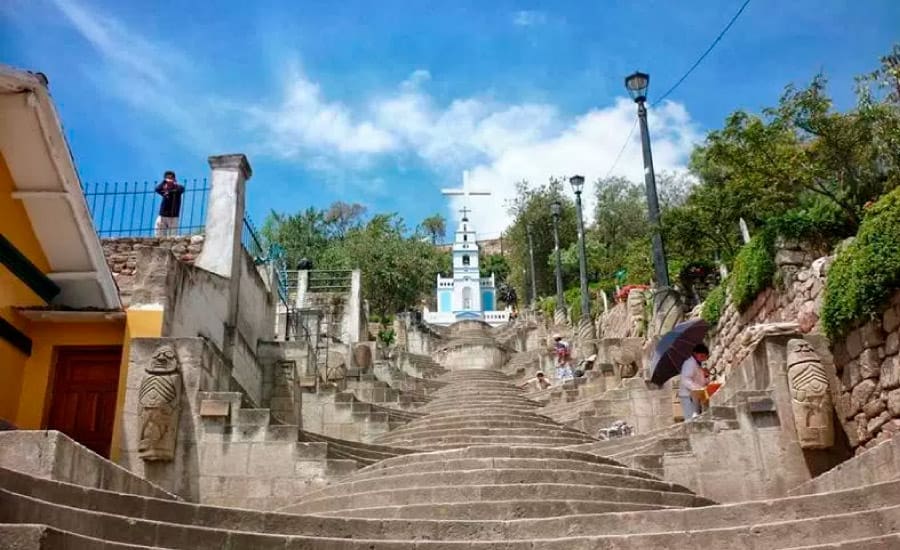 Day 6-7: Cajamarca to Trujillo to Mancora (morning bus).
Take the morning bus from Cajamarca to Trujillo (7h30min). Then take the bus from Trujillo to Mancora (9h45min).
Day 7-9: Mancora.
You've made it to Mancora! Known as the Hawaii of Peru for its year-round warm weather and blue skies, this is a place that has it all: Surfing, beaches, parties, and amazing food. There's a great backpacker scene here, and it is also a key surfing destination. We recommend you spend several days here, in order to explore the area. Go in the Peruvian summertime if you're looking for big parties, in the winter everything will be a little bit quieter.
Tips Mancora:
Visit the nearby waterfalls and mud baths.
La Poza de Barro is a natural spa, the water is said to contain minerals and healing properties! (30 mins/24km east from Mancora in moto-taxi/hike there in 4 hours).
Explore the area by horse or motorbike.
Kite surfing/water sports.
Zip lining.
Party! Surf! Party!
Day 10-11: Mancora/Vichayito/Los Organos/Punta Veleros.
Tips: Vichayito/Los Organos/Punta Veleros
Visit Vichayito, Los Organos, and Punta Veleros. These nearby beaches can easily be accessed by moto-taxi, or on foot.
Try water sports at Vichayito, a place with strong winds and shallow water – diving, snorkelling, kite surfing, and wind surfing.
Go wildlife watching at Los Organos – swimming with turtles, and spotting whales, pelicans and sea lions. Enjoy the white sands, relax at the spa, and stay at Soleil Bungalows.
Punta Veleros is a place for surfing, fishing, and diving.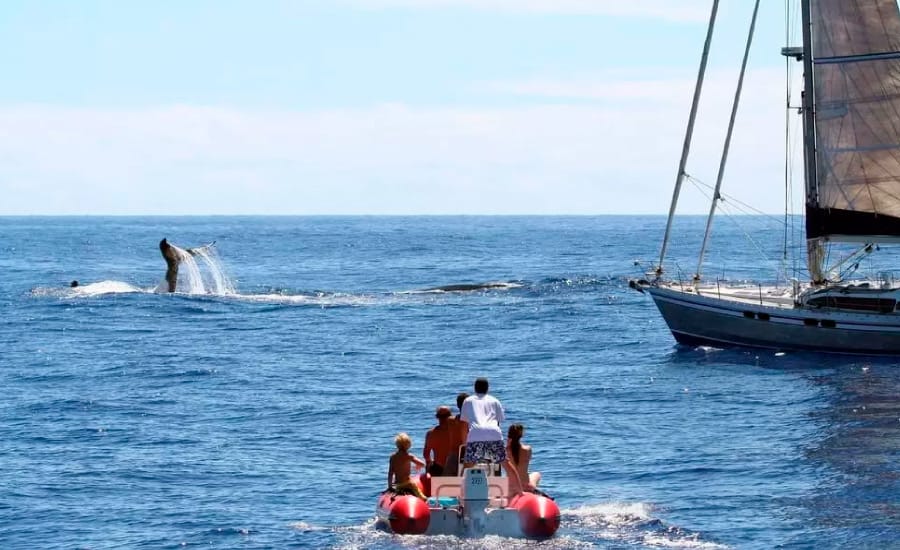 Day 11-12: Mancora/Tumbes – Day trips
Fancy getting away from the beach? You can do day trips from Mancora to visit reserves.
Tips day trips from Mancora:
Visit Tumbes (approx. 2 hours from Mancora).
Take a day trip to the Mangroves in Tumbes (120km north of Mancora): Look out for the American Crocodile, see other wildlife species, go by kayak/canoe, visit the fishing village of Puerto Pizarro.
The Zona Reservada de Tumbes – where dry and tropical forest meet.
The Parque Nacional Cerros de Amotape.
Los Pilares de Quedbrada Fernandez.
Day 13: Get back to Lima by bus or plane.
You can go back to Lima by bus, which will take you 16-20 hours depending on the company and the traffic. Buses from Mancora leave in the evening. Alternatively you could take the plane and get to Lima in less than 2 hours.
After an Ecuadorian adventure?
If you already made it to Mancora, it's but a small step towards Ecuador. Via Tumbes you can cross the border and venture into the country that is home to the one and only Galapagos Islands.
Tips Ecuador:
Just in case you're not done yet with the beach life, visit Hippy town Montañita and spend your days surfing and eating.
The Galapagos … It goes without saying that the islands are reason enough for a visit. Given its price tag you might want to drink a cocktail or two less if you want to fit a visit into your travel budget. Go scuba diving, snorkeling, take boat rides, and get lost in paradise.