Where to Stay in Lima: The Districts
Of the 43 districts in Lima, only a few are regularly recommended as good places for visitors to stay. If you're heading to the capital — especially for the first time — you'll probably want to book a hotel or hostel in one of these areas. Which one you choose will depend partly on the things you want to see and do in Lima, as well as the level of safety you're looking for.
Quick Tip:
The best place to taste a little of each corner of Peru is with the
Peruvian Experience
in Lima! Learn how to make typical Peruvian food and cocktails, dance like a Peruvian and fall in love with the country!
Central Lima (Historic Center)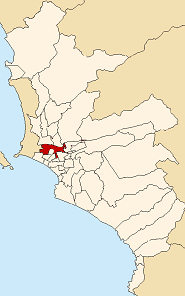 If you stay in Central Lima (known as Centro de Lima or Cercado de Lima), you'll be right at the heart of the city's historic core. This is where you'll find, among other things, the Plaza de Armas (Plaza Mayor), the Government Palace, the Convent of San Francisco and various colonial mansions, all of which form part of the "Historic Center of Lima," a UNESCO World Heritage Site.
If you want history right on your doorstep, this is the place to stay. It's also a reasonable choice for budget travelers,  with some comfortable and affordable accommodation options near the main square (cheaper than many you'll find in Miraflores, but potentially a lot more traffic noise). There are plenty of small restaurants selling cheap lunchtime menús, or you can head over to the nearby Barrio Chino (China Town) for huge Peruvian-Chinese buffets (about S/.20-25 — you won't need to eat again for days).
On the downside, Central Lima is nowhere near as safe as the districts below, especially at night. If you're sensing a degree of edginess after dark, stick to the main square and its immediately surrounding streets. Some of the surrounding districts, such as Rímac, La Victoria and San Juan de Lurigancho, have a reputation for being among the least safe areas of Lima and indeed the entire country.

Miraflores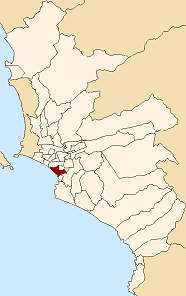 Miraflores is the classic traveler hangout — during high season, it sometimes feels like there are more foreigners than Peruvians lurking around Parque Kennedy. One of the district's main draws is the level of safety. It's an upscale area, so the streets are fairly safe even at night (but you still need to keep one eye on your surroundings).
Miraflores is a great base in general. There are plenty of excellent — if expensive — restaurants dotted around, along with some nice affordable options. There are clubs and bars all over the place, some of which are just-too-trendy while others are just about right. Street-side cafes offer people watching opportunities, the shopping is good (if you like that kind of thing) and all the services you might need are normally a short walk away.
In terms of attractions, you have the coastal cliffs and the beach below, with good parks, tennis courts, walks and paragliding. There are quite a few museums in Miraflores, along with the Huaca Pucllana archaeological site, but Central Lima has much more architectural and historical appeal. That's OK, as it's easy enough to get from Miraflores to Central Lima.
Hotels in Miraflores range from the five-star Marriott to family-run guesthouses. Backpackers and budget travellers have plenty of options, one of the most popular being the brand new Pool Paradise Lima which is the only hostel in Lima with a pool. The hostel's large pool and garden has a barbeque and lounge area which accommodates to all types of travellers. With a variety of rooms ranging from private double ensuite bedrooms to 12 person shared dorms, this hostel has something for everyone whether it be the solo traveller, a group of friends travelling together or a couple looking for a chill getaway in the sunshine by the pool.
Overall, Miraflores is definitely the best option for first-timers in Lima or Peru — once you get to know the city, you can always try somewhere else (Miraflores can lose some of its appeal after repeat visits).
HOW TO PERU QUICK TIP: Make sure to check out these top rated Day Trips From Lima to discover some amazing hidden destinations.
San Isidro

If Miraflores isn't upscale enough for you, try the neighbouring San Isidro district just to the north. This is the territory of the Lima elite and its associated necessities: golf clubs, tennis clubs, cocktail bars etc.
If you think that doesn't sound much like a backpacker hangout, then you'd be right. There are a few hostels in San Isidro, but you won't find many bargains. What you will find, however, is a very safe location that might suit your style (especially if you're one of those flashpacker types).
San Isidro is also a prime destination for culinary travelers, with expensive but highly acclaimed restaurants such as Malabar and Segundo Muelle. There's also the Bosque El Olivar olive grove, home to more than 1,000 olive trees (some of which are centuries old).
Barranco
From the early 1900s to the 1960s, Barranco was the free-swinging bohemian district of Lima, a place inhabited by Peru's artists, poets, photographers and musicians. To a certain extent, that vibe persists in the bars, clubs and traditional peñas of today's Barranco, a coastal district located just to the southeast of Miraflores. The music scene is still vibrant, with plenty of live sets featuring a variety of genres from old-school cumbia to rock and jazz (with a healthy dose of fusion).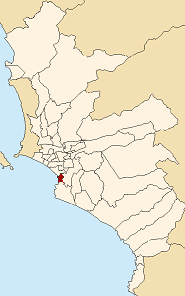 But Barranco isn't just for night owls and party people. It's a great place to stroll during the day, through colorful streets lined with colonial-era houses, some crumbling, some lovingly restored. You can stop off for a coffee or a sneaky daytime pisco sour in one of many street-side cafes, or have a full meal in one of the district's excellent (and not too expensive) restaurants.  There's also the charming Puente de los Suspiros (Bridge of Sighs) and the ever-so-handy Bajada de los Baños, an historic walkway that leads down to the beach below.
Hotels and hostels in Barranco tend to be slightly cheaper than those found in the neighboring Miraflores district. In terms of safety, Barranco isn't as secure as Miraflores, especially at night and away from the central streets. Keep to the main thoroughfares and avoid stumbling around in a drunken stupor to avoid any problems.
Alternative Places to Stay in Lima
If you're looking for beach action in the summer months, you could always kick back in an alternative seaside district further south such as Punta Hermosa, Punta Negra or San Bartolo. If you're obsessed with seafood, you might want to venture as far south as Paracas for a few days, making the most of the region's fish markets and traditional (and affordable) seafood restaurants.
Upon picking your preferred district in Lima you may want to sample the other areas. We suggest taking a city tour or a bike tour to maximise your time in Lima.
---
ENTERTAINMENT TIP: If looking for fun at night, or to watch sports during the day, or even a taste of home, visit the Wild Rover Hostels Chain for great food, sports and beer! Entrance to their bars is free even for non-guests
---
Lima district map © Tuomas Carrasco; Miraflores district map © StarbucksFreak; San Isidro and Barranco district maps © AgainErick (all images from Wikimedia Commons).