Packing for Peru: The Bare Essentials
I am not a big fan of packing checklists. They always seem a bit patronising. Toothbrush, toothpaste, two pairs of shorts, two pairs of hot pink lederhosen… it's not rocket science. Therefore, rather than list every possible item from cotton buds to prayer mats, here are some general bits of advice about what to pack for Peru. For more info about Peru travel preparation, read Things to Do Before Going to Peru.
Quick Tip:
If you would like to book tours in advance and save your money from overcharging travel agencies while you are in Peru, check out
FindLocalTrips.com
. This website is a tour comparison with heaps of info and all the different options for taking that trip of a lifetime.
Peru Packing: The Essentials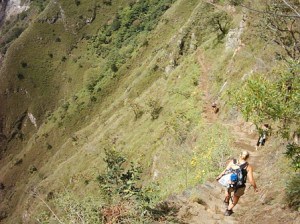 You will probably go to the airport fully dressed rather than completely naked. That's a good start. You don't really need any more clothes – you can always buy them in Peru.
Here are a few more things that you definitely need:
Put these essential items into a backpack. You are now ready to go.
More Clothes for Peru
You should have quite a lot of free space in your backpack, so you might as well chuck in some more clothes. It will save you the hassle of going shopping in Lima when you arrive, a prospect that only 50 percent of travellers (at most) would find appealing.
Will it be hot, cold, wet, dry, calm, windy…? In a word, yes. You are heading to the land of costa, sierra, selva: the coast, the highlands and the jungle. A long distance bus ride can take you through coastal desert fogs, bone chilling altitudes and swathes of sweltering Amazon greenery in less than 18 hours. When it comes to clothing, pack light, but pack with variety.
Shoes are worth some consideration before your trip to Peru. Taking two pairs is a good idea. Take some lightweight shoes for day-to-day strolling and a pair of proper walking shoes for treks, trails and off-road trips. Break them in at home to avoid blisters on the road.
Finally, pack something vaguely smart and presentable. That may go against the dirty backpacker creed, but it makes sense. Firstly, you may end up hitting some trendy nightspots during your travels. A t-shirt will normally be fine, but you never know when you might want to step it up a gear. Secondly, Peruvian officials judge you with their eyes. If you look reasonably smart (and act politely), border officials, policemen, immigrations officers and other "people of power" will be less likely to give you a hard time.


What to Pack for Peru: Gadgets
Pack your iPod (MP3 player) and your camera. That's all you really need. Remember to pack the necessary cables and chargers. You may also need an adapter for recharging directly from Peruvian electrical sockets. For more info, read Electricity and Plugs in Peru.
Those Tricky Optional Extras
There are some items that tend to fall into the "shall I/shan't I" category. These might include:
Sleeping bag – not vital, but a lightweight sleeping bag is a good backup option if you have room in your backpack. If you have booked a multiday trek (such as the Inca Trail), find out what equipment your tour agency provides. You might need to bring your own sleeping bag.
Mosquito net – useful when the mosquitoes are driving you crazy, but not essential. In my three years or so in South America, I think I've used my mosquito net only three or four times. A good repellent is often enough.
Tent – strapping a tent onto your backpack has a nice adventurous feel to it. However, unless you know you will be camping in Peru, you are unlikely to use it. Campsites are rare in Peru.
Miscellaneous Items to Pack for Peru
If you are packing things like sun block, shampoo and mosquito repellent, keep the bottles small. You can buy all of these on the road, so there's no point overdoing it. It's better to travel light and stock up when necessary.
There are pharmacies all over Peru that stock most common medicines. If you have any specific medical needs, you should obviously pack the appropriate medicines before your trip to Peru. You can buy sanitary towels, condoms etc. in supermarkets, pharmacies and smaller stores all over Peru. Some of the condoms are very weak, so exercise caution. You might want to bring some with you.
---
ENTERTAINMENT TIP: If looking for fun at night, or to watch sports during the day, or even a taste of home, visit the Wild Rover Hostels Chain for great food, sports and beer! Entrance to their bars is free even for non-guests
---
Any Peru Packing Questions?
All of the above is slightly flippant because packing for Peru depends upon so many factors. What is the focus of your trip? For how long are you travelling and in which regions? What is your budget? There is no "one size fits all" approach.
We have a lengthy piece on a suggested route through Peru which will, at least, give you some ideas for your trip. Another point to note; Lima Airport is located in Callao, a dangerous area quite far from the main cultural area of Miraflores. Taxis cost around $25usd or else take the Airport Express Lima bus service which runs every 30 minutes with free wifi onboard.
If you have any Peru packing questions or suggestions, be they general or specific, post a comment below and I'll get back to you as soon as possible.