The Pongo de Mainique, Peru's Fearsome Whitewater Gorge
A guest post by John Dzurka.
For the ancient Inca people, Pongo de Mainique (Door of the Bear) was a magical and sacred place. History shows that this region was used by the Incas to market their products and share their culture with the Machiguenga native community living deep in the jungles along the Urubamba River.
Located a 10 hour drive from the city of Cusco, the Pongo is considered one of South America's most dangerous and feared rapids. This three kilometer stretch of navigable river is one of the most challenging sections of the entire Amazonian river system and is only guided by skilled boatmen.
Home to dozens of waterfalls, the area within the Pongo contains more species of life than any other region on Earth. Traveling through, one gains an appreciation for its incomparable beauty, with giant walls of vertical rocks, abundant vegetation and total isolation from the modern world.
Along the five-hour stretch of scenic winding road from Cusco to Quillabamba are stunning views of the Sacred Valley, including the villages of Pisac, Urubamba and Ollantaytambo, and the peaks of Mount Veronica. You then begin the gradual descent into the jungle region, where temperatures increase as you travel to the port of Ivochote, observing plantations of tea, coffee and fruit as you complete the 10-hour journey from Cusco.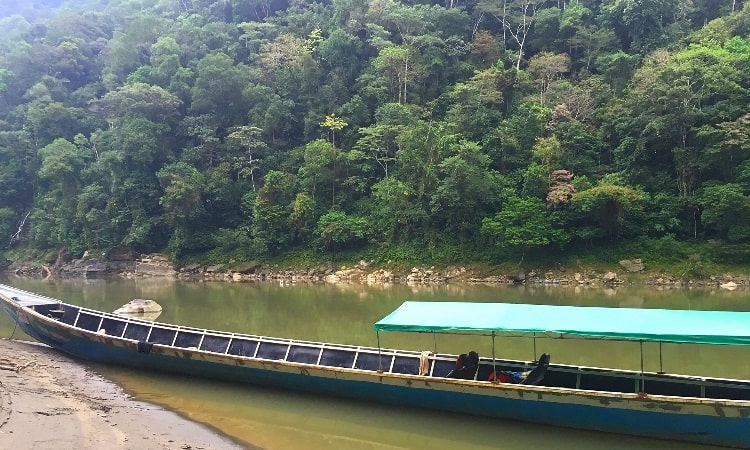 Ivochote is the end of the road and the staging point for the Pongo de Mainique, where boat operators and villagers hustle through the rough dirt streets. Ivochote is a friendly working river community, where a few hostels and small cafes host guests prior to their departure onto the Urubamba River and their entrance into the Pongo.
Gas powered aluminum long-boats of about 18 meters in length — operated by skilled boatmen trained by masters of the Pongo — whisk people into the long canyon, lined by soaring rocky cliffs, filled with gigantic volcanic boulders.

The Pongo de Mainique is truly a photographer's dream location. Culturally, it is a place rich in history and full of the spirituality of past civilizations. The Pongo is also blessed by a huge variety of flora and fauna.
Visiting this natural wonder, guests can pass through the native communities, view clay licks of macaws and parrots, and explore pre-Incan petroglyphs. Hiking along remote waterways adds to this wonderful and unforgettable adventure. Overnight camping is allowed along the Urubamba River, allowing for further exploration downstream prior to the return boat ride to Ivochote.
---
ENTERTAINMENT TIP: If looking for fun at night, or to watch sports during the day, or even a taste of home, visit the Wild Rover Hostels Chain for great food, sports and beer! Entrance to their bars is free even for non-guests
---
If this adventure is not quite enough, you can always combine the return trip to Cusco with a connecting tour to the great archaeological complex of Machu Picchu via the village of Santa Maria.
Quick Tip:
  If travelling to or from Lima Airport, it is strongly recommended to use the luxury
Airport Express Lima
bus to get to or from your hotel. Safer and cheaper than a taxi with no baggage limit as well as Free Wi-Fi and USB chargers onboard, it is ideal for travellers.
Trips and Tours to the Pongo de Mainique
Best time of year to travel:
May to October are the months of little rain, making the river more navigable and less restricted.
Pongo de Mainique weather:
Temperatures January-December: 23c-30c
Rainy season: December-May
Dry season: June-November
Average rainfall: 2600mm/annual
Wildlife:
Wild pigs, deer, a variety of monkeys, parrots, macaws, spectacled bears, jaguar, sabalo (giant catfish).
Getting to Ivochote and Pongo de Mainique:
It is highly recommended to pre-book your travel into the Pongo with prior arrangements for boat transportation and overnight accommodation.
By organized tour: For those that wish an extreme adventure into the Pongo de Mainique, contact Guiding Peru. Guiding Peru has privileged relationships and partnerships with Pongo boat operators and indigenous guides offering return transportation from Cusco. Guiding Peru tours include overnight camping in the Pongo along the riverbanks of the Urubamba.  www.guidingperu.com
By bus: To travel from Quillabamba to Ivochote, buses leave from Quillabamba's northern depot between 8 a.m. and 10 a.m. daily for the eight-hour (at least) journey.
Quick Tip:
If travelling to Cusco from Lima we strongly recommend to follow 
Peru Hop's
route along the coast and up to Cusco from the beautiful city of Arequipa, this will give you some time to acclimatise to the thinner air at altitude and help prevent any issues when visiting the UNESCO heritage site. Cusco the closest city to Machu Picchu and the launch point for almost all visits is located at 11,152 feet (3,399 meters).
All photos © John Dzurka and Guiding Peru.