Iquitos vs. Puerto Maldonado: Where to Book Your Trip to the Amazon Rainforest in Peru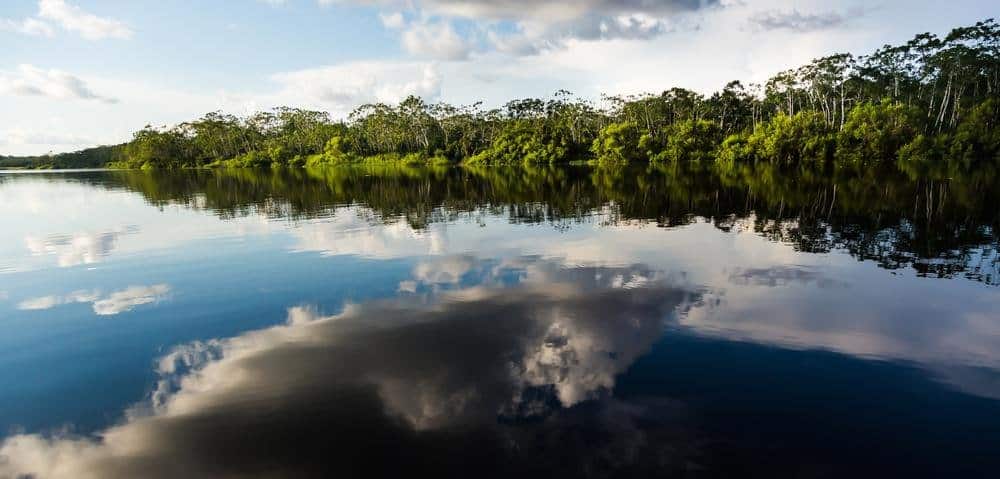 A visit to the Amazon Rainforest is on most people's must-see list for their visit to Peru. It's true that the jungle is more often associated with Peru's giant neighbor Brazil, which is home to over half of the Amazon river basin's total territory. However, many people don't know that Peru's portion of the rainforest is actually considered some of the most pristine forest in the Amazon, with many protected areas hosting high proportions of endangered wildlife. That's why Peru is probably the best country in South America to see the rainforest in all its splendor.
Visitors to the Peruvian Amazon will primarily enter the region through one of three cities: Iquitos, Puerto Maldonado, or Cusco. This is your one-stop guide for where to book your trip to the Amazon Rainforest in Peru. We'll lay out the advantages and disadvantages of each departure point along with some tips on how to book the best tour and save money. Keep reading to find out more.
A Word on Geography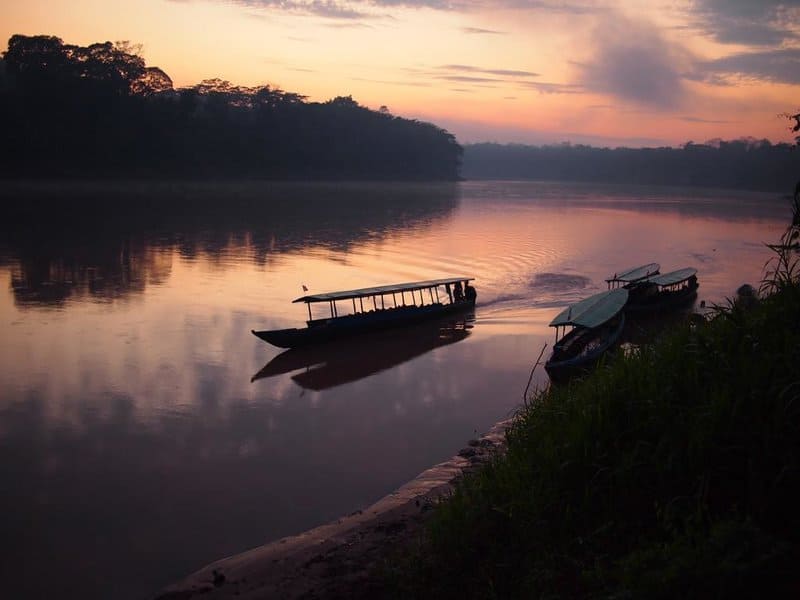 Before we continue, we'd better clear up what exactly we mean when we talk about the Amazon Rainforest. In Peru, whose landscape is famously dominated by the Andes mountains, there are two distinct regions of the jungle: the selva alta, or high jungle, and the selva baja, or low jungle.
The selva alta, which is also known by the amusing name of ceja de selva (jungle's eyebrow), is that portion of the Amazon which is located in the eastern foothills of the Andes mountains. The combination of altitude, heavy rain and thick forest make for a dreamlike environment of waterfalls, cloud forest and unique endemic fauna owing to the isolation created by the region's rough terrain.
The selva baja is Peru's portion of the Amazon basin, encompassing all jungle areas below 1,000 meters above sea level. This is the area that people are generally picturing when they think about the Amazon: high temperatures, frequent rain, and all of the animals generally associated with the rainforest: sloths, caimans, tapirs, anacondas, jaguars and more.
For the purposes of this article, we will only discuss options for seeing the selva baja, since this is generally what people are looking for when they want to see the Amazon. The selva alta is, however, worth seeing on its own, with cities such as Tarapoto and Tingo María offering great entry points–but we'll save that for another blog.
Now let's discuss your options for seeing the low jungle.
From Iquitos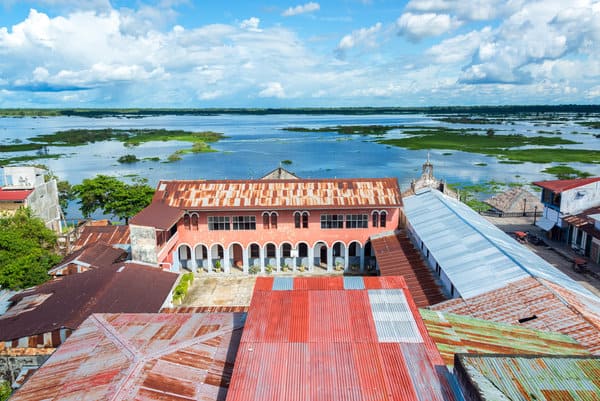 Sitting at the headwaters of the eponymous Amazon river, Iquitos is the biggest and most important city of the Peruvian jungle region. Usually considered the largest city in the world that is completely inaccessible by road, the only way to reach the city is by airplane or riverboat. Despite this isolation from civilization, Iquitos has a relatively large population of around half a million people and is the 6th most populous city in Peru.
It also has an interesting history, having played a large role in the rubber boom of the early 20th century. It was during this time that many immigrants came to Iquitos from all around the world, hoping to make their fortune in the rubber industry. They brought with them their own unique customs, clothing and architecture, evidence of which can be seen all over the city.
Its size and history are two of the main draws of booking your jungle lodge stay out of Iquitos–it's a real city and not just a launching point for travels deeper into the forest. If seeing what city life is like in the middle of the jungle is something that seems interesting to you, Iquitos should be at the top of your list.
Within the vicinity of Iquitos are several protected natural areas with lodges where you can experience the jungle. The most well-known of these, by far, is the Pacaya-Samiria National Reserve located upriver of the city. This massive 8,042-square-mile protected area is home to hundreds of unique species of flora and fauna as well as some 42,000 native people living in villages on the reserve. Highlights for nature lovers include the Amazon pink river dolphin (which cannot be seen further upriver in Peru), the spider monkey, the brown-throated sloth, the South American river turtle, and many, many more.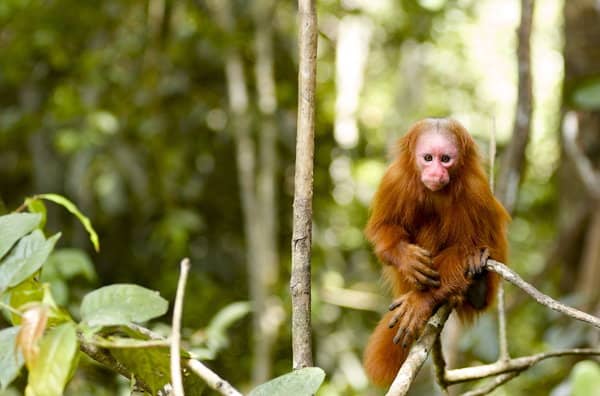 Pacaya-Samiria is definitely the highlight, but there are a few other options close to Iquitos as well. The Allpahuayo-Mishana National Reserve is another great option that is located just 16 miles from Iquitos. Despite its close proximity to the city and its rather small size, Allpahuayo-Mishana maintains an extraordinary level of diversity with over hundreds of plant and animal species present. The highlight of the reserve is its rare white sand forest along with the excellent opportunities for birdwatching found there.
The Tamshiyacu-Tahuayo Conservation Area is another great option in the area. Tamshiyacu-Tahuayo is well-known for its especially diverse population of primates, with the largest number of species of any protected area. The area is also home to hundreds of different amazing and colorful bird species, including toucans, kingfishers and macaw parrots.
It's also possible to visit native communities in the Matsés National Reserve, a large protected area whose stated goal is to provide a place for the Indigenous Matsés people (also known as Mayoruna) to live and maintain their traditional lifestyle. This is one of the best places to see and experience how native peoples live, as well as enjoy the beautiful and well-preserved natural environment.
---
ENTERTAINMENT TIP: If looking for fun at night, or to watch sports during the day, or even a taste of home, visit the Wild Rover Hostels Chain for great food, sports and beer! Entrance to their bars is free even for non-guests
---
Iquitos is a very popular destination for tourists, so you'll have no problem finding a hostel or finding information about things to do in the city. If you'd like to check out some tours before you go, we highly recommend findlocaltrips.com, a comparison website for tours and activities across South America with many options for tours out of Iquitos.
Pros:
Frequent flights directly from Lima, including regular cheap deals and promotions.
A multitude of nearby national reserves and protected areas.
Pink river dolphins can be spotted here, unlike further upriver.
You'll see the eponymous Amazon River close to its birthplace, at the confluence of the Marańón and Ucayali rivers.
Well-developed tourist infrastructure, with loads of hostels, tour agencies, bars and restaurants.
The city itself is an interesting place to visit, with many historic buildings and a cultural attractions.
Cons:
Not directly accessible from Cusco or other Peruvian cities other than Lima.
Not accessible by road, meaning cheap bus travel is out of the question.
Large population means you need to go further away to get a true jungle experience.
From Puerto Maldonado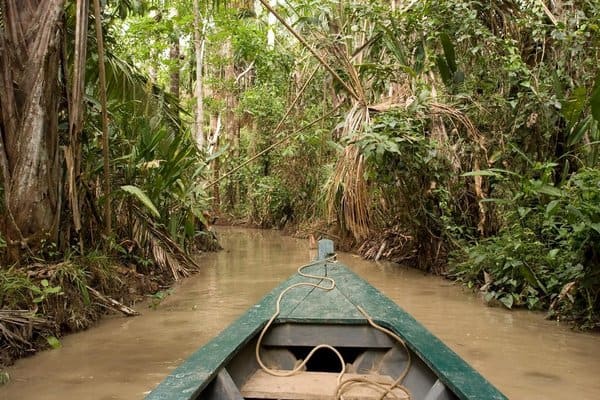 Due to its relatively isolated location on the Amazon tributaries of Madre de Dios and Tambopata, Puerto Maldonado does not have the long history of industry and immigration that Iquitos has. This means that despite some ongoing threats from loggers and illegal miners, the region around Puerto Maldonado is some of the most pristine and unspoiled primary rainforest in the world. However, that also means that the city itself is rather boring–most people just use it as a departure point for trips to lodges in the jungle without bothering to pass any time in the city.
The most accessible protected area from Puerto Maldonado is the Tambopata National Reserve, located just south of the city. Highlights of the reserve include: Lake Sandoval, a majestic oxbow lake known for its population of endangered giant river otters, and Collpa Colorado, the largest known parrot clay lick in the world, where visitors can see dozens of colorful macaws and other parrots. Tambopata is also home to large numbers of species which are now considered rare in other regions of the Amazon, especially tapirs and spider monkeys. The reserve has many lodges for varying budgets and it's easy to book a stay right from Puerto Maldonado.
The other main option out of Puerto Maldonado is the Manú National Park. This option is only for those with a little more time and money at their disposal, as the park is significantly more remote than the other options we've mentioned. Manú is the largest protected natural area in Peru and is home to hundreds of species of flora and fauna, including many rare and endangered species. The park is also home to several groups of Indigenous peoples, including a few so-called "uncontacted" tribes living in voluntary isolation. A visit to Manú is a truly wild experience, best suited for those who want to spend longer periods of time and get very deep into the jungle.
Pros:
Regular flights from both Cusco and Lima, meaning that you'll be able to easily fit a jungle trip into itineraries that include Machu Picchu, Lake Titicaca and other attractions of southeastern Peru.
Accessible by bus and car (albeit on a long, dizzying road that descends to the jungle from over 14,000 feet above sea level).
Easy to see incredible amounts of wildlife and forest only a short distance from the city.
Multiple national reserves and parks are accessible nearby.
Cons:
The city is not located on the actual Amazon River.
There's not much to do in the city itself.
There are no pink river dolphins in this part of the rainforest.
Other Options
There are of course some other options available to those who want to see the Peruvian Amazon. The second largest city of Peru's selva is called Pucallpa. It is located around 750km northeast of Lima and is accessible from the capital both by bus and plane. Although Pucallpa does have a few attractions, it is not recommended for first-time visitors to the Amazon. Due to its easy access from Lima by road, this area of the jungle has suffered extensive deforestation due to agriculture and logging, meaning you're unlikely to see much real jungle wildlife anywhere near the city.
Another option we haven't discussed is the possibility of booking a tour right from the city of Cusco. This could be a tempting option since many travelers will be spending a significant amount of time there already, using it as a base to see Machu Picchu, Rainbow Mountain and the Sacred Valley along with many other nearby sights. In general, the options from Cusco will be similar to what you will find in Puerto Maldonado, with visits to Tambopata and Manú both offered. The main difference between the two places is that Cusco is located high in the Peruvian sierra, so getting to the jungle from there involves either a flight to Puerto Maldonado or a significant amount of travel time over land and river.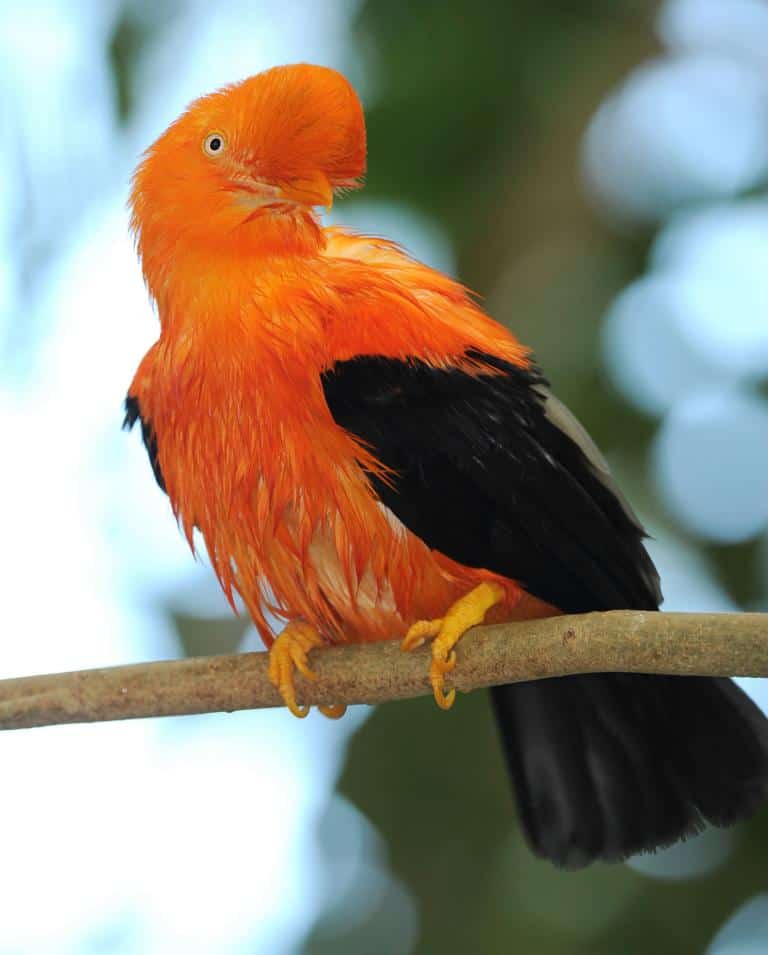 Verdict
So where is the best place to visit the Peruvian Amazon? This definitely depends on what your priorities and other plans are for your trip. Both Iquitos and Puerto Maldonado have lodges nearby that will give you access to amazing wildlife and unbelievable natural beauty. It's just a matter of finding which one is perfect for you.
Would you like to experience a bustling jungle city and see how the local people live? Iquitos is the better option, as the largest city in the Peruvian Amazon. Are you already visiting Machu Picchu and other stops on the classic Gringo Trail and want to easily incorporate a visit to the rainforest in your itinerary? Puerto Maldonado is the better option, as it is easily accessible by both bus and plane from Cusco. Is it your dream to swim with pink river dolphins? Iquitos is the better option since pink river dolphins cannot be found as far upstream as Puerto Maldonado.
Hopefully, this blog has helped you find out everything you need to know about where to book your trip to the Amazon Rainforest in Peru. The Amazon Rainforest contains some of the most amazing natural wonders on Earth and it's sure to be an unforgettable experience. We hope you have an incredible stay in the jungle!