Peru Tourist Visa, check! – Tarjeta Andina de Migracion(TAM), check?
The Tarjeta Andina de Migracion (TAM or Andean Migration Card) is a mandatory document used for statistical purposes which is required by the CAN countries (i.e. Andean Community of Nations; Peru, Ecuador, Colombia and Bolivia). Nowadays, Peru has implemented a virtual TAM which means that the necessary information will be obtained from your passport and flight tickets and you do not need to get a printed TAM. Not all nationalities can enter Peru on a TAM alone, so always check the exact requirements with an embassy or consulate before you travel.
Old TAM processing
In the past, when flying into Peru, a flight attendant would normally give you a TAM during the flight (if you had not received a TAM, you could ask the attendant or pick one up when you landed before going through customs). If you were crossing into Peru by land, you could pick up the form at the border post. Moreover, you had to keep the TAM you received upon entry because you had to show the very same TAM when you were to leave the country. Losing your TAM meant fines, delays and other things that are not worth mentioning anymore. The Peruvian TAM used to look like this: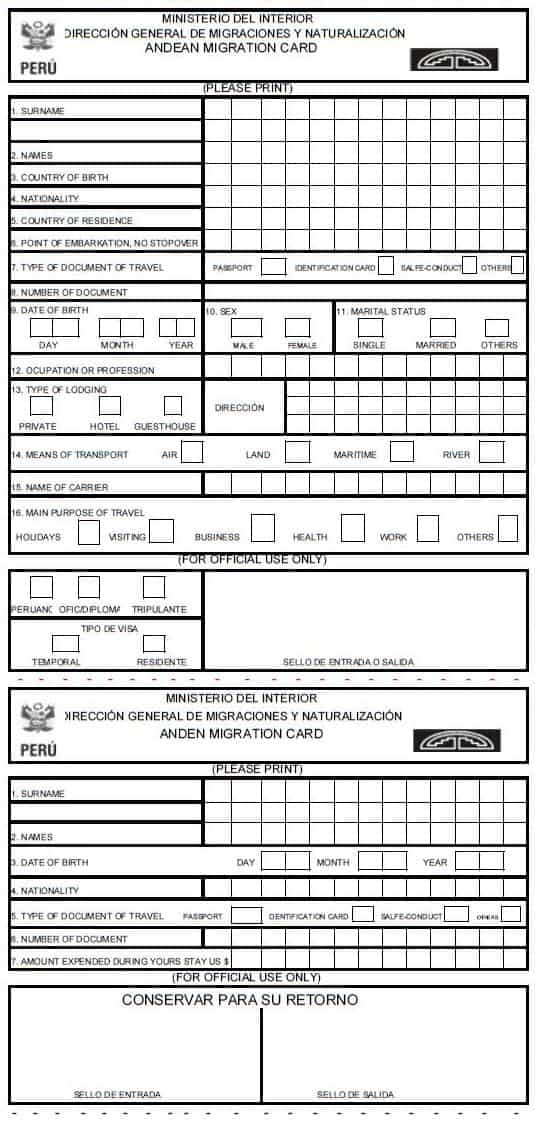 In an effort to speed up and improve immigration procedures for both Peruvian and foreigners, the Peruvian authorities have implemented the necessary measures to allow for a seamless transit in and out of Peru while maintaining world class security standards.
New TAM processing
Upon your arrival, the immigration officers will ask for your passport and see your flight tickets. Depending on your situation they might ask you for your purpose of travel and then stamp your passport. The necessary information will be uploaded to the system by the immigration officers while you will have nothing to fill out or papers to keep. On your way out of the country, you will just have to present your passport and you are done.
One of the advantages of the old TAM was that you could show it at your hotel and hostel to avoid paying the 18% IGV tax that all Peruvians and residents of Peru pay at the time of purchasing any kind of product or service. Some establishments might still ask see this document in order to give you your discount. If that happens, don't sweat it. You can look up your TAM card details online and print it out if necessary. Visit this Migraciones – TAM page to look up yours.
Please, bear in mind that TAM is a document used by the CAN countries. Although Peru and recently Ecuador have begun using virtual TAMs, you still need to make sure you follow the standard procedure at other CAN countries. If in doubt, always check their immigration websites or visit their respective embassies or consulates before traveling.
Traveler's tip: The Peru/Bolivia border can be one of the most difficult borders to cross in South America due to the lack of constantly updated information and some corrupt police officers in the region. Avoid all border crossing hassles and explore Peru like a local by traveling with PeruHop. Their on-board guides will help you with everything you need so that you can have a smooth and scam-free border crossing.