Peru Desert Oasis: The Trip Of a Lifetime
Easily one of the highlights of my whole trip to Peru was visiting the Peru Desert Oasis, Huacachina. I had seen some photos of the desert before my visit, but it completely surpassed all of my expectations. Going to Huacachina has the perfect mix of activity and relaxation that is suitable for all ages. It is a place I had a special connection with and it's safe to say the Peru Desert Oasis will remain in my memory forever.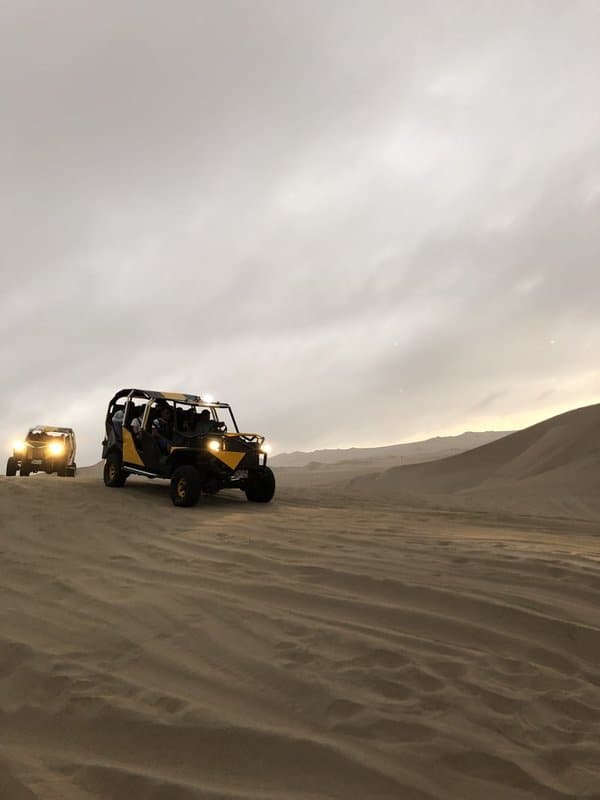 HOW TO PERU TRAVEL TIP
: Save money and stay safe when going to/from Lima Airport by using the Official Bus service inside the Airport called
Airport Express Lima
Peru Desert Oasis – Getting There
My friends and I took Peru Hop because we found out that it is the only bus company that will drive you straight into Huacachina completely hassle free. We chose this company after reading some really great reviews on their site. We began our trip in Paracas which was also amazing. We saw the Ballestas Islands and went ATV riding! The drive from Paracas was only about an hour long. Having purchased the 'full south' ticket from Lima to Cusco, the second stop on our trip was Huacachina. You'll never forget the first drive into the Peru Desert Oasis. The road that goes into Huacachina is truly one of a kind. Our eyes were glued to the windows of the Peru Hop bus as we looked out onto enormous sand dunes. It is not hard to believe that they are the largest sand dunes in the whole of South America. It is truly surreal.
The Highest Sand Dunes in South America
The anticipation builds as you get off the bus. Sand dunes surround every corner of your eye. Within an hour of arriving, we were strapped into a dune buggy and ready to sandboard on these colossal hills. The driver turned back and checked one last time that we were all strapped in correctly. We got a glimpse of the Peru Desert Oasis as we began our journey in the dune buggy, but that was just the beginning. He flashed us a devilish smile and next thing we knew, we were on the craziest roller coaster ride of our lives. He drove as fast as he could, skidding left and right, up and down these huge sand dunes not knowing what lies on the other side. It was both an unexpected and exhilarating experience.


Sandboarding
We then got out of the dune buggy to let our heart rates slow down! The view was truly incredible. During this quick pit stop we chilled out in the middle of the desert and took loads of photos. Back on the dune buggy, we headed for the dunes to try out some sandboarding. The sand dunes are at a quite daunting height, so first time I went down on my stomach! Eventually, we attempted to stand up on the boards and it was all so much fun. As the day began to come to a close, we packed up the sandboards and headed to the main attraction and the reason we came: The Peru Desert Oasis, Huacachina.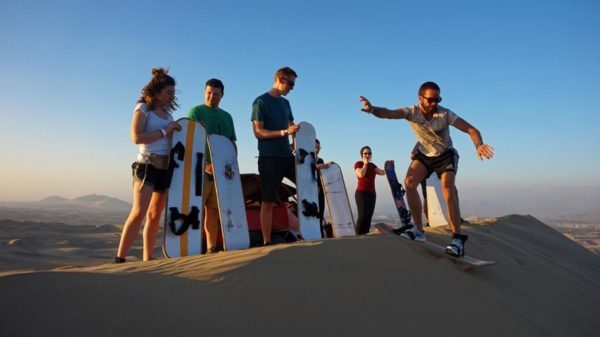 Huacachina's Sunset
The sun was beginning to set on a day that I did not want to end. We reached the Oasis right at sunset. The view is something straight from a movie. The sand dunes and palm trees that surround the Peru Desert Oasis created a movie poster-like sight. Everyone just lay in the sand, taking in this amazing natural wonder, not moving anywhere soon. As the sun fell slowly behind the dunes, the town of Huacachina came to life. We loved it so much we decided to stay an extra night. I would 100% recommend staying at least one night in Huacachina. I was not ready to leave!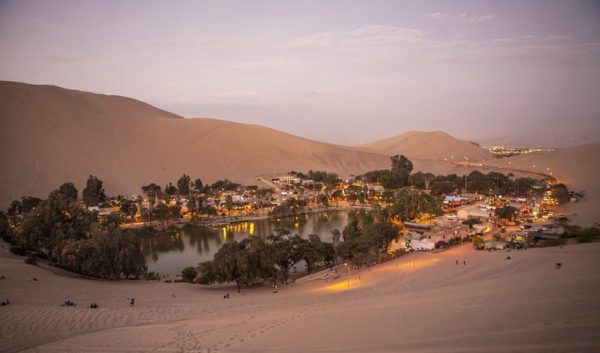 Huacachina is simply a place you have to see. Lima is a fantastic city, but it is very busy. So, whether you are staying in Lima for a while or if you're just visiting, you may want to escape the busy Lima city life. Many people don't realize that the Peru Desert Oasis is located only 4 hours south of Lima in the magical village of Huacachina. Visiting South America's one and only oasis is not just a great way to spend a day trip from Lima, it really is a 'must-do' when you are in Peru!
If you want to keep planning your trip to Peru, check out our page on getting from Lima to Huacachina
!