How To Get From Lima Airport to Miraflores or San Isidro
As you pass through immigrations, get your passport stamped, receive your 'Welcome to Peru' greeting and proceed to pick up your luggage, you begin to wonder "how do I get to my hotel?". If you have booked accommodation already, your hotel is very likely to be located in the Miraflores or San Isidro district, one of the most popular and safest places in Lima. Even if you booked your accommodation outside Miraflores, this guide on how to get from the airport to Miraflores or San Isidro will serve you well because Miraflores is a convenient location with easy access to other districts like Lima's downtown, or Barranco.
Once you are ready to exit the airport to begin exploring Peru, you will have the following transportation options:
Public transportation
Unfortunately, a subway train is not an option yet as it is still under construction. Thus, that only leaves taxis, public buses and combis as your only public transportation options once you exit airport grounds. These are recommended AGAINST for a variety of reasons. To read a bit more on this topic, check out this post.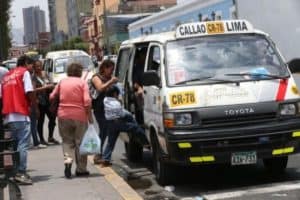 Airport Express Lima
This company is the official airport bus and it is the best option available. This service is not only the safest way to travel, but also a pretty good deal. Comfortable seats, WI-FI on board, no baggage limit, USB charging ports and reliable time tables are just some of the features provided for $8 USD. Group discounts are also available. Their buses have a capacity of 40+ passengers and stop at 12 convenient locations within Miraflores or San Isidro. You can reserve a ticket on-line, buy your ticket at one of their counters inside the airport terminal or pay in cash out at the bus. For more details, visit their website here.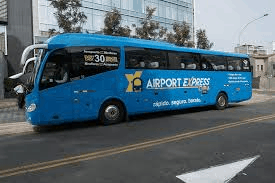 ---
ENTERTAINMENT TIP: If looking for fun at night, or to watch sports during the day, or even a taste of home, visit the Wild Rover Hostels Chain for great food, sports and beer! Entrance to their bars is free even for non-guests
---
Taxis & vans
Lima's airport, as in the case of many airports in the world, has desks or counters of taxi companies inside its terminal building. The unusual thing is that there are taxi services being offered by individuals standing right outside the exit glass doors of the airport terminal. The price of the taxis inside is fixed and is about $20-25 USD, but drivers do not speak much English.
Car Rental
Companies available include Avis, Budget, Hertz, Alamo and Dollar Rent a Car. Prices go for about $120-150 USD for a week without insurance. However, traffic in Lima is a bit chaotic, to say the least. Avoid driving for now or at least wait until you get used to the local scene. You can thank us for the tip later 😉
Uber
Uber faces a lot of complaints not only from passengers, but also from drivers. Things such as a requested Uber not showing up, poor quality of vehicles, and misuse of the app by drivers are some of the issues encountered. Take a look at our post 5 reasons not to use Uber in Lima for more details.