How to Get From Lima to Cusco by Bus
Lima to Cusco by bus is the most popular route taken by tourists visiting Peru. There are a few options to get to Cusco from Lima by bus, either directly or by taking shorter hops from place to place. If you go direct from Lima to Cusco the trip can take anywhere from 22 to 27 hours and cuts across the middle of Peru through the often dangerous Andes Mountains. But if you have time on your hands, short hops long the coast are a good way to see more of Peru.
I've made some basic maps of the three Lima to Cusco routes:
1: The safe and enjoyable way via Nazca and Arequipa
2: The direct and difficult way via Abancay
3. The alternative route on rough roads via Huancayo
1. The safe and Enjoyable Route via Nazca and Arequipa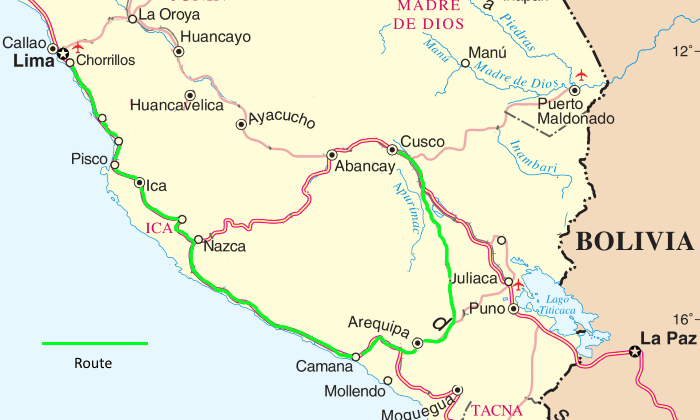 A smoother but longer route from Lima to Cusco. This is a good route for exploring some of Peru's most popular tourist destinations.
If you have the time, you can stop off in Paracas (close to Pisco) to visit the Ballestas Islands, Huacachina (close to Ica) to visit the incredible desert Oasis, or Nazca for a flight over the Nazca Lines. From Nazca, you can then head to the pretty colonial city of Arequipa and visit the Colca Canyon. From Arequipa you can either head straight up to Cusco or swing further east to Puno and Lake Titicaca, and then head north to Cusco.
---
ENTERTAINMENT TIP: If looking for fun at night, or to watch sports during the day, or even a taste of home, visit the Wild Rover Hostels in Arequipa and Cusco for great food, sports and beer! Entrance to their bars is free even for non-guests
---
Many bus companies run between these major destinations, making short stops an easy way to cruise slowly along the Arequipa loop from Lima to Cusco (again, Peru Hop is a good option if you want to do the trip in stages). If you need more information on the beautiful white city, check out the Official Arequipa Webpage.
2. Bus From Lima to Cusco via Abancay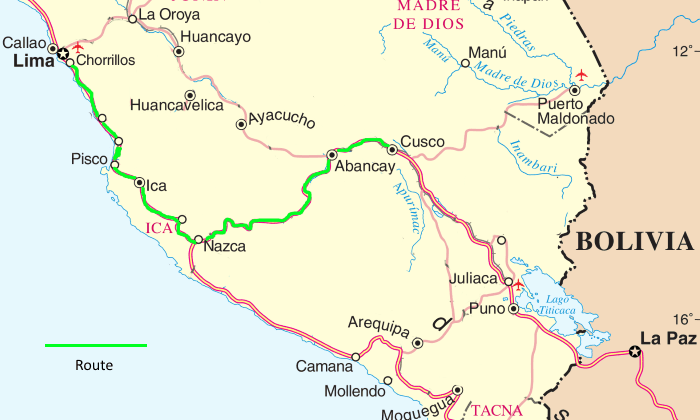 Two primary bus routes exist between Lima and Cusco. The first, and shortest, goes via Nazca and Abancay. Barring problems, this winding route through the Andean highlands can be done in approximately 22 hours. However, as with many roads in Peru, bad weather can lead to mudslides which are in turn followed by road works, all of which can easily add a few more hours onto the trip.
You'll see numerous warnings online (and in some guide books) about hijackings and robberies along this route. This is definitely an issue, with a recent incident being reported:
According to Peter Coates of Peru Hop (a hop-on hop-off bus service running between Lima and Cusco):
"The longer route, down via Arequipa to Cusco, is the safer route. Near Abancay there is a stretch of two hours without GPS signal, meaning buses cannot be traced. Cruz Del Sur and Oltursa have both been hijacked in this exact spot in recent years. Even if my passengers want to skip past Arequipa, I still make the bus go via Arequipa, as it is definitely the safer route."
Despite the potential problems, major bus companies still run directly between Lima and Cusco via Abancay. If you do choose to travel along this route, choosing one of the top-end Peruvian bus companies (Cruz del Sur etc) will minimize problems such as breakdowns, lapses in security and driver error. It will also make the trip a lot more comfortable (and it can get icy cold up in the highlands, so take some warm clothes on the bus).
3. Lima to Cusco via Huancayo, Ayacucho, Andahuaylas and Abancay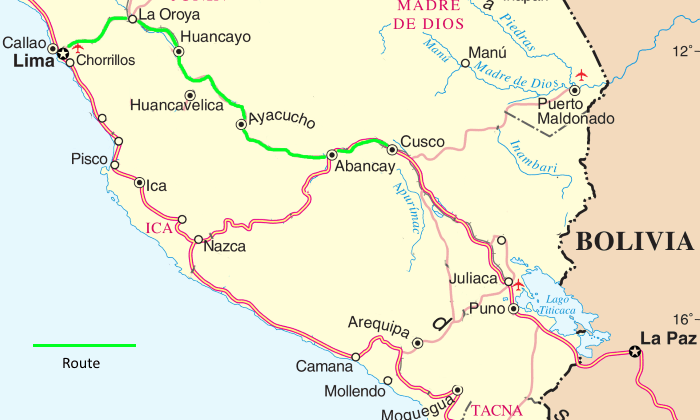 Here's an option for people who like to do things differently. You can get from Lima to Cusco by heading east from Lima towards Huancayo and then down through Ayacucho, Andahuaylas and Abancay.
Reliable bus companies are not easy to find for this route, but you could have a look at Molina Unión (Empressa Molina), which I believe runs along segments of the route. There's a good chance you'll end up using a combination of small buses and colectivos to make your way from place to place. You might also find yourself stuck for a night in some locations, as some buses only leave once every two days or less. If you want to get stuck somewhere interesting, I've heard that the picturesque village of Lircay is pretty spot to stay; it's about half way between Huancavelica and Ayacucho.
Expect some rough roads along this route and consider traveling by day for safety reasons. Huancayo is a good place to stop for a night or change buses (as far as I know, no buses go direct from Lima to Cusco along this route). As mentioned above, there is a stretch near Abancay in which hijackings have been reported.
Note: Travel times, road conditions and bus companies along all of the above routes are subject to change. This post will be updated over time.
Quick Tip: Looking for a once-in-a-lifetime experience in Cusco? Discover Rainbow Mountain with this tour operated by Rainbow Mountain Travels, the top-rated operator to the colorful hill!