Below is a complete guide to the best bus companies in Peru, updated every month for new reviews and feedback from tourists.
Long-distance Peruvian bus companies range from the luxurious to the downright dangerous so it's important you make sure you choose the right company. If a company isn't mentioned on this page, it's because they are crap, pure and simple!
Did you know: Places such as Paracas, Huacachina and Nazca are ONLY accessible via bus, so be sure to choose the best bus company to travel to these locations with.
Quick Summary
As can be seen below, Peru Hop is the Best Bus Company in Peru according to reviews on TripAdvisor and across the web. Setup in 2013 by 2 Irish guy's, it has made the whole experience of traveling by bus much safer and comfortable for tourists.
Peru Hop is different to public bus companies in that it picks you up and drops you off at your accommodation, meaning you avoid taxis and bus terminals. It also makes quick stops at places between the major stops, as there are some hidden gems along the way. Public buses don't stop here as Peruvians (their core customers) just want to get from A to B as quickly as possible.
As can be seen by our analysis below, Cruz del Sur is the best of the rest. Their buses are excellent, but after reading their TripAdvisor page, you can see their customer service to tourists is very poor, with many people experiencing a lot of issues, with robberies, delays and accidents all being reported. See their TripAdvisor page here.
Anyways, read below and decide yourself what is the best bus company in Peru, and remember, safe travels!
Below is a quick, side-by-side summary of each of the most popular and reliable bus companies in Peru. To jump to a more in-depth analysis you can click the name of the company and it will take you to its section.
| | | | | |
| --- | --- | --- | --- | --- |
| Bus Company | Safety Rating | Tripadvisor Score | Customer Service | Bus Quality and Seat Comfort |
| Peru Hop | 5/5 | 97% | 5/5 | 4.5/5 |
| Cruz Del Sur | 3.5/5 | 73% | 2.5/5 | 4/5 |
| Civa | 4/5 | N/A | 3.5/5 | 3/5 |
| Movil | 3.5/5 | 48% | 3.5/5 | 4/5 |
Recommended Bus Companies in Peru for Safety and Comfort
The following are all top-end to mid-range Peruvian bus companies, starting with some of the best and working down towards the ones that are probably best avoided. The order is by no means scientifically proven, but it will give you an idea of the bus companies you can rely on to get you from A to B with minimal fuss and more importantly, safely.
Quality costs, so expect to pay more (but not too much) for the upper end of the scale. Click on the company name to go directly to its website (English version where available, all links open in a new window and some of the websites have really annoying music).
Peru Hop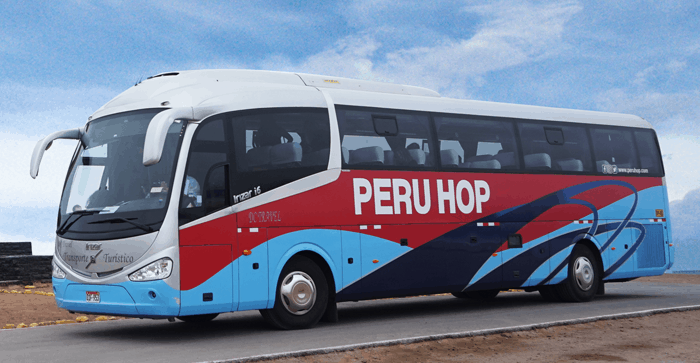 A relatively new and refreshing bus service in Peru which started in October 2013, but already has over 5,000 excellent reviews on their Tripadvisor page, which is quite impressive.
Being the first and only hop-on, hop-off bus system in Peru, the company covers the Lima to Cusco route. It offers a flexible bus pass (50+ options from long distance to short day trips), in which you can stay however long you want in any of the destinations, letting you enjoy travel at your own pace. Apart from this, there's onboard bilingual assistance on all their busses, as well as discounts on accommodation and restaurants in all the destinations.
They tend to stick to 1 floor buses which definitely seems to be the safest option for any bus and take the safer route through the south of Peru (Nazca/Arequipa/Cusco). They pick-up passengers at hotels and hostels in all destinations which is a huge bonus here in Peru (no getting unsafe taxis or going to dangerous bus terminals).
They do not cover the North of Peru yet, but definitely a service that is recommended for people wanting to travel safely and discover Peru! For continuing travel in South America, Ecuador Hop and Bolivia Hop are also great options. If you want to check out some of the reviews of Peru Hop, then you can see their review page here.
| | | | |
| --- | --- | --- | --- |
| Safety Rating | Tripadvisor Score | Customer Service | Bus Quality and Seat Comfort |
| 5/5 | 96% | 5/5 | 4.5/5 |
Cruz del Sur is over 50 years old and Peru's most-known bus company. It is one of the recommended companies in Peru by local people looking to get from A to B. They are said to be reliable, comfortable and have excellent coverage throughout much of Peru. Not always reliable (like most local companies) and delays are frequent. Check their Tripadvisor page for more independent reviews about them or read more about Cruz del Sur. If traveling North they are recommended, however if going South to Cusco, be careful as they cross the Andes (as do most other Peruvian companies) where hijackings and robberies are infamous.
| | | | |
| --- | --- | --- | --- |
| Safety Rating | Tripadvisor Score | Customer Service | Bus Quality and Seat Comfort |
| 3/5 | 72% | 2.5/5 | 4/5 |

Reliable and reasonably priced, Civa is also a good option. The company has excellent coverage along the coast, all the way from the Ecuadorian border in the north to Chile in the south. Also runs to places further inland such as Tarapoto and Puerto Maldonado.
| | | | |
| --- | --- | --- | --- |
| Safety Rating | Tripadvisor Score | Customer Service | Bus Quality and Seat Comfort |
| 4/5 | N/A | 3.5/5 | 3/5 |
Looking to travel Peru? Now is the perfect time to start planning your trip to Peru! And it seems like for many, the perfect start to their trip is one of the Day Trips from Lima operated by Peru Hop!
Movil Tours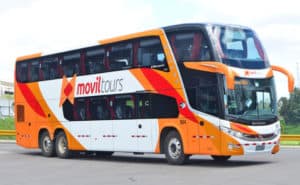 A reliable company (although negative reviews are not uncommon), which also offers a variety of options regarding price. Movil is arguably the best choice if you are heading to the north of Peru, or to Peru's biggest inland cities (Huancayo, Tarapoto, Cajamarca, etc). However, like mentioned before, they do get negative reviews so make sure to take a look at their tripadvisor page.
| | | | |
| --- | --- | --- | --- |
| Safety Rating | Tripadvisor Score | Customer Service | Bus Quality and Seat Comfort |
| 3.5/5 | 51% | 3.5/5 | 4/5 |
Summary
If you are planning to travel around the South of Peru (Lima – Arequipa – Cusco) without any fixed itineraries, then Peru Hop is the only company we recommend after reading their Tripadvisor page, Facebook page and other online reviews. Their extra stops allows tourists to see more of Peru rather than public buses who just bring you from A to B. The hotel and hostel pickups are a nice bonus to avoid waiting in bus terminals and trying to haggle prices with taxi drivers.