Huancayo Travel Guide
The following travel guide is by Samantha Bangayan, who lived in Huancayo, Peru.
If you're looking to take your travels off the beaten path, head up to Huancayo for a taste of authentic Andean culture. Huancayo is a city filled with history and tradition, known for its crafts, trekking and ruins. With more festivals than days of the year, you'll find something to do and see year round.
HOW TO PERU TRAVEL TIP
: Save money and stay safe when going to/from Lima Airport by using the Official Bus service inside the Airport called
Airport Express Lima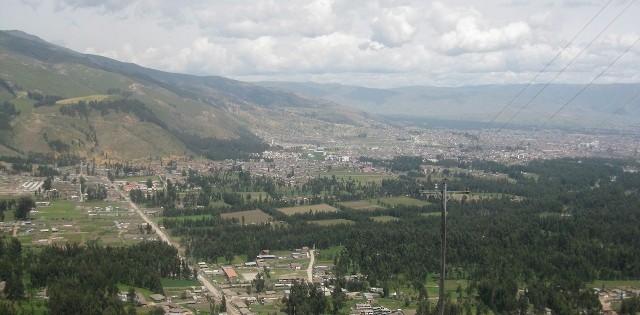 Quick Tip:
  If traveling to or from Lima Airport, it is strongly recommended to use the luxury
Airport Express Lima
bus to get to or from your hotel. Safer and cheaper than a taxi with no baggage limit as well as Free WiFi and USB chargers onboard, it is ideal for travelers.
Overview
Huancayo is the capital and main commercial center of the Peruvian Central Andes sitting at around 10,650 feet in altitude. With an approximate population of 350,000, the city is nestled in the Mantaro Valley, surrounded by agricultural towns. You'll experience weather extremes in Huancayo – temperatures can range from 5 to 20 degrees throughout the day, there may be sudden thundershowers or hail (especially during the rainy season from October to April) and the sun burns, so be sure to wear sunscreen.
Huancayo Attractions
There's plenty to see in and around Huancayo. Just hang around the city center at the Plaza Constitución if you want to join a tour — a tour guide will approach you or you can visit local tourist offices speckled around the plaza. Some of these sites are accessible on your own, but you'll want to go with a tour guide for others.
Parque de la Identidad Huanca – This quaint park is a common location for local wedding photos. Made completely of stones, the park was designed to promote Huancaino culture and identity. Throughout the park, you'll see representations of Huancaino crafts and statues of famous Andean folkloric artists. You can reach this park by taking any combi headed to Palian and getting off at Jr. Santa Felicita, around 10 minutes from the city center. Note that this area is not so safe in the evenings.
La Feria Dominical – The Sunday fair dominates 10 full city blocks in the city center, from the 2nd to the 12th block of Av. Huancavelica. Hundreds of vendors travel to the city from the surrounding towns to display and sell their crafts, such as carved gourds, jewelry and textiles. You can also take this opportunity to try different kinds of food typical to the area.
Torre Torre – In the outskirts of the city, you'll find a series of gigantic geological formations up to 100 feet tall. These structures of red clay were formed into natural towers and castles over many years of erosion. From these heights, you also get a fabulous view of the city. It's best if you trek up to Torre Torre with a tour because there are often pickpockets along the route.
Cochas – If you've ever seen carved gourds during your travels in Peru, Cochas is their birthplace, around 6 miles away from Huancayo by combi. Some say that gourd carving is an ancient art that dates back thousands of years and the families that live in Cochas have passed down the craft for generations. Typical carved gourds express stories of Christianity and the Andean lifestyle. Prices range from a few soles to hundreds of soles and you can even negotiate to have your own personal story intricately etchedonto a gourd.
San Jerónimo de Tunán and Hualhuas – These towns are also just outside of Huancayo, accessible by combi around 7.5 miles away from the city. San Jerónimo is nationally recognized for its goldsmiths and silversmiths while Hualhas is known for its textile experts who work with soft llama and alpaca wool. Attend a jewel work or traditional loom demonstration and get a bargain on elaborate jewelry, clothes and tapestries.
Arwaturo and Ñahuinpuquio – To get to the ruins of Arwaturo in Chupaca around 10 miles outside of Huancayo, you need to hike uphill for around 20 minutes. These ruins date back to the Huancas who inhabited the Mantaro Valley and were subdued by the Incas during their conquest. The ruins consist of 17 stone buildings that were once used as storage warehouses for the Huancas and Incas. After hiking back down, visit the majestic Ñahuinpuquio Lake where you can take a romantic boat ride or eat at one of the shoreside restaurants.
Eating in Huancayo
If you walk around town, you'll find many family-owned restaurants that sell set lunch menús in Huancayo that range in quality. With a little bit more money to spend, you can hit up Huancayo's one-and-only mall that just opened in 2009, Real Plaza (Av. Ferrocarril 1035) or one of the following restaurants. Don't leave without trying papa a la Huancaina and pachamanca, traditional dishes of the area.
La Cabaña – Owned by a local Huancaino who has linked up with foreign backpackers for years, Lucho Hurtado provides the ultimate dinner location for both locals and tourists alike. This restaurant is famous for its calientitos and its live music every Thursday, Friday and Saturday (Av. Giraldez 652; www.incasdelperu.org/la-cabana-3).
Hotel Olímpico – Right by the main plaza, Hotel Olímpico has been a mainstay in Huancayo for years. This is one of the best places to try papa a la Huancaina (Jr. Ancash 408).
Chifa Centro – You'll find chifa (Peruvian-Chinese food) all over Peru and the best chifa in Huancayo is at Chifa Centro. The main location is just half a block up from the main plaza (Av. Giraldez 245; chifacentro.com.pe).
Drinking and Dancing in Huancayo
There are nightclubs right in the middle of downtown Huancayo, but these are often not of the best quality or closed down half the time because of licensing issues. Get to the best nightclubs by taxi; just remember that you should take a taxi with a group of people whenever possible at nighttime.
The Taj Mahal is the most elegant and expensive nightclub in Huancayo (Av. Huancavelica 1052). Another trendy venue is La Noche (Jr. San Antonio 241) where you'll find all types of music from the chart toppers to Peruvian cumbia and salsa. Maxx'oh (Jr. Alfonso Ugarte 510) is a newly renovated nightclub in Huancayo where most dance contests are hosted because of its massive dance floor.
Huancayo Hotels and Hostels
You can find a large number of cheap hostels for around S/.10 per night in and around the city center. The following are some more expensive and dependable choices:
La Casa de la Abuela – This backpackers central has years of experience with foreigners. It's connected to its own restaurant, has plenty of resources and the owner provides authentic tours. Beds cost S/.20 per night and rooms range from S/.40 to S/.75, depending on whether you want a private bathroom or not. Get a 5% discount if you're a student or if you own a guidebook that recommends this hostel (Av. Giraldez 652; www.incasdelperu.org/casa-de-la-abuela).
Los Jardines Hostal – Connected with various tourist agencies and transportation services, this hostel is just 5 minutes away from the city center by combi. Rooms range from S/.40 to S/.70 per night (Calle Amauta No. 242 Urb. Siglo XX, El Tambo; losjardineshostal.com).
Susan's Hotel – Right in the middle of the city, this hotel faces the government plaza and is in a very safe location.  A single room costs S/.70 and a double room or matrimonial room costs S/.90 per night (Calle Real 851; susanshotel.com).
Getting to Huancayo
Although there is an airport near Jauja, around 50km away from the city, you would still need to take a 1 to 2-hour combi or bus-ride to get from the local airport to Huancayo. It's easiest to take a 6 to 8-hour bus-ride directly from Lima east into the mountains and the slower ascent could prevent altitude sickness.
The most reputable bus company is Cruz del Sur (Av. Javier Prado 1109). Their station in Lima is in a central location and you would arrive in Huancayo just a few blocks away from the main plaza. Purchase tickets online; prices range from S/.50 to S/.80 for a one-way trip.
For those who have a little extra cash to spend, they say that the 12-hour tourist train-ride to Huancayo offers incomparable views through the Andes. The Ferrocarril Central Andino is marketed as the second highest train route in the world. There are only bimonthly trips and the cheapest tickets cost S/.195 for a one-way ride.
When you arrive in Huancayo, take it easy because many visitors are hit by altitude sickness. Drink plenty of coca tea to counter the symptoms or purchase soroche (altitude sickness) pills at any of the local pharmacies.