The Ultimate Cusco Airport Guide 2018
The Ultimate Cusco Airport Guide Updated for 2018: Below we have compiled an extensive guide on Cusco Airport. From where it's located to different transport options to the city, keep reading below to find out everything you need to know!
The only airport in Cusco at the moment is Velasco Astete. It is located at 5.2 kilometers from the city center in the districts of Wanchaq and San Sebastian and it takes between 10 and 30 minutes to get to it depending on traffic. It is the second busiest airport in Peru and it served 3,379,618 passengers in 2017. Moreover, it handles domestic flights to Lima, Arequipa, Puno and Juliaca while its international destinations are La Paz, Bolivia and Bogota, Colombia.
The airport is one of the top 20 of highest altitude airports in the world and owing to its location, surrounded by mountain chains, landing can only occur when conditions are optimal weather wise. Thus, every now and then flights get delayed due to cloud cover or bad weather. Additionally, visibility is another factor that comes into play. For such reasons, its hours of operation are from 05:30 to 20:00hrs.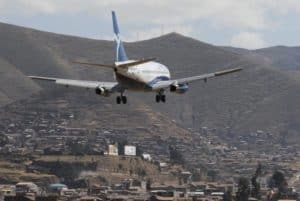 Transportation options
Unfortunately, at the moment, Cusco's airport does not have an official airport bus as Lima's airport does. Nevertheless, the city is not so big and it does not take much time arrive to your accomodation once you are ready to exit the airport terminal.
Public buses
As in many cities in Peru, combis and buses are the main means of transportation for the majority of people. Bus "Imperial" can take you for outside the airport to centro historico for about $0.30 USD. They do not have a fixed schedule but run very frequently.  However, the buses tend to be crowded with no room where to sit and there are no baggage storage compartments. Plus, buses and combis are sometimes the targets of pick-pockets and we do not advise travelers to use them to go from or to Cusco Airport.
Taxis
Next to the baggage claim area, there are small desks offering transportation services. The price of a taxi from inside the airport to the city center is around $15 USD. The vehicles are quite comfortable, modern and safe.
On the other hand, there are taxi drivers standing out the airport terminal. They offer lower prices but can be a little pushy and persistent. In any case, you haggling skills will come in handy here because their initial offering price will be somewhere between 7.5$ to 10$ USD and you could get it down to around 3.50$ to 5$ USD. Bear in mind that taxis in Peru are not metered so you must agree the price of the service before you even get into the car. Make sure to clarify if the parking fee is included in the agreed fare. The quality of these vehicles can go from clean modern vehicles to rusty and dirty so it is worth taking a look at the vehicle before you negotiate.
Uber
Uber has begun an aggressive expansion in other Peruvian cities including Cusco, Chiclayo, Piura, Iquitos and Huancayo. And, since last year, you can catch an Uber in the capital of the Inca empire. Although, we have not heard of any incidents in Cusco. Uber has received some harsh criticism in Lima. See more on our post 5 Reasons Not to Use Uber in Lima.
Shuttle services
You can go online and find many private companies offering Cusco Airport Shuttle services as well as tours around Cusco. Their prices go from about 20$ USD and increase with each additional passenger. Vehicles are modern and comfortable.
Airport facilities
Landside area
FIRST FLOOR
2 VIP lounges: VIP Lounge Cusco (located to the left of the check-in desks) & Kuntur VIP Lounge (located after the security checkpoint before the exit doors)
ATMs / Cash Machines: The machines accept all major credit/debit cards and all major Peruvian banks have ATMs here.
Money Exchange booth: Here you can exchange Euros, Pounds and US Dollars. However, remember that ripped or slightly damaged foreign currency will not be exchanged.
Tourist information booth: At the back of the airport, PromPeru, the official Peruvian Tourist Board has a small booth where they provide information not only about Cusco, but other destinations in Peru as well. Here you can also file complaints about hotels, airlines, tour companies and guides. Its business hours are from 6am to 5pm.
Check-in desks: There is a total of 20 check-in desks for 7 airlines; LATAM, AVIANCA, PERUVIAN, START PERÚ, LOS ANDES, LCP and AMASZONAS.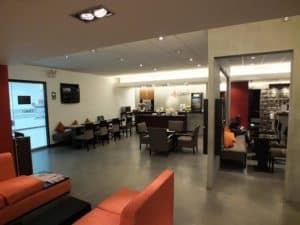 ---
ENTERTAINMENT TIP: If looking for fun at night, or to watch sports during the day, or even a taste of home, visit the Wild Rover Hostel in Cusco for great food, sports and beer! Entrance to the bars is free even for non-guests
---
SECOND FLOOR
Souvenir shops: Small selection of textiles, jewelry, chocolate and miniatures gifts.
Restaurant: One restaurant that offers many things including cakes, burgers, full meals, etc.
Snack bars: 2 small snack bars with a limited selection of snacks and drinks.
Masseuse: Small shop that offers neck and shoulder massages from 10mins to 30mins.
Book store: Here you can find Peruvian literature, travel guides and other useful readings.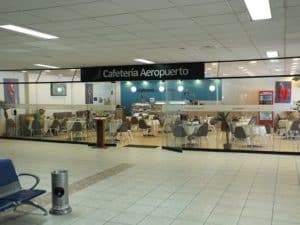 Airside area
2 Cafés & a snack bar: They offer a wide selection of empanadas, cakes, sandwiches, salads and hot drinks. Prices are a bit higher than in the Landside area, but not so bad for a last-minute craving before getting onto a plane.
Shops: Close to the gates, you will find 4 high-end shops offering jewellery and fine alpaca clothing among other things.
Here is a full list of stores & booths that can be found in the airport: Vta pasajes latam, Vta pasajes peruvian, Capuccino, Iberica, Zeta book store, Airport market, La cholita, Indiana creaciones, Masajes express, Inka treasure, Librería sbs, Ilaria, H-sterm, Kuna, Andean treasure, Kuna alpaca, Perú rail, Hotel royal inka, Hotel belmond, Hotel libertador, Agencia viaje keros, Agencia de viaje travel conecction, Llamataxi.
Additional things to consider:
There is no free WI-FI in the airport. Nevertheless, restaurants and lounges offer WIFI once you make a purchase.
The airport is open to the public during its hours of operation only. Thus, you cannot sleep at the airport.
Seating is extremely limited, often not enough to accommodate the number of passengers waiting
No showers available inside any of the airport bathrooms.
Unfortunately, no luggage storage & lockers available.
The airport has a small health center which is open from 6am to 6pm.
Last but not least, Peruvian authorities have come to accept that the airport has exceeded its growth expectations in terms of the number of passengers. Moreover, given that the airport is located in an area inside the city where there is no scope to increase its capacity, a new airport with twice the current capacity will be built at 30km of Cusco in Chinchero.