Of the 230 or so airports in Peru, only 21 have scheduled passenger flights on a regular basis (at time of writing, at least; domestic routes and schedules are very changeable).
Most of these flights are domestic (and therefore operated by Peru's domestic airlines), with very few airports in Peru handling international arrivals and departures.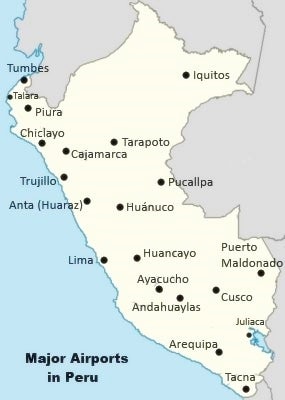 The airports are managed by one of two operators: Corporación Peruana de Aeropuertos y Aviación Comercial (CORPAC) or Aeropuertos del Perú (AdP, mainly in northern Peru).
As you can see from the map, there's a fairly good spread of airports across Peru, but with fewer options in the jungle regions to the east of the Andes.
Top Peru Travel Tips 2023 (updated every month):
Peru is safe to travel to with no restrictions in place. Be aware of pick pockets in major tourist areas.
You can use USD or Peruvian Soles in most places. Be aware of high charges for ATM machines.
Visit the Tourist Information Center in Lima for money exchange, sim cards, maps and more.
Latam Airlines are best airline for internal flights, others cancel a lot.
Peru Hop is most reviewed and highest rated travel company. Website very detailed and full of useful info. Read more HERE.
Machu Picchu – book in advance (ticket, train, guide, bus all needed). Tours are strongly recommended to save money and stress and avoid potential problems at entry to Machu Picchu.
Visit findlocaltrips.com for full info on Machu Picchu Tour options (1day, 2 day or more). Click HERE.
To read the most frequently asked questions for travel in Peru in 2023 click HERE.
List of Airports in Peru
In the list of airports below, each entry has the location of the airport, the airport's full name (in English), its unique IATA airport code, and a brief description. As a side note, FAP stands for Fuerza Aérea del Perú (Air Force of Peru) — just in case you were wondering…
Andahuaylas: Andahuaylas Airport (ANS) — about nine miles (15 km) from the center of Andahuaylas in the Apurímac region of Peru. Flights to Ayacucho and Lima.
Anta: Comandante FAP Germán Arias Graziani Airport (ATA) — located in the village of Anta, about 14 miles (23 km) to the north of Huaraz in the Ancash region. Flights to Lima.
Arequipa: Rodríguez Ballón International Airport (AQP) — a busy airport with daily flights to and from the capital, as well as regular flights to Cusco, Tacna and Juliaca. Chile's Sky Airline used to connect Arequipa with a handful of Chilean destinations, but it looks like that's been put on hold.
Ayacucho: Coronel FAP Alfredo Mendívil Duarte Airport (AYP) — two miles (3.4 km) from the city of Ayacucho in the south-central Andes. Daily flights between Ayacucho and Lima with some connections to Andahuaylas.
Cajamarca: Mayor General FAP Armando Revoredo Iglesias Airport (CJA) — about two and a half miles (4 km) from the center of Cajamarca. LAN has daily flights between Cajamarca and Lima.
Chiclayo: Capitán FAP José A. Quiñones Gonzáles International Airport (CIX) — about one mile (1.5 km) from the city of Chiclayo. LAN and Avianca Perú (TACA) have regular flights between Chiclayo and Lima.
Cusco: Alejandro Velasco Astete International Airport (CUZ) — with the number of tourists visiting Cusco and Machu Picchu increasing every year, it's no surprise that Alejandro Velasco Astete is the second busiest airport in Peru. That looks set to change, however, with plans to build a new airport — the Chinchero Cusco International Airport — in the Cusco region. All of Peru's major domestic airlines have daily flights between Lima and Cusco, with regular flights to Arequipa, Puerto Maldonado and Juliaca. However, if it is your first time traveling to Cusco we strongly recommend to follow Peru Hop's route along the coast and up to Cusco from the city of Arequipa, this will give you some time to acclimatise to the thinner air at high altitude (and see much more of Peru). Cusco is located at 11,152 feet (3,399 meters) and this can cause some breathing difficulties when flying straight in from sea level.
Did you know: Peru Hop was setup by 2 Irish guys in 2013 and has been voted #1 Travel Company in Peru for 2023 – Click here for more info!
Huánuco: Alférez FAP David Figueroa Fernandini Airport (HUU) — about 3.7 miles (6 km) north of the city of Huánuco. StarPerú and LC Perú have regular scheduled services to and from Lima.
Iquitos: Coronel FAP Francisco Secada Vignetta International Airport (IQT) —  located about 3.7 miles (6 km) from the center of Iquitos, the largest city in the world not accessible by road. The airport connects Iquitos to Lima, as well as Tarapoto and Pucallpa. Panama's Copa Airlines also has international flights between Iquitos and Panama (twice weekly — for now at least…).
Jauja: Francisco Carle Airport (JAU) — located about 2 miles to the south of Juaja, the airport also serves the nearby cities of

Huancayo

and Tarma. LC Perú is currently the only airline with scheduled flights between Juaja and Lima.
Juliaca: Inca Manco Cápac International Airport (JUL) — about 3 miles (5 km) from the city of Juliaca in the Puno region (the city of Puno is about one hour from Juliaca by bus). A handful of airlines have regular flights between Lima and Juliaca, with some heading to Arequipa and Cusco. Despite the ambitious inclusion of "International" in the airport's name, I don't think there are actually any international flights to or from Inca Manco Cápac International Airport.
Lima: Jorge Chávez International Airport (LIM) — located in Callao, part of the wider Lima Metropolitan Area, the multi-award-winning Jorge Chávez International Airport is by far the busiest airport in Peru. It's also the main hub for all major domestic airlines and the standard destination for all international arrivals. International airlines flying to and from

Lima

include Air Canada, Air France, Alitalia, Aerolíneas Argentinas, American Airlines and Iberia.
Piura: Capitán FAP Guillermo Concha Iberico International Airport (PIU) — located a short distance from the center of Piura in northern Peru. Regular flights to and from Lima with Avianca (TACA), LAN and Peruvian Airlines; some flights to Chiclayo and Trujillo. Ecuador's SAEREO airline has been known to have international flights between Piura and Santa Rosa in Ecuador, but with little consistency.
Pucallpa: Capitán FAP David Abenzur Rengifo International Airport (PCL) — located about 3.4 miles (5.5 km) from the center of Pucallpa in the Peruvian Amazon. LAN and StarPerú have regular flights between Pucallpa and Lima, with connections in Iquitos and Tarapoto.
Puerto Maldonado: Padre Aldamiz International Airport (PEM) — located about 4.3 miles (7 km) to the west of Puerto Maldonado in the Madre de Dios region. LAN, Avianca and StarPerú all have regular scheduled flights between Lima and Puerto Maldonado; flights often land in Cusco on their way between Puerto Maldonado and the capital.
Tacna: Coronel FAP Carlos Ciriani Santa Rosa International Airport (TCQ) — located three miles (5 km) from the center of Tacna. At approximately 20 miles from the Chilean border, it is the southernmost airport in Peru. LAN and Peruvian Airlines have regular flights from Tacna to Lima, with some connections in Arequipa.
Talara: Capitán FAP Victor Montes Arias Airport (TYL) — located a short distance from the center of Talara, it is the closest airport to the popular beach town of Máncora (a 35 minute drive north of Talara). StarPerú used to fly between Talara, but those flights don't seem to exist right now — which in theory leaves Talara's airport with no scheduled passenger flights.
Tarapoto: Cad. FAP Guillermo del Castillo Paredes Airport (TPP) — a short drive from the center of

Tarapoto

, Guillermo del Castillo Paredes Airport is the main airport in the San Martín region of Peru (it therefore serves nearby cities such as Moyobamba and the port town of Yurimaguas). LAN, Avianca and StarPerú have daily flights between Tarapoto and Lima, with additional flights to Iquitos and Pucallpa.
Tingo Maria: Aeropuerto Tingo Maria (TGI) — hardly a major airport, but makes the list because LC Perú currently has regular scheduled flights between Tingo Maria and Lima. Tingo Maria is not included on the map above, but is located just NNE of Huánuco
Trujillo: Cap. FAP Carlos Martínez de Pinillos International Airport (TRU) — located about 6.8 miles (11 km) from the center of

Trujillo

, Carlos Martínez de Pinillos International Airport is the principal airport in northern Peru. There are daily flights to and from Lima, with some connections in Trujillo, Chiclayo and Piura.
Tumbes: Cap. FAP Pedro Canga Rodríguez Airport (TBP) — located about five miles (8.5 km) from the center of Tumbes, Pedro Canga Rodríguez Airport is the northernmost airport in Peru. At present, only LAN has scheduled flights between Tumbes and Lima.