The Most Dangerous Cities in Peru
"All cities are mad: but the madness is gallant. All cities are beautiful: but the beauty is grim."
— Christopher Morley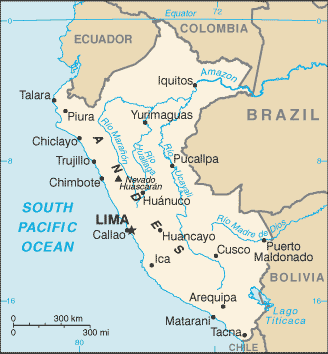 Peruvian cities are a splendid mix of culture and chaos — mad, gallant, beautiful and, at times, grim. Despite the madness, no city in Peru is dangerous enough to warrant avoidance.
Some urban centers, however, have developed a reputation for being unsafe, at least in comparison to other cities.
For would be visitors it is important to mention that Lima Airport (LIM) is located in the city of Callao. The airport is located 10kms from Lima's Historical Centre and 17km from the tourist district of Miraflores. This area, although not mentioned below, is certainly one of the more dangerous areas in Peru and your caution is adviced. If travelling to or from the airport in Lima. There is now a direct bus link between there and Miraflores via the new official Airport Express Lima.
The Peruvian Public's Perception of City Safety
In October 2011, the El Comercio newspaper — with the help of the Ipsos Apoyo polling firm — asked the Peruvian public which three cities they considered the most dangerous in Peru.
The exact wording of the question was "Por lo que ha escuchado, ¿cuáles son las tres ciudades más inseguras del Perú?" ("From what you have heard, what are the three most unsafe cities in Peru?"). The results — obtained from 1,200 people living in the nation's 16 principal cities — were as follows:
| | |
| --- | --- |
| Lima | 75% |
| Trujillo | 52% |
| Chiclayo | 22% |
| Puno / Juliaca | 14% |
| Ayacucho | 13% |
| Chimbote | 13% |
| Piura | 10% |
| Arequipa | 10% |
| Iquitos | 7% |
| Pucallpa | 7% |
| Ica | 6% |
| Huancayo | 5% |
| Cusco | 5% |
| Cajamarca | 3% |
| Tacna | 2% |
| Tumbes | 2% |
| Other | 3% |
| Don't Know | 4% |
Lima, Arequipa, Trujillo and Chiclayo are the four most populous cities in Peru. It's perhaps no surprise to see three of them at the top of the results. Big cities often have a reputation for being unsafe, with higher crime and traffic accident rates, more gang violence and other such indicators or urban insecurity.
Again, you don't need to avoid any of the cities listed above (unless you hear otherwise — potentially violent strikes and protests, for example, can sometimes place areas off-limits). At best, the results are a rough indicator of where you should be extra cautious in Peru.
If you are (still?) interested in a trip to any of these cities in Peru we suggest you check out FindLocalTrips.com a tour comparison website with heaps of info and all the different options for taking that trip of a lifetime.
Quick Tip:
  If traveling to or from Lima Airport, it is strongly recommended to use the luxury
Airport Express Lima
bus to get to or from your hotel. Safer and cheaper than a taxi with no baggage limit as well as Free WiFi and USB chargers onboard, it is ideal for travelers.
The Most Dangerous Cities in Peru: What Do You Think?
Which three cities do you think are the most dangerous in Peru (through experience, by reputation or otherwise)? The poll below includes all the cities from the results above — you can select three cities. If you choose "Other," it would be great if you could expand upon your choice in the comments section below. Thanks!
"A culture, we all know, is made by its cities."
— Derek Walcott
"The city is not a concrete jungle, it is a human zoo."
— Desmond Morris
References:
El Comercio: "El miedo gana la batalla: el 84% de peruanos siente temor en las calles" (

link

)
Ipsos Apoyo: Opinión Data; October 17, 2001 (

link

)
Los Andes: "Juliaca es la cuarta ciudad más peligrosa del Perú" (

link

)
(Peru map © CIA World Factbook)