Peru Rail Guide – How to Get to Machu Picchu by Train
Peru Rail Guide: 2021 Updated Information – Getting to Machu Picchu by train is the easiest and most pleasant way to get to this world wonder. Peru Rail runs multiple trains, each with its own distinct level of service and corresponding price. That means that Peru Rail can be an option for travelers on any type of budget.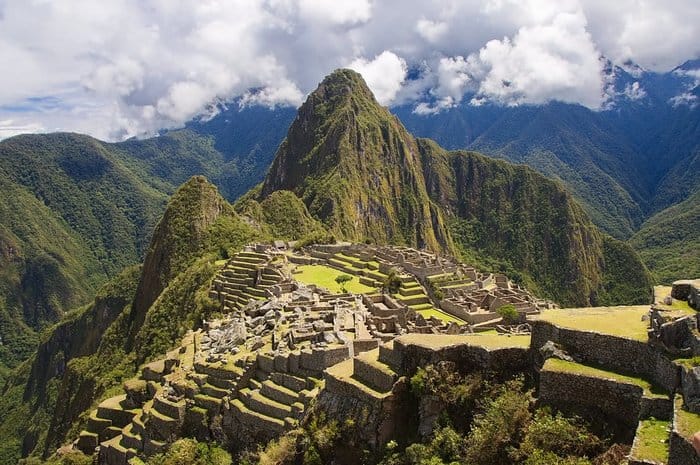 Being one of the new 7 Wonders of the World, Machu Picchu is one of the most famous tourist attractions in South America and is on many people's travel bucket list. Unfortunately, due to its remote location in the Andes mountains, it is not directly accessible by road and there are no current plans to build a road leading there. For now, there are only two options to arrive at this famed lost city of the Incas: by foot or by train.
If you're arriving on foot, you likely already have a plan to do one of the multi-day treks which end at Machu Picchu such as the Inca Trail or the Salkantay trek. This guide is for those who are not doing a trek, and just want to go directly to Machu Picchu via rail.
Getting to the Train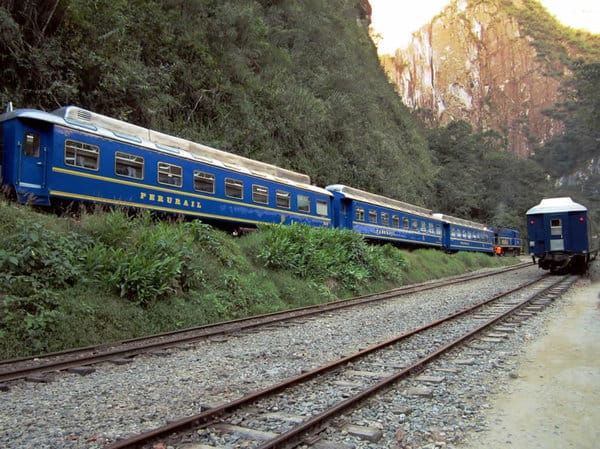 Most journeys to Machu Picchu will start in the city of Cusco, the largest city in the region and the former Inca imperial capital. There are frequent flights from Lima to Cusco, but we highly recommend traveling between the two cities over land so that you don't miss any of the amazing sights in between–things like the famous Lake Titicaca (world's highest navigable lake), Huacachina (South America's only desert oasis), and the Ballestas Islands (nicknamed "the poor man's Galapagos"). One good option is the Peru Hop bus service, which will take you from Lima to Cusco making stops in all of the aforementioned locations plus more. Peru Hop is a hop on hop off style service, so you can stay as long as you want in each location and then just board the next bus and continue on your way.
Whichever way you get to Cusco, your next step will be to get to a Peru Rail station. The trains to Machu Picchu can be boarded in the towns of Poroy and Ollantaytambo. The station in Poroy is the closest to Cusco so if you plan to go directly from the city to Machu Picchu, it's best to board there. The agency where you buy your Peru Rail passes should be able to provide you with a shuttle service to the station from your hotel or hostel in Cusco–make sure to ask. For those who plan to take a tour to the Sacred Valley, one useful thing to know is that the final stop on the tours is usually in Ollantaytambo, so you can arrange with your tour provider to stay there rather than return to Cusco. This will save you some time as well as some money, since the tickets from Ollantaytambo are usually a little cheaper.
After you've boarded your train in either Poroy or Ollantaytambo, you'll travel for about an hour and a half before arriving at the town of Aguas Calientes where you will disembark. This is the town which is built at the foot of the mountain where the ruins are located, and where all of the hotels, restaurants and other tourist services are located. Buses from the town leave every 5 minutes throughout the day to bring visitors up to the Machu Picchu entrance.
Another option if you don't feel like arranging each leg of travel independently is to book a tour beforehand with a provider who picks you up from your hotel or hostel in Cusco and provides all transportation to and from the train station and up to Machu Picchu. This is by far the simplest way to do it, and there are options available for all budgets. We recommend checking out the tour comparison website FindLocalTrips.com if this seems like the best option for you.
Types of Trains
Peru Rail offers three different trains which each provide a different level of service and cater to different budgets. Your options are as follows:
The Hiram Bingham
This is the most expensive option and will cost you $338 in each direction. The train includes a gourmet brunch in the morning and a four-course dinner in the evening, along with cocktails, wine, live dancers and other entertainment. Your tickets also include bus transport up to the entrance of the ruins, so you won't have to worry about that. The Hiram Bingham train is definitely the way to visit Machu Picchu in luxury!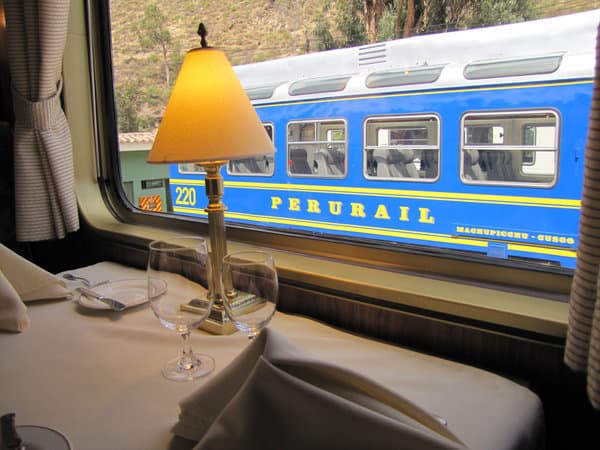 The Vistadome
This is the best option for mid-range budgets. It costs about $75 each way and includes some complimentary snacks and nonalcoholic refreshments. As the name implies, the train features glass windows offering a panoramic view of the beautiful natural surroundings. The Vistadome is a good, comfortable option for those with a budget.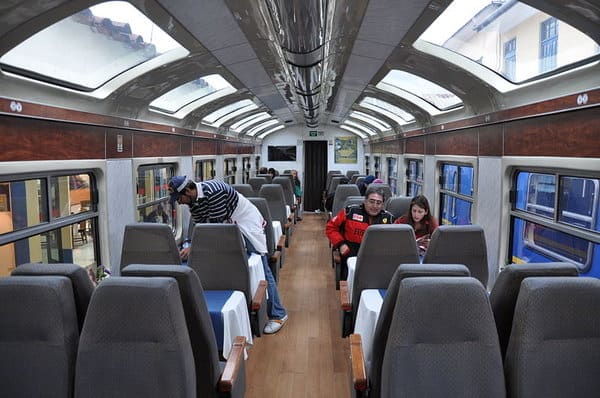 The Expedition (formerly called The Backpacker)
This is the cheapest option available to tourists, with tickets on sale for about $64 each way. In many ways, The Expedition is not too much different than The Vistadome, as it also features glass windows offering a panoramic view outside. The main difference is that the seating is slightly more basic, and there are no complimentary snacks or beverages (there is food and drink available for sale, however).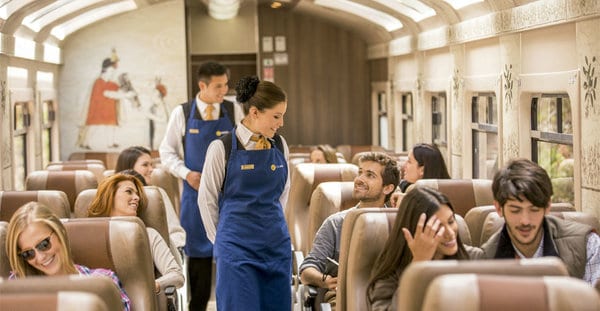 ---
ENTERTAINMENT TIP: If looking for fun at night, or to watch sports during the day, or even a taste of home, visit the Wild Rover Hostel in Cusco for great food, sports and beer! Entrance to the bars is free even for non-guests
---
Where to Buy
If your tour to Machu Picchu doesn't include your rail passes, you'll need to buy them from an authorized vendor. This can be done online at the official Peru Rail website or at one of the following locations:
o Larco Mar: Malecón de la Reserva 610, Centro Comercial Larcomar, Plaza Centro, 1st floor, Miraflores, Lima
o Lima Airport: Elmer Faucett s/n, National Departures, 2nd floor, between Gates 13 and 14, Callao
o Cusco Airport: Velasco Astete s/n, Distrito de Wanchaq, Cusco
o Central Plaza Cusco: Portal de Carnes 214, Plaza de Armas, Cusco
o Plaza Regocijo: Plaza Regocijo 202, Plaza Regocijo, Cusco
Luggage Restrictions
One important thing to be aware of is that Peru Rail does not allow you to travel with large or heavy suitcases aboard their trains. The weight limit for luggage aboard the trains is only 5kg. Therefore, the best idea is to leave your larger bags at your hotel or hostel in Cusco and pack a small bag with daily essentials for your trip to Machu Picchu. Most hotels and hostels will allow you to store your luggage in a secure storage room for free or for a small fee.
Further Information
If you would like some more information to help you plan your trip, check out some of our other blog posts below:
· The Best Time to Visit Machu Picchu
· How High is Machu Picchu and What's the Risk of Altitude Sickness?
· Machu Picchu Safety Advice from 'A' to 'Zika'
· How to Get from Lima to Machu Picchu
We hope that these blogs will provide you with everything you need to know to visit the magnificent Inca ruins at Machu Picchu. It's a once-in-a-lifetime experience and you'll be filled with wonder when you finally see it.