Ancient Ruins in the Middle of Modern High-rises: Visit the Magical Huaca Pucllana Temple in the Miraflores District of Lima, Peru
2020 Updated Information: Huaca Pucllana is a well-preserved pre-Inca temple complex located right in the heart of Lima's Miraflores district. Huaca Pucllana is a great place to take an afternoon or evening tour. Visitors can also dine in Huaca Pucllana's on-site restaurant.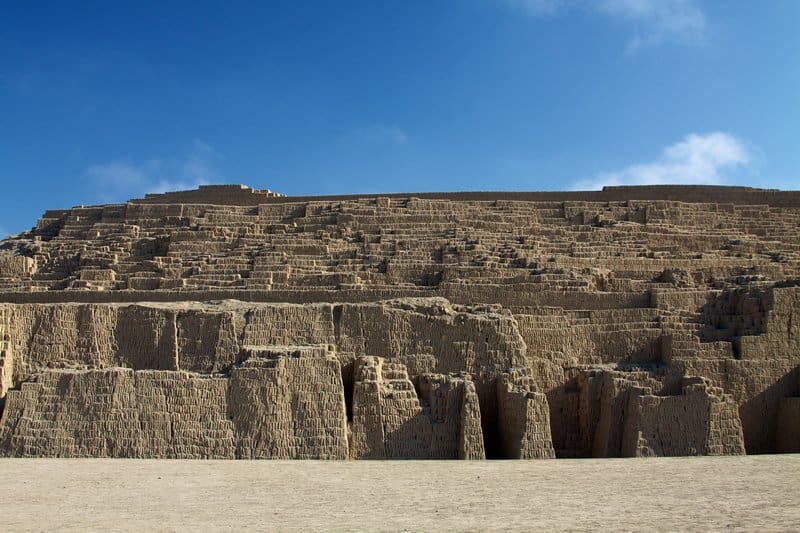 Although Peru is best-known for the lost Inca city of Machu Picchu, visitors looking to find remains of ancient cultures need not journey deep into the Andes mountains to find them. Prehistoric ruins abound in every region of Peru. In fact, you don't need to look any further than the popular tourist district of Miraflores in Lima to find some extraordinary ancient treasures. The Huaca Pucllana temple, as one of the most important monuments of ancient Lima, is a wonderful place to spend a couple hours exploring and, located right in the heart of the Miraflores district, it's an eminently accessible activity as well. After you've concluded your tour, you can sit down and enjoy a meal at the on-site restaurant, which serves upscale and creative versions of Peruvian classics.

Here's everything you need to know about the magical Huaca Pucllana temple in Miraflores before you go.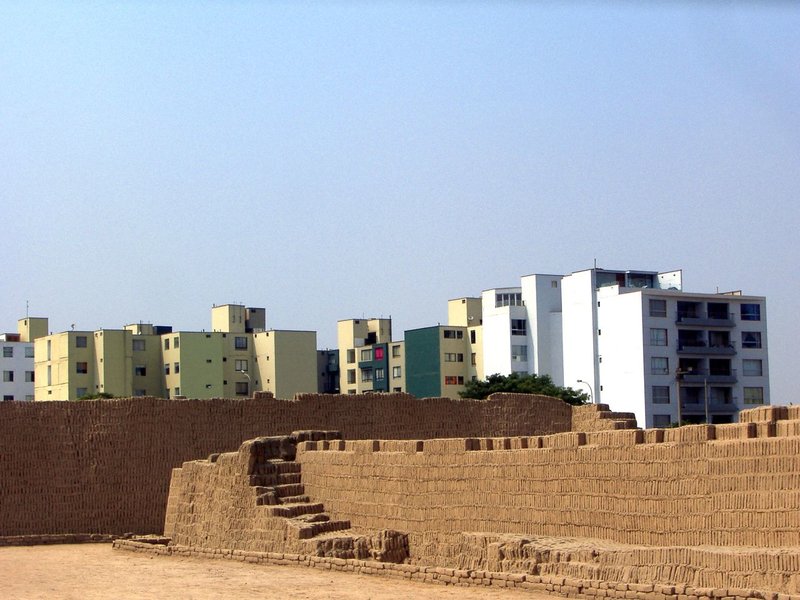 Behind the Name: Huaca Pucllana
The title "huaca" appears in the name of many ancient monuments in Peru, and refers to any type of revered or sacred monument. Pucllana is derived from the word "puclla," which means game. Huaca Pucllana is thus a sacred place where games are played, in this case likely some type of ceremonial or ritual game.
The History of Huaca Pucllana
Huaca Pucllana was built in the year 400 AD by the Lima culture, which ruled the Peruvian central coast for around 500 years and developed technologies such as irrigation which allowed them to thrive in the harsh desert climate. The adobe-and-clay complex of Huaca Pucllana had a dual function. The western half of the site was an important ceremonial center for religious rites, complete with a 22-meter-high pyramid. The eastern half of the site was used as an administrative outpost for the surrounding irrigation zone and includes several open spaces likely used for public meetings. The two halves of the complex are separated by a large dividing wall.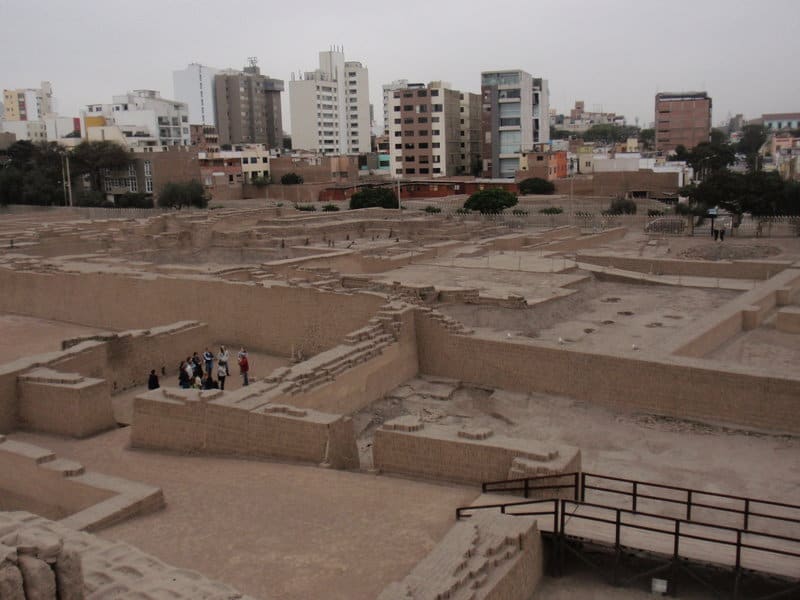 With the arrival of the invading Wari civilization in 700 AD, Huaca Pucllana lost its regional importance and was largely abandoned except as a burial place for Wari nobility. The first fully intact grave from this period was discovered in 2008 and contained the remains of three adults, two of whom were buried wearing masks, along with a child who was evidently sacrificed.
After the collapse of the Wari civilization in 1000 AD, the area was settled by the Ychmas, an Aymara-speaking people centered around the city of Pachacamac. The Ychmas used Huaca Pucllana primarily as a site for worship and sacrifice, though graves from this period have also been uncovered recently.
The Ychmas were eventually absorbed into the Inca Empire. When the Incas arrived in Lima, the site was already deemed a "ñaupallaqta" (sacred ancient town). So, Huaca Pucllana was already considered ancient even then! Pretty amazing to think about, and goes to show you how much history this venerable old pyramid has.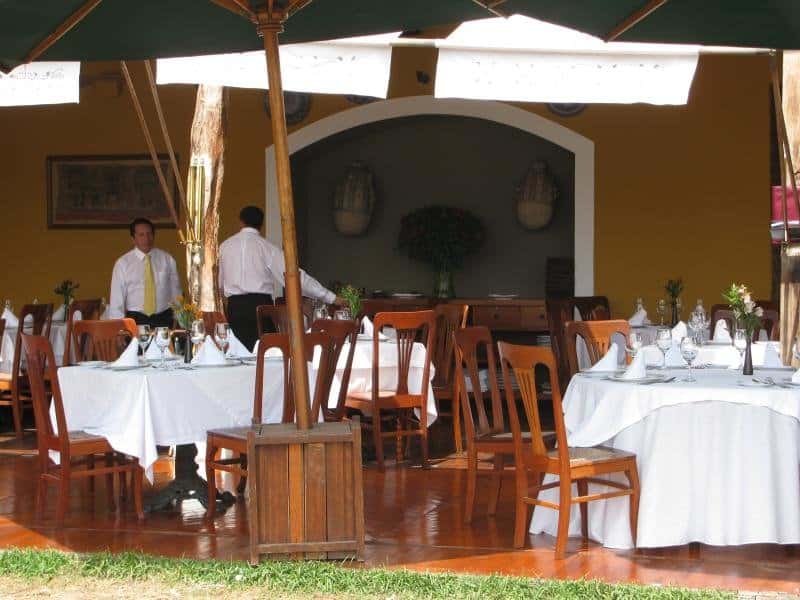 Huaca Pucllana Restaurant
After a day of exploring Miraflores and touring the ruins of Huaca Pucllana, you'll definitely have an appetite. The restaurant located at the foot of the Huaca Pucllana complex has received considerable acclaim since it opened some 18 years ago. It features high-quality, creative versions of Peruvian classics with an emphasis on using local ingredients. It is recommended to call ahead and reserve seats outside, where you'll have a dazzling view of the ancient pyramid, which is illuminated by floodlights at night.
Before You Go
The Huaca Pucllana archaeological site is located at Calle Gral. Borgoño, block 8 in the Miraflores district. The site is easily accessible for visitors, as most of Lima's tourist hotels and hostels are located nearby (for more information, check out our blog on What to Do in Miraflores). The Huaca Pucllana ruins are open to visitors Wednesday thru Monday 9 AM to 5 PM (closed Tuesday). Nighttime service exists Wednesday thru Monday (7 PM to 10 PM). The entrance costs S/15.00 (a little under $5). Half price admission also exists for children under 12 and senior citizens.
Make sure you check out our list of What to Do in Miraflores for some other ideas for your stay in this wonderful district.