14 of the Best Treks in Peru
The different landscapes, scenery and mountain ranges across Peru has made the country one of the best places to trek in the world. A perfect mixture of ecosystems, cultures and history make up these treks, with there being an option for anyone (with experience or not) who seeks to embark on a one-day or multi-day hike. Here's our list of the 14 best treks in Peru.
Table of contents:
Salkantay Trek
Easily one of the most beautiful and best treks in Peru. The Salkantay Trek is located in Cusco and is one of the main options to get to Machu Picchu for many travelers. It's perfect for those looking to connect with nature, as it goes through diverse landscapes and ecosystems, such as lush jungles and mystical snowy mountains.
The trek will take you across many terrains, but most importantly through the Salkantay Pass, which sits below the imposing snow-capped peak of the Salkantay Mountain. It's a beautiful trek from start to finish. 4 and 5 day options to Machu Picchu are available, both challenging – but can be done by many.
Check out the best Salkantay Trek options!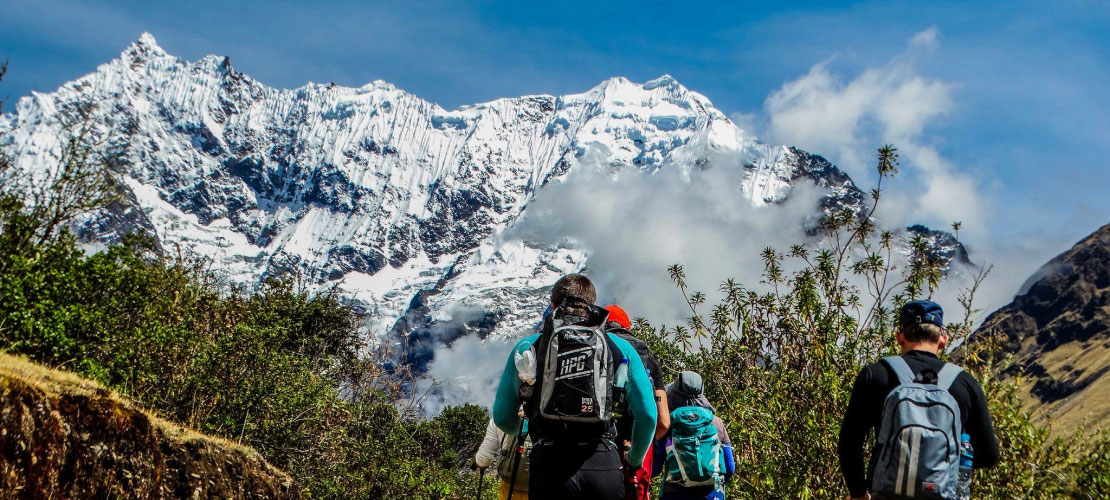 Inca Trail Hike
Peru's most popular trek, and one of the best in the world, the Inca Trail is the original path walked by the Incas to reach the sacred Machu Picchu. Thousands from all over the world come to Peru to experience the route paved by the Incas, having to book at least 6 months in advance due to the permit limit.
Throughout the 4-day Classic Inca Trail you'll pass through Andean scenery, mountains, and cloud forests. You'll also discover settlements, ancient tunnels, and Inca sites that are spread across the path. On the last day, you'll be the first to reach Machu Picchu at the dawn of day, through the famed Sun Gate (Inti Punku). It's a truly exciting adventure that's filled with nature, history and culture, making it one of the the best treks in Peru.
Check out the best Inca Trail options!
Colca Canyon
Located in Arequipa, with a depth of 3,400 meters, Colca Canyon is the second deepest canyon in the world – and is two times deeper than the Grand Canyon. The demanding hike is known for its gorgeous landscapes, waterfalls, pre-Inca ruins, and most importantly, being home to Peru's national bird, the condor, whose wingspan is over 3 meters long.
Although the 2 day trek is demanding, there are also 3-day treks and 1 and 2 day tours available allowing you to visit at a much easier pace. Make sure to add it to your bucket list, as hiking one of the deepest canyons is not something that you'll be able to do any other day.
Check out the best Inca Trail options!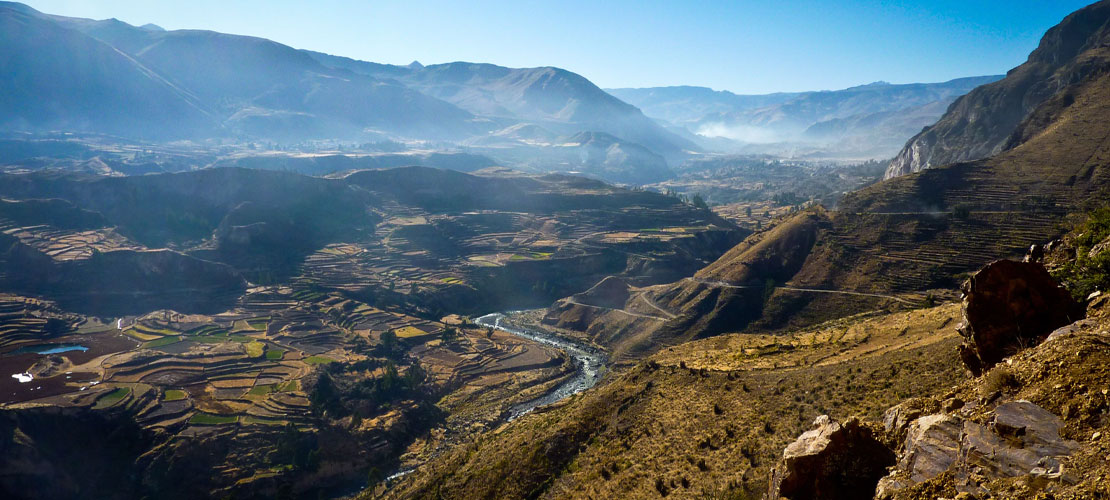 Huayhuash Circuit Trek
One of the most beautiful treks in Peru, the Huayhuash trek also has a reputation for being one of the most challenging hikes. The trek was actually once considered fairly dangerous, but through the years, the Peruvian government has invested in infrastructure and safety measures that have made it accessible to all. Reaching an altitude as high as 5,490m, you'll be rewarded with stunning mountain peaks and breathtaking glacial lakes. This trek that is still not overrun by tourists, usually takes at least 12 days to complete and is definitely worth every second of it.
Choquequirao Trek
Located in Cusco, it's a lesser known trek that takes you to Choquequirao, Machu Picchu's "sister". Also once an Inca citadel, Choquequirao was hidden under dense vegetation until a few decades ago. It's believed to have been an important center of worship and also served as one of the last holdouts of the Inca empire against the Spanish invasion. The site, which is filled with shrines and temples, is actually believed to only be 30% excavated and bigger than Macchu Picchu.
The hike offers amazing scenery, is fairly easy, and way less crowded than Machu Picchu. The Choquequirao Trek usually takes between 3 to 4 days and is the only way to get to the Inca site, which you'll more than likely have to yourself.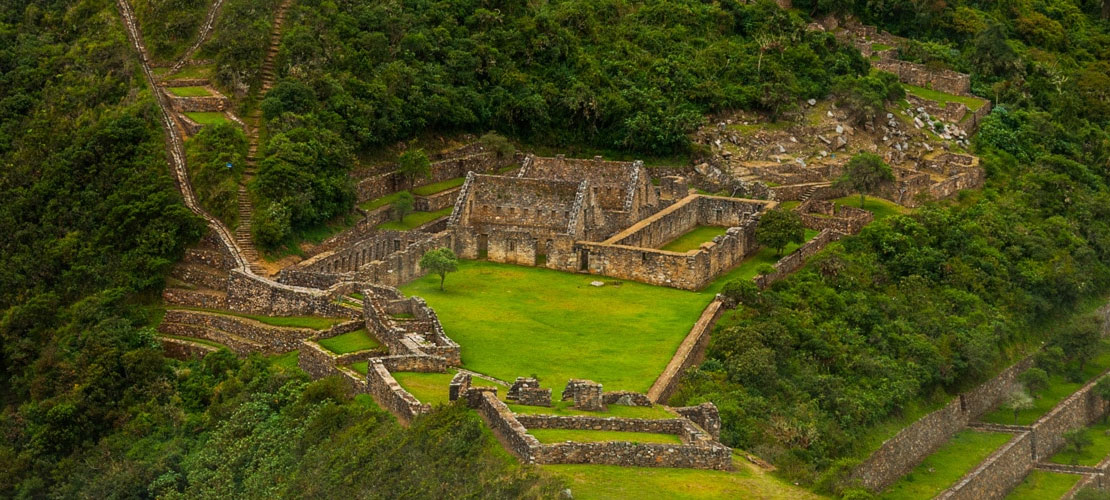 Misti Volcano
The dominating and unbelievable presence of the active Misti Volcano in Arequipa can make it seem unreachable, but believe it or not, there are treks all the way up to one of the highest volcanic craters in the world. A challenging trek – you'll hike up more than 2,000 meters in a span of 2 days, reaching an altitude of 5,825 meters – it requires experience, a good level of fitness and trusty lungs to achieve the hike. If you're well prepared and have some time in Arequipa, hiking the picture-perfect snow capped volcano is an experience like no other.
If looking to do the trek, make sure to check out our post on conquering El Misti volcano!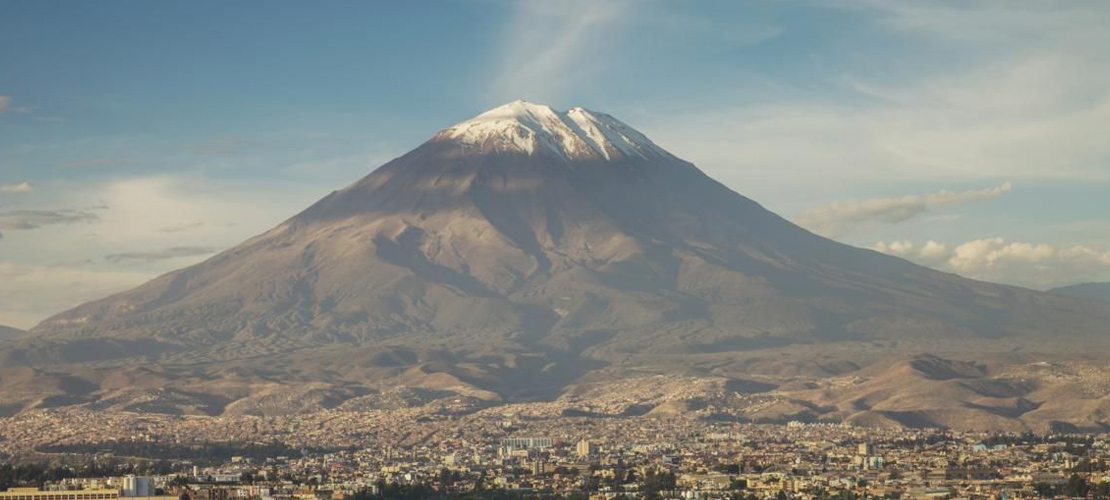 Laguna 69
The gorgeous, blue lagoon just 10 hours north of Lima. The magical scenery that surrounds the lagoon is breathtaking and will have you mesmerized for days. A stunning contrast of crystal-clear water with a piercing snow-capped peak, Laguna 69 is loved by many and is on travelers list of best treks in Peru.
The trek is difficult. The lagoon sits at 4,600 meters and you start at 3,800 – that's a steep ascent of 800 meters in a span of 3 hours. But like many treks on this list, it's not impossible and well-worth the challenge. During those 3 hours you'll come across spectacular waterfalls, vegetation, snowy mountains and other amazing landscapes.
Lares Trek
The Lares Trek is another option in Cusco which provides the perfect Andean experience. This route takes you along some of the best scenery in the region – tropical forests, mountain passes, valleys, waterfalls and even hot springs. It's much less frequented and easier than its sister treks around the region, but just as beautiful and scenic. Although it doesn't technically end in Machu Picchu, most trek options include ways to reach Machu Picchu to get the full Inca experience.
Rainbow Mountain
The colorful Rainbow Mountain, locally known as Vinicunca, is a place like no other which can be discovered in 1 day. At an altitude of 5,200 meters, the rainbow-like appearance was formed due to years of weathering factors that aligned the 14 different colored minerals throughout the hill. Rainbow Mountain and its surrounding areas are home to local communities and diverse wildlife, making it an even more enjoyable trek. It's an easy and flat hike to the peak, but the high elevation can cause some difficulties. The day tends to start early, so make sure to get a good rest the night before!
Check out this top-rated Rainbow Mountain tour and the detailed itinerary to know what to expect!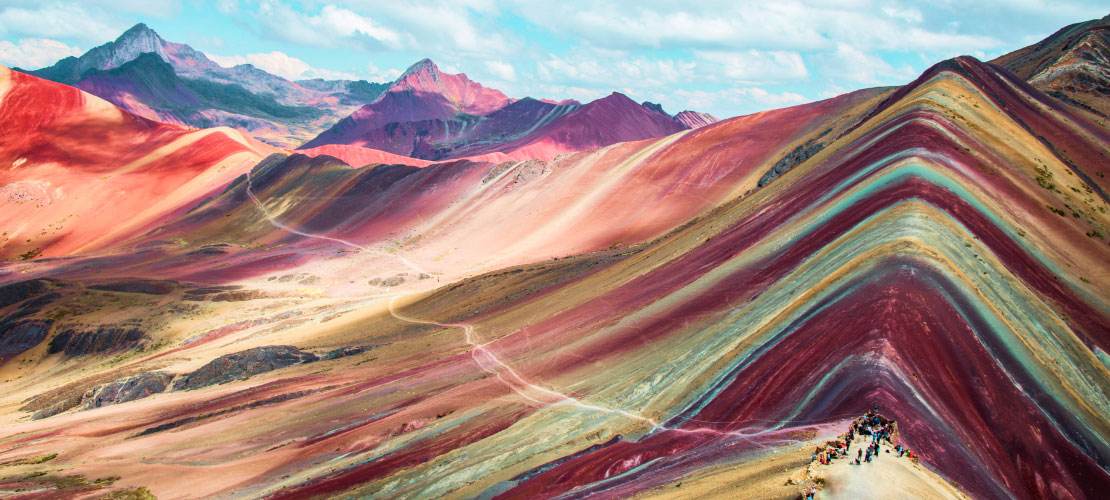 Ausangate Trek
Circling one of the highest mountain peaks in Peru, the 7-day Ausangate Trek has become a favorite of the few travelers who hike it in Cusco. Be ready to pass through sparkling lakes, glaciers and breathtaking mountain views. The trek is considered challenging, mostly due to the altitude, so make sure to be well-prepared. You'll likely not find many people going on the trek but there are still many safe and reliable tour companies that offer guided Ausangate treks from Cusco.
Marcahuasi
Located east of Lima, reaching an altitude of 4,000 meters, lies one of the most fascinating and mystical places in Peru, Marcahuasi. Believed to have energy radiating from its grounds, Marcahuasi is famously known for its stone forest and weirdly rock formations resembling human-like
The 4-5 hour trek can be steep at parts making it difficult, but is also mixed with easier sections. You can hike and visit all in one day, although most people prefer to camp at the top for one night. Night skies are clear, beautiful and filled with stars, and the site itself will give you a sensation that's not easy to describe!
Rupac
Known as "Lima's Machu Picchu", Rupac is an archaeological complex with pre-Inca ruins situated at 3,400 meters above sea level that is becoming one of the best trek in Peru, just a few hours away from the capital city. The citadel dating back to 900 AD is still in pristine conditions and is a jaw-dropping view when seen through the clouds that invade the mountains. The trek to the top takes up to 4 hours, where you'll also reach the campsite and if lucky get to catch the impressive sunset. Once there, you just get your tents ready and enjoy the beautiful skies and mountains surrounding your perfect night.
Humantay Lake
Located between Salkantay Mountain and Humantay Mountain lies this crispy, blue lake with an imposing glacier backdrop. Usually included in the Salkantay Trek, there are also 1-day options to Humantay Lake making it the perfect full day experience from Cusco. The trek is considered easy to moderate difficulty and will take you across stunning landscapes and snowy mountain peaks.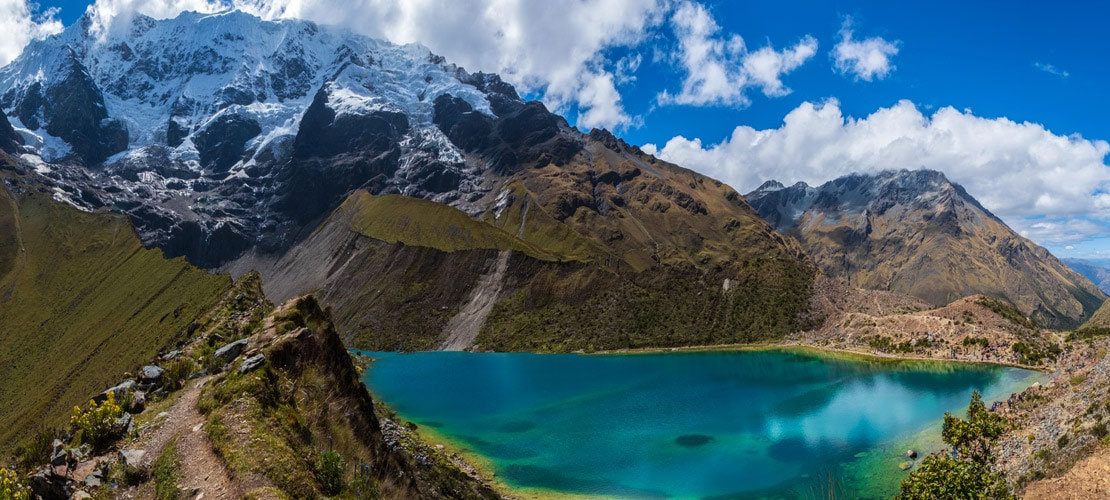 Gocta Falls
The Gocta Falls is a unique 770 meter high waterfall, ranked as one of the tallest waterfalls in the world. The impressive waterfall is surrounded by forest, hidden in the Amazonas province and was only known by locals until 2002! 1 day treks are available to the Gocta Falls starting from Chachapoyas. It's perfect hike for those looking to discover a beauty of nature in the jungle of Peru.
Summary
The varying landscapes and environments throughout Peru's different regions certainly has plenty of hikes to offer. Whether you're looking for a challenging adventure through snowy peaks or to walk through original Inca paths, theres a different experience for all. Now just start making a list of which of the best treks in Peru you want try and get to planning!