The Top Machu Picchu Alternatives: Skip the Crowds and Visit One of These Unique Sites
2020 Updated Information: Here are the top Machu Picchu alternatives which you can visit to skip large crowds and still get the same amazing experience.
In recent years, many Machu Picchu alternatives have been discovered and made more accessible to visitors and tourists. Find out the top Machu Picchu alternatives and see which you should visit below!
What is the one drawback to visiting the world-famous Incan ruins at Machu Picchu? The crowds, of course. It's an amazing place for sure, but everyone knows it's amazing and wants to go there. Visiting ancient ruins should be a peaceful and thought-provoking experience, and nothing quite spoils the tranquility like being surrounded by hundreds of people snapping photos.
So what if you could visit another site, equally well-preserved and tucked away in some lightly-traveled corner of the country, safely hidden from the hordes of tourists? That's what this blog is all about! Save the Gringo Trail for another trip and visit one of these amazing off-the-beaten-path Machu Picchu alternatives.
Choquequirao
Only accessible by a two-day hike, Choquequirao offers an excellent alternative to Machu Picchu for the intrepid tourist willing to go the extra mile to get there. Often called Machu Picchu's "little sister," Choquequirao has been known to mapmakers for centuries but was not fully excavated until the 1990s. Even after the excavation, it has received very few visitors over the years due its remote location and the popularity of its more famous big brother. Choquequirao is, in fact, quite similar to Machu Picchu: they are roughly the same size, they were likely built around the same time period and for similar purposes. The main difference is that at Choquequirao, you're likely to only find a handful of other visitors due to its remote location–you may even be alone at the site!
One important thing to note is that plans are currently in the works to potentially build a cable car to Choquequirao sometime in the next few years. While this will make entering the site much more accessible, it also means that the days of having the ruins all to yourself may be coming to a close soon. That's why, if you want to experience it before the crowds arrive, the best time to go is now! You can book a trek to the "Cradle of Gold" (Choquequirao's meaning in English) from a tourist agency in the city of Cusco, but if you prefer to skip the hassle we recommend booking online with findlocaltrips.com, a price comparison website specializing in tours of South America.
Chavín de Huántar
As one of the most important civilizations of the pre-Inca era in Peru, the Chavín culture was hugely influential on the Incas and other later civilizations. Many recognizable characteristics normally associated with the Incas were also present in the earlier Chavín civilization, including the domestication of llamas, the cultivation of staple crops like potatoes, quinoa and maize, as well as many aspects of their religion and cosmology. This important pre-Inca culture was named for the site of Chavín de Huántar, a temple located just a few hour's drive from the popular northern Peruvian city of Huaráz.
Chavín de Huantar, which was considered an important site for religious pilgrimage, consists of a large central square and a raised temple containing a number of underground tunnels and chambers. Deep inside this underground labyrinth lies the most important relic of the Chavín cult: the Lanzon, a 5m tall carved monolith depicting the religion's most significant deities. Visitors are invited to view this holy stone which is still ensconced within its underground sanctuary, but no photography is permitted. A trip to Chavín de Huantar is easily arranged from most tourist agencies in Huaráz. Since this highland hub is already a popular destination for trekkers and mountain climbers. It's possible to combine a trip to the ruins with a week of hiking and other activities, making for a nice, well-rounded trip.

Kuélap
The Chachapoya culture is mostly eclipsed in popular knowledge by the Inca culture which eventually conquered their territory along with the majority of the Andes and surrounding region. That's a shame, because the Chachapoyas maintained a culture which was in many ways just as sophisticated and impressive as that of the Incas. Their name likely comes from a Quechua phrase meaning "cloud forest," which makes sense once you see where they lived. The Chachapoyas dominated the cloud-covered sub-tropical forests on the eastern slopes of the Andes mountains for hundreds of years before they were defeated by the expanding Inca Empire.
The crown jewel of this once-extensive cultural domain is the mountaintop fortress of Kuélap. Located just outside of the town of the eponymous city of Chachapoyas, this massive complex contains some 550 structures in total, making it one of the largest stone ruins in the Americas. As mysterious as it is beautiful, Kuélap's understated splendor and dreamlike setting can give Machu Picchu a serious run for its money. A visit to Kuélap used to entail a two-hour trek up a muddy path, but the Peruvian government has recently cut the ribbon on a new cable-car system which cuts the travel time down to a mere 20 minutes. Although these new facilities are expected to increase the amount of tourism to the site, it's still located in the north, well off the classic Gringo Trail through Southern Peru and thus makes an excellent alternative to those more popular locations. Make sure to check out findlocaltrips.com to compare prices and book tickets online before you.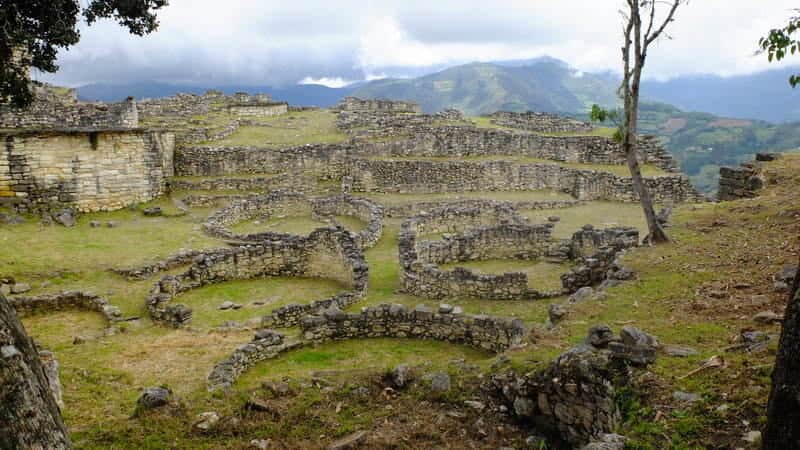 ---
ENTERTAINMENT TIP: If looking for fun at night, or to watch sports during the day, or even a taste of home, visit the Wild Rover Hostels Chain for great food, sports and beer! Entrance to their bars is free even for non-guests
---
Chan Chan
Chan Chan was the largest city of the entire pre-Columbian era in South America. As the capital of the Chimor Empire, the city was home to an estimated 40,000-60,000 people and its influence stretched all the way down the Peruvian coast. The Chimú were eventually defeated by the Inca Empire and the city of Chan Chan was later looted by the invading Spaniards. The city's basic infrastructure and walls have survived, however, and still give visitors a sense of Chan Chan's imposing size at its height. One of the most interesting features of the site is its superb decorative wall reliefs carved with geometric patterns and images of local flora and fauna.
Nowadays, the ruins of Chan Chan are just a short trip away from the city of Trujillo, capital of the La Libertad region of northern Peru. Trujillo makes a great stopping point on the way to Lima from points further north such as Máncora, or a base for further travel in northern Peru. Trujillo is also near the quaint coastal village of Huanchaco, famous for surfing and seafood and a sublimely relaxing place to spend a day or two. Buses and flights are available daily from Lima to sun-soaked Trujillo, the home of Chan Chan and many other wonderful attractions.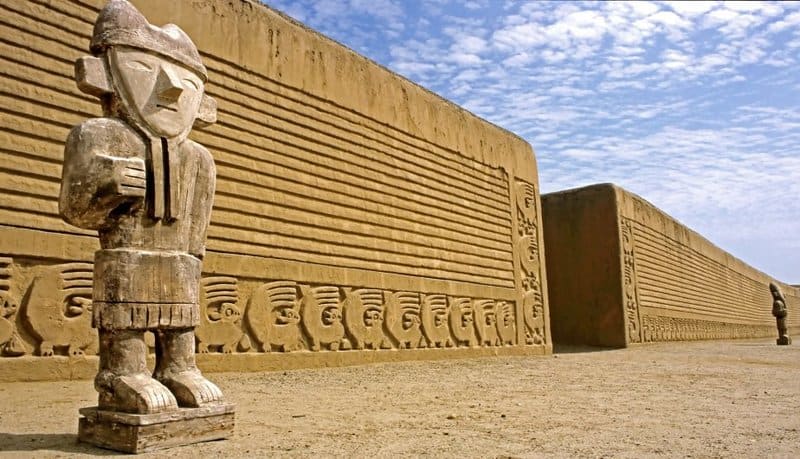 Sipán
Sometimes cheekily referred to as "Peru's King Tut," El Señor de Sipán (The Lord of Sipán in English) is the name that archaeologists gave to a mummy whose tomb was excavated at Huaca Rajada, Sipán in northern Peru, near the modern city of Chiclayo. Dated to roughly 50-700 AD, this "Lord" is believed to have been a member of the Moche civilization which flourished in northern Peru for much of the first millennium. What makes El Señor de Sipán so significant is that the tomb was found completely intact, a rare occurrence in a region where grave robbers have picked over every ancient site with a fine-toothed comb.
At the Sipán Archaeological Complex and its on-site museum, you can see for yourself the impressive ornaments of gold, silver and turquoise with which the tomb was adorned, all extremely well-preserved and beautiful. The Sipán Museum of Royal Tombs in the nearby town of Lambayeque also showcases a number of other relics, including the actual skeletal remains of the tomb's inhabitants. The Lord of Sipán made international headlines when his tomb was discovered in 1987, and if you make the trip up to see him you'll definitely understand why!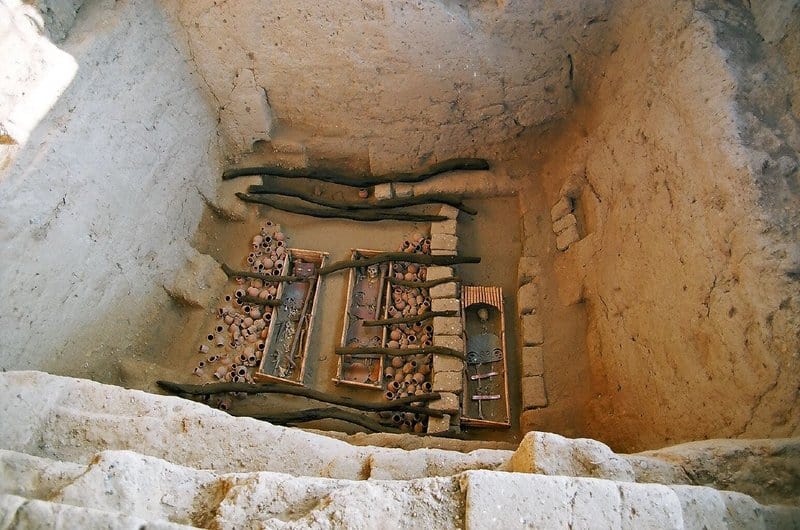 ---
So there you have it. As you can see, Peru was home to an extensive array of pre-Columbian civilizations besides the famous Incas, leaving behind ruins and relics every bit as impressive as the iconic ruins of Machu Picchu. Maybe the tickets for the Inca Trail were sold out, or maybe you're just crowd-averse and want to do something a little offbeat. Whatever the reason, we hope that one (or all) of these amazing alternatives to Machu Picchu have sparked your imagination and inspired you to plan a trip to this beautiful country!