Aji de Gallina: A Recipe from Gaston Acurio's Cookbook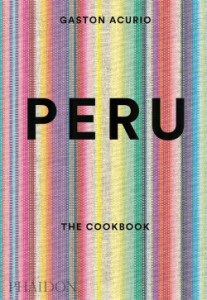 Peru: The Cookbook by Gastón Acurio (Phaidon, 2015) is a meaty tome packed full of recipes — about 500 recipes across more than 400 pages.
You'll find everything from appetizers to desserts and drinks, from anticuchos to classic beef tripe cau cau.
HOW TO PERU TRAVEL TIP
: Save money and stay safe when going to/from Lima Airport by using the Official Bus service inside the Airport called
Airport Express Lima
Phaidon has kindly given me permission to publish three of Gastón Acurio's recipes from the book. With so much to choose from, I decided to go with three of my personal favorites from the world of Peruvian cuisine: ají de gallina, picante de mariscos and jalea limeña.
We start here with ají de gallina, a creamy Peruvian classic that can be as smooth or as spicy as you like.
This recipe requires ají amarillo paste, ají mirasol paste and Peruvian-style white rice, instructions for which appear below the main recipe.
COVID-19 PERU UPDATES
All the information you need to stay up to date
with COVID-19 (Coronavirus) in Peru.
Click Here For More Info
Serves: 4
Preparation Time: 20 minutes
Cooking Time: 20 minutes
The chili here is not a spice, but the main ingredient of this stew, and the creamy mixture that is aji de gallina is the centerpiece of this dish. It is one of Lima's most beloved stews.
2 tablespoons vegetable oil
2 red onions, finely chopped
5 cloves garlic, chopped
1 oz (25 g) shelled pecans or almonds, chopped
1 cup (8 fl oz/250 ml) Yellow Chili Paste (see below)
1/2 cup (4 fl oz/120 ml) Mirasol Chili Paste (see below)
1 teaspoon ground cumin
2 teaspoons dried oregano
8 white bread slices
1/2 cup (4 fl oz/120 ml) whole (full-fat) milk, plus extra if necessary
1 1/2 cups (13 fl oz/375 ml) chicken broth (stock), plus extra if necessary
1 x 1-lb (450 g) cooked chicken breast, shredded
3/4 oz (20 g) Parmesan cheese
2 white potatoes
2 cups (14 oz/400 g) Peruvian-Style Cooked White Rice (see below), to serve
salt and pepper
To garnish
4 pitted black olives (optional)
1 egg, hard-boiled and cut into quarters
1 sprig curly parsley
Heat the oil in a pan over low heat, add the onion and garlic, and saute for a few minutes, until the onion has softened. Add the chopped pecans or almonds and chili pastes. Season with salt and pepper.
Add the cumin and oregano and continue to cook, stirring, for a few minutes, then remove from the heat and set aside.
Put the bread in a bowl, cover with the milk, and let soak for 5 minutes, then put in a blender with the onion and pecan mixture. Blend together well.
---
ENTERTAINMENT TIP: If looking for fun at night, or to watch sports during the day, or even a taste of home, visit the Wild Rover Hostels Chain for great food, sports and beer! Entrance to their bars is free even for non-guests
---
Pasta de Ají Amarillo (Yellow Chili Paste)
Makes: approx. 14 oz
Preparation Time: 25 minutes
Cooking Time: 8–10 minutes
2 ¼ lb yellow chiles, seeded, membrane removed, and cut into pieces
1 tablespoon vegetable oil
Place the chiles in a pan with enough cold water to cover and bring to a boil, then remove from the heat and drain. Repeat the process 3 times, changing the water each time.
Put the blanched chiles in a blender with the vegetable oil and a tablespoon of water and blend for about 5 minutes, to form a thick paste. Once the mixture is well blended, push it through a strainer (sieve).
This chili paste is best used immediately, though it will keep refrigerated in an airtight container for 2 days. It can be used to prepare dressings and stews.
Ají Mirasol Licuado (Mirasol Chili Paste)
Makes: approx. 1¾ lb (800 g)
Preparation Time: 25 minutes, plus 12 hours soaking
2¼ lb (1 kg) dried Mirasol chiles
Thoroughly wash the mirasol chiles to remove any dust or dirt. Cut in half lengthwise and remove the seeds and veins.
Put the chiles in a bowl, cover with water, and let soak for 12 hours or overnight, changing the water 3–4 times during the soaking.
Once soaked, drain the chiles and put in a blender with ½ cup (4 fl oz/120 ml) boiling water. Blend together thoroughly for about 5 minutes, then strain the mixture to remove any remaining chile pieces.
Transfer to a suitable container and keep refrigerated until needed. This chili condiment acts as a base for other condiments, stews, and soups.
Arroz Blanco Graneado (Peruvian-Style Cooked White Rice)
Serves: 6
Preparation Time: 5 minutes
Cooking Time: 20–25 minutes
We eat white rice with almost everything in Lima and it is rare not to see a large pan of cooked white rice in the kitchen at home.
3 tablespoons vegetable oil
4 cloves garlic, finely chopped
2 cups (14 oz) white long-grain rice
3 tablespoons salt
Heat 2 tablespoons of the vegetable oil in a pan over medium heat, add the garlic, and fry for 2 minutes until softened but not browned.
Pour over 3 ½ cups (28 fl oz) water and bring to a boil. Add the rice and salt to the pan and stir together. Reduce the heat to its lowest setting, cover and cook for 10–15 minutes.
Remove from the heat, drizzle over the remaining tablespoon vegetable oil, and stir together with a fork. Re-cover the pan and let stand for 2 minutes until the rice has achieved the desired consistency. The rice should be cooked but not too soft or sticky, and the grains should separate easily.
If you like this kind of thing and feel you are now ready for some real life cooking classes in the Peruvian capital or in Cusco you can check out the options and make a reservation here.
All recipes reprinted with permission from Phaidon (phaidon.com/peru). All images © Phaidon.

Sign up now and receive info about
all Peru destinations for 2021 travel!