The Top 10 Best Hostels in Huaraz
This is your one-stop guide for accommodations for your hike to Laguna 69, the Santa Cruz trek, and many more. Keep reading to find out the 10 best hostels in Huaraz.
Huaraz is often considered to be the trekking capital of South America. Most people who head to Huaraz are planning some sort of hike or extended trek. For this reason, the needs of hostel patrons in Huaraz, who are generally planning to wake up very early to begin their hikes, are different than other places like Lima or Cusco, where a party atmosphere may be more to their liking. In Huaraz, what matters most is comfort. Hostel patrons want hot showers, warm rooms, comfortable beds and complimentary coca tea to fight altitude sickness. It's also important to have knowledgeable staff who can give good advice on how to prepare for treks and what to bring. With this in mind, here are our picks for the 10 best hostels in Huaraz.
---
Dorm beds from: s/25
Private rooms from: s/79
Located close to most bus stations as well as a short walk away from the central plaza, Hostel Akilpo is an ideal place to base yourself while in Huaraz. With hot showers and nice, comfy beds, this hostel has everything you'll need to relax while you're in the city, and free luggage storage is available while you're out on long treks. In our opinion, Akilpo Hostel is one of the best options for your stay in Huaraz.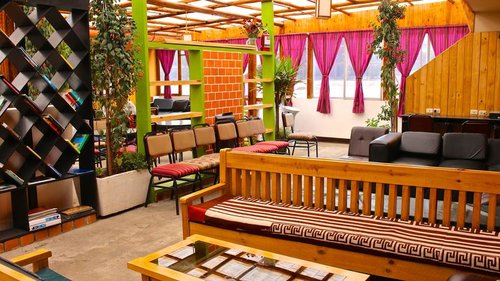 Dorm beds from: s/28
Private rooms from: s/70
Alpes is one of the best hostels on this list if you want to socialize with other travelers. There are many common areas where you can hang out and meet people, as well as a bar area where you can enjoy some tragos or chelas with your new friends. The hostel organizes many activities including salsa lessons and Spanish lessons. An impressive number of services are available here including a massage parlor, laundry service and an on-site travel agency offering all kinds of adventure sports and treks. Hostel Alpes is definitely one of our favorite hostels in Huaraz.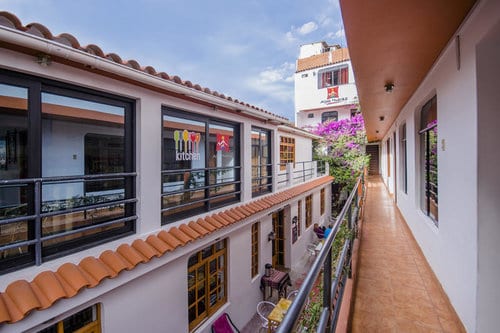 Dorm beds from: s/20
Private rooms from: s/50
This is more like a tour agency with a hostel attached, rather than the other way around. For that reason, this hostel is probably the best in Huaraz for those who are serious about rock climbing and trekking. Their in-house tourist agency is considered one of the best, and they can set you up with a perfect custom-fit adventure package just for you. Andescamp also features cozy common areas and a bar where you can meet fellow travelers between treks. The best part is that it also happens to be one of the cheapest options in town, with fanntastic rates for both dorms and private rooms.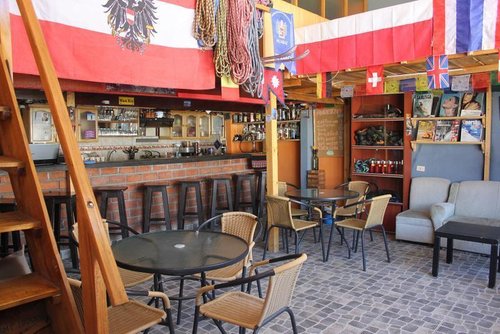 Dorm beds from: s/44
Private rooms from: s/144
Slightly pricier than some of the other options listed, La Casa de Zarela is a bit like a hybrid between a hostel and a bed & breakfast. It is listed as a hostel and does indeed offer dorm beds, but its high standards of cleanliness, service and style are more typical of a bed & breakfast. The vibe here is excellent, with friendly guests and staff to interact with in common areas but a peaceful quiet atmosphere in the rooms. There is an on-site bar as well as a restaurant serving up Thai food (a nice change if you're getting tired of Peruvian food). La Casa de Zarela is a top-notch choice for visitors in Huaraz.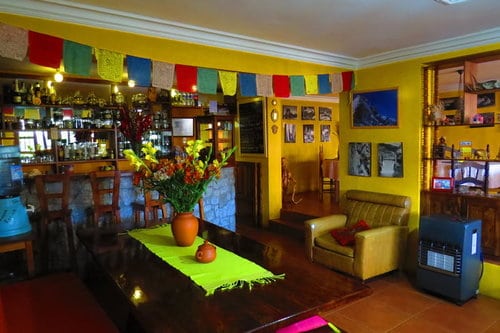 ---
ENTERTAINMENT TIP: If looking for fun at night, or to watch sports during the day, or even a taste of home, visit the Wild Rover Hostels Chain for great food, sports and beer! Entrance to their bars is free even for non-guests
---
Private rooms from: s/71
This is another option which is different from a typical hostel since it only offers private rooms, but nevertheless maintains a hostel-like atmosphere. The front desk staff are friendly and are able to help you out with any of your needs, whether it be booking tours or giving advice on what to bring on treks. The site is located slightly away from the city center, but has an incredible view of the surrounding mountains and scenery.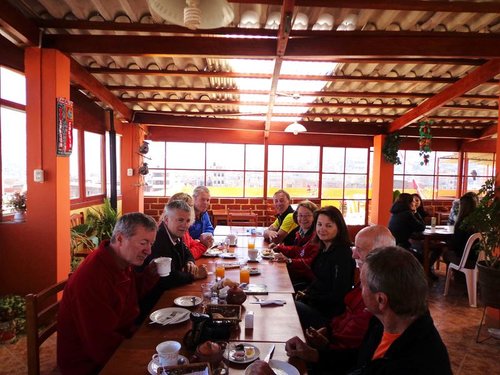 Dorm beds from: s/16
Private rooms from: s/97
The name says it all with this one. The Santa Cruz Trek Hostel exists specifically to cater to visitors who have come to Huaraz to complete the famous Santa Cruz trek. Staying here gives you a great opportunity to meet other travelers who are planning to do the trek, especially useful if you want to join a larger group in order to share costs. For extra convenience, tours and guides can be booked directly with the hostel. All staff are also experienced with the Santa Cruz and other popular treks, so you can pick their brain for any advice or tips before you take off as well.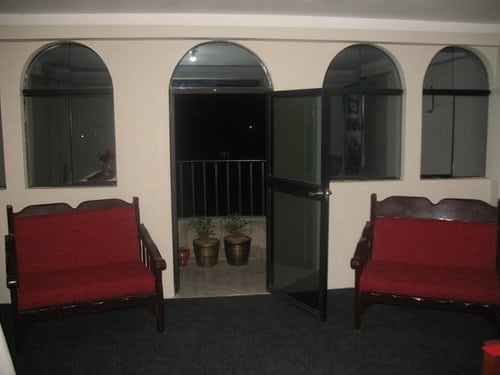 Dorm beds from: s/30
Private rooms from: s/60
Huaraz is a well-known destination for climbers, and, as the name implies, Monkey Wasi is geared toward those with a particular interest in this. Here you'll meet other climbers and enjoy a laid-back environment with helpful and informative staff. The hostel comes with all the essentials (hot water, WiFi, comfy bed, heated rooms) as well as free breakfast every morning. The price point is affordable, and definitely worth it for the atmosphere.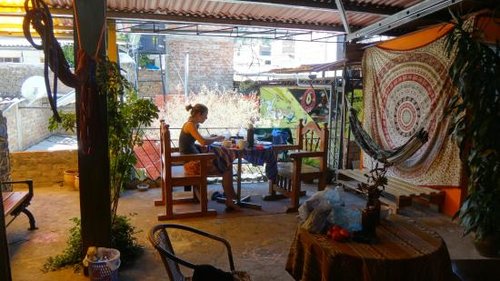 Dorm beds from: s/20
Private rooms from: s/60
Big Mountain is located conveniently in the center of Huaraz and is close to everything you'll need, including bars, restaurants, markets and travel agencies. It also features a rooftop bar with breathtaking views of the city and surrounding mountains, an excellent place to relax with a beer or cocktail after a long day of hiking. Another bonus is that all dorm beds include privacy curtains to ensure you get a full night's rest and aren't disturbed by people waking up for early treks.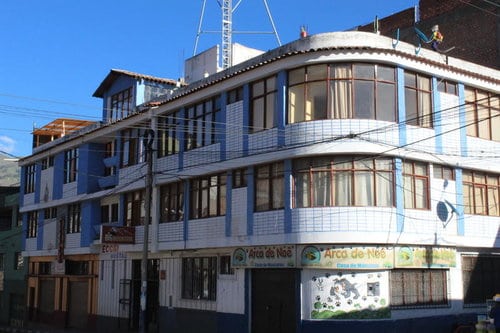 Dorm beds from: s/32
Private rooms from: s/48
This affordable hostel is located just a stone's throw from the center of Huaraz. It's known among backpackers for being exceptionally clean and well-kept. Breakfast is healthy and filling, with fresh fruit, eggs, bread and more. El Jacal was so popular that they've opened an extra location a few blocks away, with one having more of a bed & breakfast feel and private rooms while the other has more of a backpacker vibe. This is an excellent option for all budgets.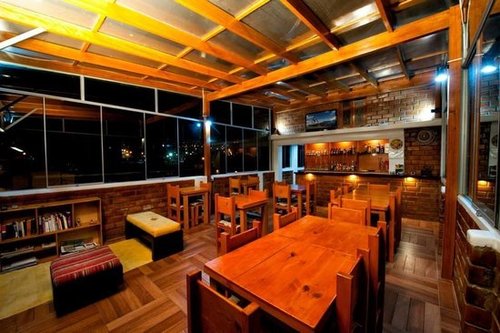 Dorm beds from: s/13
Private rooms from: s/30
The facilities here are rather basic, but the prices can't be beat and the hostel includes all the basics that you'd expect like hot water and WiFi. It's located a bit away from the city center, but close to some attractions such as the Regional Museum of Áncash and the archeological site of Pumacayan. Huaraz is also quite small so even when you're away from the central plaza, you're still only a few minutes away. Kame House is a great option for travelers who are budget conscious and looking for good but basic accommodation.

---
So that wraps up our list of the best hostels in Huaraz. Now that you've hopefully got an idea where you are going to stay, you can get to the best part–planning out your treks and activities while you're there. Since you'll likely be bussing in from Lima or another part of Peru, make sure you check out our blog on The Best Bus Companies in Peru as well.