Below we have created a guide on everything you need to know about the Rainbow Mountain Peru trek. From how it was formed to how to get there, keep on reading to find out all you need to know before visiting this increasingly popular attraction in Peru.
Rainbow Mountain, also known as Vinicunca, is a formation of colorful hills located in in the Andes – the longest continental mountain chain in the world – of Cusco. The incredible tectonic forces that produced the Andes mountains lead to volcanic activity and the formation of rare and varied mineralogy. In particular, the colors you will see at Rainbow Mountain, Peru were formed by sedimentary mineral layers that have been exposed by erosion.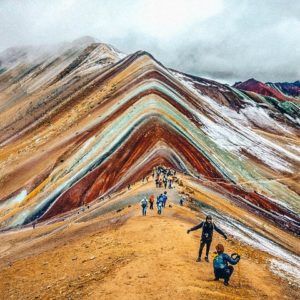 The Rainbow Mountain trailhead can be reached after a 3-hour drive from Cusco. It has been recently discovered but is fast becoming one of the places to visit in South America. No matter what your age is, it is very easy to visit Rainbow Mountain in Peru at any time of the year. But, we strongly suggest that you go there on a sunny day to make your experience more enjoyable.
There are many tour operators that can help you explore Rainbow Mountain. Many fellow travelers have recommended Rainbow Mountain Travels as they are one of the most reputable operators in the area. Below is a sample itinerary of this tour.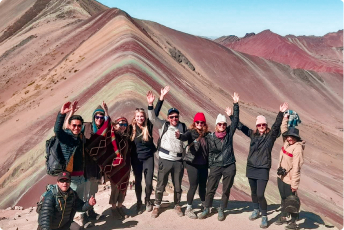 RECOMMENDED
Rainbow Mountain Tour
Operated by
Perfect for those who want to be one of the first at the mountain to get the perfect photo without the crowds! Enjoy the natural wonder in the safest way possible with professional guides.
View Tour
Rainbow Mountain Peru itinerary:
For this one-day tour, the adventure begins very early at 03:00 a.m. Tour operators start picking up travelers at their respective hostels or hotels at around this time. Tours operate every day.
The 3 hour-drive out from Cusco is a bit bumpy as you make your way up close to 15,000 feet above sea level. Expect to feel the freezing cold morning air once you get off your transportation.
Just as the sun comes up, groups gather together to have breakfast in a small hut, which is usually included in the price of the tour. Once finished, you will have to pay your 10 Soles entrance fee to the park which usually isn't included in most Rainbow Mountain Tour packages. After that, your guide will lead your group on a trek in search of the 'rainbow'.
The trekking, which takes approximately 3 or 4 hours up and slightly less on the way down, will pass a path that gradually changes the panorama between mountains of intense colors and small streams of ice water that feed and give life to this beautiful place. As you go walking, you will observe how the colors around change as the climate changes.
When you reach the top of Cerro Vinincunca, the local name of Rainbow Mountain, you will have enough time to take selfies, photographs, videos, etc. At the same time, while you enjoy your refreshments, Ausangate glacier on one side and bizarre, colorful mountains on the other side will literally pass on their magic and energy to you.
The descent is just as impressive. As the glorious views slowly start to disappear, you'll make your way back to the hut through herds of alpacas and sheep.
Once back to the hut, a fresh homemade lunch will be served, which is again usually included in the price of the tour. Then, you get on your transportation to go back to Cusco. Expect to arrive around 7pm back to your accommodation.
There you go! Easy enough?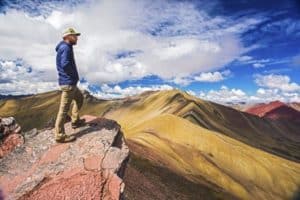 It is worth mentioning that there is the option to ride on horseback for the flatter sections of the climb. The cost is approx. 20 or 30 Soles and it would make for a nice photograph (and break!). Moreover, as weather can change in seconds when you're high up, be sure to pack sunblock, sunglasses, a rain jacket, a hat, and wear some thick hiking socks – but also bring a spare pair of socks just in case! It is also highly advisable to bring a small backpack with lots of water, snacks, and toilet roll.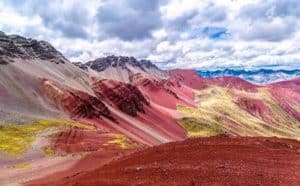 Last, but not least, if you want to do this trail a bit more Inca style, chew on coca leaves as you go along. Coca leaves had been used since ancient times to beat altitude sickness or 'soroche' as the locals call it.
For more detailed information on how to prepare for the trek to Rainbow Mountain, make sure to check out the excellent comprehensive guides at rainbowmountainperu.com as well. Happy Trekking!