Piura Peru things to do this 2020
Planning to visit Piura and do not know where to start? Get know the best things you can do in Piura Peru this 2020.
Piura is a gorgeous city located in northwest Peru and It's known for having the most beautiful tropical beaches in the country. Nowadays, Piura is a perfect place to relax and get to visit archeological sites as it's full of these attractions. In this post, we will show you the 8 things you can do in Piura this 2020 for not missing out on a great experience.
Visit the Main Square and surroundings
This is an old square that stands out for its beauty, colonial-style, and variety of flowers and plants. In the middle, there is a monument of "La Pola", the oldest in the region, and the Cathedral of Piura, built in colonial times. If you are exploring the city, this is a must-visit place definitely.
Buy souvenirs at Catacaos Handicraft Market
Catacaos is an old town built with small houses of cane and is unique in many ways, however, the handicraft market is the highlight of the place. It displays products typical of the region; among them are straw hats and gold and silver filigree jewelry.
The artisan work is made by the peasants and most of the material comes from Cajamarca. Today, many visitors come to buy these products as they have a huge cultural value.
Go to Aypate Archaeological Complex
The Aypate Archaeological Complex is located in the rural community of Tacalpo-Ayabaca. It is a high mountain formation at 2,900 meters above sea level. The complex is made up of a group of buildings distributed throughout the area and presents architectural diversity.
For this reason, is considered one of the most important architectural works of the zone. If you are into having ancient cultural experiences, this place will be for you. There are some tour operators that can take you here on a full-day tour as well.
Spend a relaxing time in Mancora
Mancora is one of the top attractions to visit in Peru and therefore receives a large number of tourists every year. Its tropical waters and sunny climate make it ideal to relax at the beach and have a good time. You can also find good waves which make it perfect for practicing surf and other sports.
Also, the nightlife is great here as there are many bars and party hostels all over the place. Making Mancora an attraction mainly visited by young people nowadays.
Go to Las Huaringas Lagoons
These lagoons are very famous by the locals for having medicinal properties. Many travelers arrive out of curiosity and others looking for solutions to their illnesses and even love. There are rituals of bathing in the waters of the lagoons performed by the locals who believe in the great power of this natural resource. If you love nature, Las Huarungas Lagoons are the perfect spot with no doubt. It's a natural destination in Piura worth visiting.
Visit Cabo Blanco, Los Órganos and Vichayito
If you are looking to relax by the sea, then you have to visit these beaches. Since Piura has a tropical climate, the beaches here are very famous throughout the country. Due to their crystal waters and a large amount of marine life, people come here to do some outdoor activities and relax.
There are a lot of hotels and restaurants as the zone has developed tourism in the last years. Unlike Mancora, this place is mostly visited by families.
Get to know the Petroglyphs of Samanga
They are a group of at least 240 petroglyphs that are engraved in different stones of different sizes. It is believed that they are between 2,000 and 1,000 years old on average and their origin is related to the culture of the Ayahuancas who settled in the area around that time.
In this place you will enjoy a more cultural experience learning from an ancestral culture that lived hundreds of years ago.
Try the typical food
Piura's cuisine is delicious, part of its tradition, and recognized for its mix of Andean, Spanish, and seafood products, especially the use of fish. There is no doubt Piura has one of the most delicious food throughout the country so do not hesitate to taste as much as you can.
Among the most representative dishes are the ceviche, cabrito a la norteña, Sudado de mariscos, and Seco de Chavelo. Please do not leave Piura without having tried any of these dishes, you will not regret it.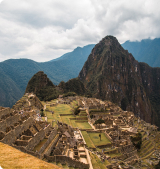 Peru's Covid-19 cases drop to record lows!
Remember, when traveling around Peru, Peru Hop is the only company offering flexible date changes until 2024 at NO extra cost. No airline, bus company or tour company offers such flexibility, on top of our stringent covid-19 protocols and safety procedures.