The PeRut GPS Map of Peru
Here's the quick intro: PeRut is a community-based project that creates — and freely distributes — GPS maps of Peru. If you're going to be driving in Peru with a Garmin GPS, head over to the PeRut website for more information and installation instructions. Alternatively, you can use PeRut on your laptop…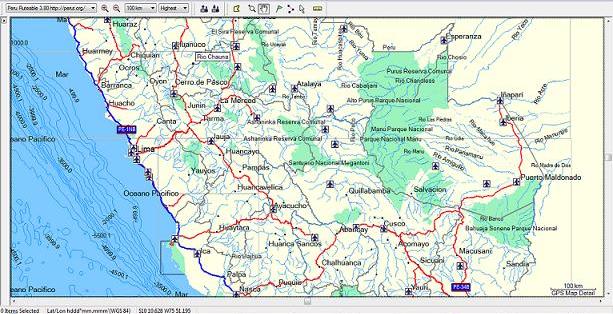 GPS Maps of Peru on Your Laptop
I don't own a GPS, but I've downloaded PeRut onto my laptop. It's a handy download for anyone traveling in Peru with a laptop, netbook or smaller handheld device (according to the PeRut website, Android, iPhones, Windows Mobile, Symbian and Bada phones can use the PeRut maps in the Navitel format).
The level of detail ranges from high to extremely basic, depending on the size (and, perhaps, popularity) of the destination. Zoom into Lima or one of the other big cities and you'll find an impressive level of detail, including restaurants, hotels, bars and banks (and, of course, comprehensive street names).
The detail remains respectably high for small cities and large towns (for example, Chachapoyas, Tarapoto and Oxapampa) but soon drops to almost zero for small, out-of-the-way towns (Tocache, Atalaya). Presumably, however, the level of detail will continue to grow with time and with the expansion of the PeRut community.
Other reasons to put PeRut on your laptop include a quick search facility and the fact that you don't need to be online to look at the maps. You can easily search for destinations or just skim around Peru from a height of 200 km before diving into street map detail from 100 meters up.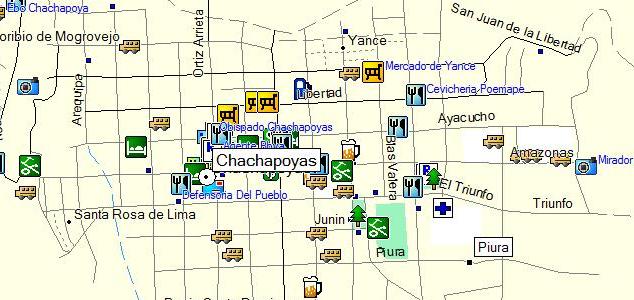 Have You Used the PeRut GPS Map of Peru?
If you've used PeRut — either with a GPS or on a laptop or other device — feel free to leave a short review below. For all technical questions, head over to the PeRut website and forum (you can try asking me, but I sure ain't no techie…). Cheers!