Peru Safety Travel Tips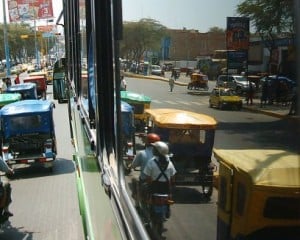 Here are a few Peru safety tips to bear in mind as you cruise around the country. Peru is not a hugely dangerous place and paranoia is counterproductive.
If you keep your wits about you and remember the following safety tips, your Peru holiday should go smoothly.
Firstly a quick tip: If travelling to or from the airport to Miraflores Lima. There is now a direct bus link between the two with the new official Airport Express Lima. Free wifi, usb charging ports, no baggage restrictions and a cheap price make this a really good and safe option for travellers.
General Peru Safety Tips
Trust your instincts – You don't have to be a Jedi Knight to develop your instincts. In fact, your instincts are probably working fine; you just need to learn to trust them. If a situation feels wrong, it probably is wrong. Again, don't get paranoid, but don't ignore your instincts either.
Don't trust everyone – Peruvians are a friendly bunch, but every country has its share of scoundrels and swindlers. Don't let that friendliness blind you. If an overly friendly stranger approaches you in the street, it could be the beginning of a scam.
Don't walk around at night alone – Walking around at night, especially in deserted urban areas, is a bad idea wherever you are in Peru. Safety in numbers helps, but taking a taxi is safer.
Try not to look lost – Don't stand around on a street corner looking all lost and confused while staring at your map or guidebook. If you are lost and feel unsafe, jump in a cab or go sit in a cafe while you figure out where you are (if you speak Spanish, ask a waiter for directions).
Walk with a purpose – A confident stride not only does wonders for your image, it also makes you look less of a target than the worried looking gringo shuffling along behind you.
Stop and stare – If you think someone is following you, stop and give him a good long stare. Let him know that you are fully aware of his presence.
Get a grip – Always try to keep a firm grip on your backpack or daypack. If you are sitting down in a bus terminal or even a restaurant, put the pack at your feet and stick your leg through one of the straps. Don't give a green light to bag snatchers.
Don't get hit by a bus – Most Peruvian motorists don't care about pedestrians, pets or personal feelings. Traffic in the cities is chaotic, so be careful when you cross the road.
Avoid bad neighbourhoods – When you arrive in a new town or city, check your guidebook for any neighbourhoods to avoid. Better still, ask a local (hotel or hostel receptionists are often a good source of info).
Seek advice before trekking – Find out if a route has any potential safety issues before setting off on a trek. Trekkers are occasionally robbed on even the most well trodden routes. If a trail has a bad reputation, consider going with a group and with a local guide.
Learn some Spanish – You will feel much more confident if you learn some Spanish. Many Peru safety concerns will be difficult to comprehend, avoid or resolve if you don't have a basic command of the language.
Peru Safety Tips – Valuables, Money and Appearance
Keep your valuables hidden – Don't flash your cash around and keep jewellery to a minimum. Money belts are a good idea if your pockets are not secure. Don't carry more cash than you need, and leave your passport in your hostel or hotel (carry a photocopy instead).
Be careful with your camera – Don't walk around with your camera hanging from your neck or shoulder. If you want a stranger to take your photo using your camera, pick a friendly looking pensioner (at least then you'll have a decent chance of catching up if they try to run off with it).
Dress down – Avoid unwanted attention by keeping your clothing simple. Forget about "trying to blend in with the locals". Chances are it won't work, especially if you are light-skinned, fair-haired and over 6 ft tall.
Use ATMs during the day if possible – It is much safer to withdraw money during the day than at night. If possible, use an ATM (cash machine) located inside a bank rather than a street-side "hole in the wall".
Peru Safety – Drink and Drugs
Buy your own drinks – Be wary of any drinks offered to you by strangers in bars or clubs. If it has been spiked, you will end up being robbed (or worse).
Drink wisely – If you find yourself knocking back one too many Peruvian beers or Pisco sours, try not to throw caution completely to the wind. Getting drunk and stumbling back to your hostel at night, especially alone, is a bad idea. Jump in a taxi or stumble back home with a group of friends.
Don't buy drugs – Strange pills, white powder and pungent herbal tobaccos… buy them at your own risk. This isn't a moral issue; it's just a good way to avoid problems. Police stings and zero tolerance, whacked-out dealers and dodgy side street deals, dud drugs cut with chemical cleaning products… Wherever you are, the risks are there. Buyer beware.
That's it for now; I will expand the post if anything else comes to mind. In the meantime, feel free to add any of your own Peru safety tips in the comments section below.