Peru Money Profile – 10 Nuevo Sol Banknote
The 10 sol banknote is the smallest denomination of paper money in Peru. Here's a quick profile of the note and the people and places that feature on the design (old and new).
The 10 Sol Banknote: Peruvian Pilot Quiñones Gonzáles and Machu Picchu

Peruvian pilot José Abelardo Quiñones Gonzáles is honored on the obverse (front) of the 10 sol banknote.
Quiñones Gonzáles was born in Pimentel, Peru, in 1914. Shortly after joining the Jorge Chávez Aviation School as a cadet, Quiñones began to stand out amongst his fellow pilots due to his natural ability in the air. His acrobatic displays impressed his superiors and Quiñones soon started to climb up the ranks of the Peruvian Air Force.
By the outbreak of the Ecuadorian-Peruvian war in 1941, Quiñones had risen to the rank of lieutenant. While leading a bombing run against an Ecuadorian artillery battery, Quiñones' aircraft was severely damaged by anti-aircraft fire. With no chance of bailing out, Quiñones decided to fly his ailing plane into the enemy artillery. In doing so, Quiñones completed his mission but at the expense of his own life.
The reverse of the 10 nuevo sol note shows the classic view of Machu Picchu. Before the release of the current design, the reverse showed Quiñones Gonzáles' plane flying upside down during an acrobatic display.
Current 10 nuevo sol banknote: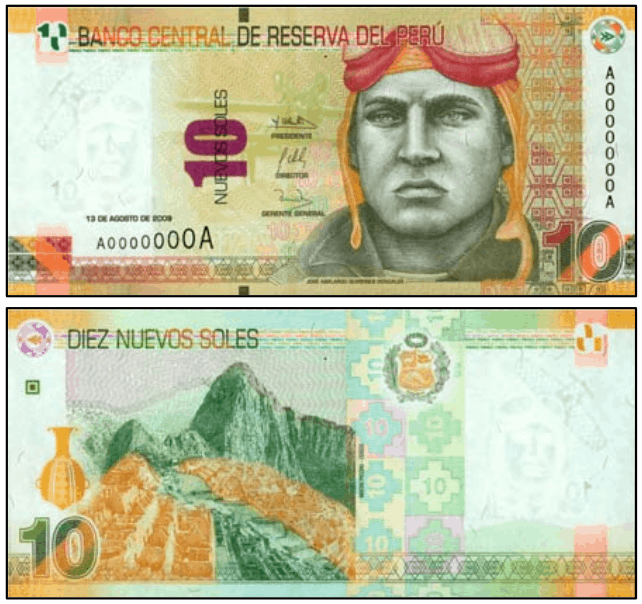 Previous 10 nuevo sol banknote: