Why Peru Hop IS worth it!
Is Peru Hop worth it?
On my travels, I spent some time trying to decide whether Peru Hop would be worth the money or not. According to a lot of different online sources, the reviews had been quite mixed. While some people complained about it being overpriced, others said the many perks made up for the price difference by a mile. As I'm sure you can tell by the title, I came to the conclusion that; yes, Peru Hop is worth the money. So here's why I chose Peru Hop and why I still think Peru Hop is worth it since my journey;
HOW TO PERU TRAVEL TIP
: Save money and stay safe when going to/from Lima Airport by using the Official Bus service inside the Airport called
Airport Express Lima
P.s. My calculations are based on the journey 'Lima – Cusco – La Paz', you can find all the details of Peru Hop's trip here!
Before I took Peru Hop
First I looked solely at means of transport from destination to destination regardless of extra tours & discounts etc.
Lima-Paracas . . . . . . . . . . . . . . . . . . . .$8
Paracas-Huacachina . . . . . . . . . . . . . $15
Nazca-Arequipa . . . . . . . . . . . . . . . . .$25
Arequipa- Cusco . . . . . . . . . . . . . . . . $35
Cusco-Puno . . . . . . . . . . . . . . . . . . . . $30
Puno-Copacabana . . . . . . . . . . . . . . $10
Copacabana-La Paz . . . . . . . . . . . . . $7
TOTAL: $130
Then taking into account about $3.10 (S/.10) for each taxi from the bus stations to the hostels without the Peru Hop pick up/drop off (give or take 10c so we'll say $3). With 7 legs of the journey that's: 14 x $3 = $42
TOTAL: $ 172
Then I accounted for some of the free tours offered by Peru Hop:
Paracas National Reserve . . . . . . . . . .$5.50
Pisco Vineyard . . . . . . . . . . . . . . . . . . . .$18
Nazca Lines Viewing Tower . . . . . . . . $1
Tiquina lake crossing . . . . . . . . . . . . . . $1
TOTAL: $ 197.5
Peru Hop's 'Lima – Cusco – La paz' costs $228. Considering the majority of negative reviews I'd read were people complaining about the price, I was surprised that it only averaged out at $30. I then did a bit of research to find what the internet said Peru Hop's main pros and cons were to figure out the real value and whether Peru Hop was worth it.
Pro's
More Convenient
Safer
Reliable
Extremely social
Con's
More Expensive
Not super luxurious
Potentially not as good as claiming
With not a huge price difference and the many good online reviews, I decided Peru Hop would be worth it!
After I took Peru Hop
So I'd already weighed up the pro's, con's and price list before I took Peru Hop, but here's a few things I felt like mentioning that made Peru Hop worth the money even more for me.
Worth it for closer friends than anywhere else
I've always been good at making friends so I wasn't worried about that. However, the group activities, meals and games organized by Peru Hop really helped form a lot of the bonds I made. I also ended up going on a lot of the same tours and staying in the same accommodation with these amazing people I'd met along the way so I made friendships stronger than I ever would have travelling alone.
Worth it for guides who love their country
I wanted to learn about Peru but explore the country without paying someone to walk me through a step by step tour. Peru Hop was the perfect balance. Our guide told us all about the fascinating places we stopped in but we also had enough space to do our own thing at all of the destinations. It was more than a book or lonely planet could have given, but also not overbearing!
Ultimately, worth it for safety.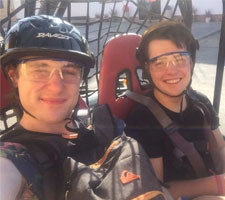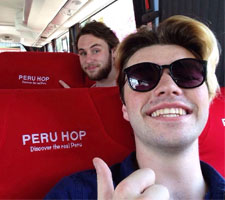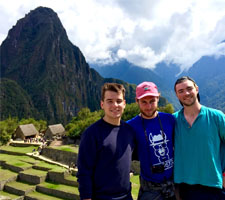 When I flew into Lima, I couldn't get over the crazy state of the roads over here. There was loud, foggy traffic in every corner and then once out of Lima and on the open road, cars, buses and trucks all seemed to be throwing all speed limits out the window. I was also probably a little on edge from a few crashes I'd heard about while in Peru, however the whole time I was pretty glad I'd opted for the safer option! It gave me the freedom to sit back and take in the beauty of Peru knowing everything else was looked after!
Overall after my experience, I would definitely say Peru Hop is worth it! It was one of the best trips of my life and I'm glad I got to spend it with so many amazing people and at such ease! Thank you Peru Hop! For those who don't want to just take my word for it, you can check out a whole load more reviews on the Peru Hop web page.
If you're thinking of doing the same Peru Hop trip I did, you can find everything you need to know here! There are also several day trips and other passes to choose from if you want to take Peru Hop but not the same route as me!
---
ENTERTAINMENT TIP: If looking for fun at night, or to watch sports during the day, or even a taste of home, visit the Wild Rover Hostels Chain for great food, sports and beer! Entrance to their bars is free even for non-guests
---