Paragliding Lima: Experience having Lima at your feet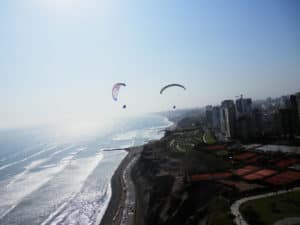 If visiting the beautiful capital city of Peru there is no better way to take in your surroundings than by paragliding Lima. When you visit the coast of Lima's Miraflores district, it is impossible not to see a handful of paragliders soaring through the sky. This adventurous pastime is probably the most memorable thing to do in Lima and is definitely a good way to take advantage of the steep cliff view. If you have not yet arrived in Lima we advise you use the hop on hop off bus service Peru Hop to travel around Peru to Lima, or if you're flying into Lima then Airport Express Lima will take you from the airport to your accomodation in safe and affordable fashion.

If you're a tourist and are thinking of paragliding in Lima then the best place to book is on the price comparison site findlocaltrips.com. Most outings also include an HD video from the GoPro that will be strapped around your chest. What better way to make an experience last a lifetime than to be able to watch it again as you please. Medical insurance is also included, although the whole experience itself left me with no doubt about the emphasis placed on safety.
Safety
Of course, when in a foreign country and flying over 200 meters in the air, the safety of it all must be questioned appropriately. The instructor is very professional throughout the process and especially in the lead up to taking flight. You are attached to a harness at all possible angles and tightened in securely. The flight is in tandem, meaning you are attached to an instructor at all times.
You don't have to be an adventure junkie to have your own paragliding Lima experience. The euphoric ride through the Peruvian sky will leave you in awe of your surroundings.
In the Air
The rules for take-off are simple; run when told to run and sit when told to sit. Butterflies will run through your stomach as the wind grabs you from underneath and propels you into flight. Your instructor will tell you to relax and take it all in once in flight. As you float off the cliff by Love Park, what emerges next is a breathtaking view over the beautiful city of Lima. With the Pacific to one side and Miraflores on the other, you glide over Larcomar, the shopping center built into the side of the cliff, and watch the surfers lining the seafront.
The flight is not one filled with adrenaline or blood rushing speed. In fact, the ride is more relaxed than one might think, casual chit-chat with the instructor is to be expected. If it's not a windy day, the descent back to ground should be smooth and tranquil. When your feet are firmly back to earth and the dust settles, you are handed an SD card with the whole experience there to be rewatched on demand.
Other Things to do in Lima
The truth is that while Paragliding Lima is an amazing experience, it is only one of an abundance of activities to do in the capital. Check out findlocaltrips.com to see the full array of things to do, from learning how to make the famous Peruvian dish ceviche in a cooking class to taking a surfing lesson in the incredible waves Lima has to offer. Or if that's not your style, why not take a day trip to the desert oasis of Huacachina for some sandboarding and doom buggying.