What is the Best Way to See the Nazca Lines?
Many visitors to Peru find themselves wondering: what is the best way to see the Nazca lines? This is your one-stop guide to help you decide the best way to see the Nazca lines.
The Nazca lines, a collection of mysterious figures etched into the desert rock of southern Peru, are one of the country's most well-known landmarks and are visited every year by thousands of tourists. The figures ranged from simple geometric lines and shapes to more complex zoomorphic designs of fish, birds, terrestrial animals and human beings. The massive size of the site as well as their remote location means that the options for seeing them are somewhat limited. You basically have a choice between using a government-owned viewing tower or hiring a private plane to take you. So what's your best option?
Viewing Tower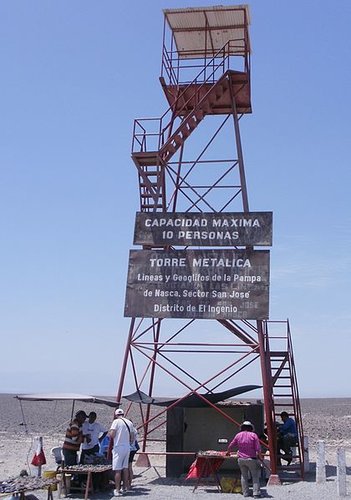 For those who are on a tight budget but don't want to skip seeing the lines entirely, using the roadside viewing tower may be the best option. If you're traveling with the Peru Hop bus service, a stop at the viewing tower is included with the price of your ticket. If you're using another bus company, your best bet to get to the tower would be to stay one night in the town of Nazca and hire a taxi to take you there.
The viewing tower is made from metal and consists of four staircases bringing you up to a maximum height of 13 meters (43 feet). From this vantage point you can see three of the Nazca figures clearly. It's certainly a decent view, but considering that the full collection of figures and lines numbers in the hundreds, you're only seeing a tiny portion of the site. For some, this might be enough, but others who want to see the full extent of this magnificent ancient wonder may opt to take a flight instead.
Airplane
Buying tickets on a small airplane is the best way to see the largest number of lines and figures in Nazca. The flights usually last around 30 minutes, during which time you will make several passes over the lines, taking you above the majority of the site. From this aerial vantage point, you'll be able to see the full shapes of the figures and appreciate them as one contiguous series of images. Many people believe that the Nazca lines were intended to be messages to the gods, so you'll be viewing them from the sky the way they were (hypothetically) intended to be seen.
The cost for the flights should run about $80-100 depending on the season and availability. There are many companies operating daily flights, not all of whom have stellar safety records, so it's definitely best to do a little research and find out which companies have a good reputation before choosing any random flight. If you are traveling with Peru Hop, you have the option to include a flight over the Nazca lines from a reputable airline in a bundle package with your bus passes. This is by far the easiest option. If you're traveling with a different bus company, we recommend AeroNazca, AeroParacas, or Movil Air as safe, cheap, and reliable options that you can book online.
Verdict
Whether you choose to see the Nazca lines by visiting the viewing tower or by paying for a flight will ultimately boil down to what your budget is and how much of the site you would like to see. Essentially, you get what you pay for. If you have a very limited budget and you don't mind seeing only a few of the figures, then the viewing tower is an option that works for many people. However, if you want to appreciate the Nazca lines in their full majesty, we would highly recommend that you set aside some extra money to take a flight, as the experience is (literally) above and beyond anything you could experience on the ground or in the viewing tower.
---
ENTERTAINMENT TIP: If looking for fun at night, or to watch sports during the day, or even a taste of home, visit the Wild Rover Hostels Chain for great food, sports and beer! Entrance to their bars is free even for non-guests
---
We hope that this blog has given you all you need to know to make your own visit to this wonderful ancient heritage site in southern Peru. If you have any other questions or comments, please let us know in the comments below.