Lake Titicaca Experience With Peru & Bolivia Hop
We would like to thank our guestblogger Travelling Strange for sharing her Lake Titicaca experience blog with us.
After arriving early in the morning from Cusco on a Bolivia Hop bus I was excited to explore Lake Titicaca and the famous islands. Although our bus was slightly delayed arriving into Puno I can't fault the Bolivia Hop team who ensured that I was still able to complete my 2D/1N exploration of the lake.
Similar to the sister company, Peru Hop, I have found Bolivia Hop a safe and affordable way to travel around South America. Not only this, they are a great way to meet fellow solo travelers and the English speaking guide support you in organising tours and booking accommodation. The link to the website is as follows:
1,056 out of 1,276 of Peru Hop's Tripadvisor reviews are 4 & 5 stars reviews!
They have a 96% overall Tripadvisor Rating & 2 consecutive Excellence Awards
With more than 52,000 happy customers in just over 3 years!
Back to the Lake! Firstly, I definitely underestimated the size of the lake. Yes, I was aware that it was the largest and deepest in South America but while out on a boat it was easy to think that you were in the middle of the ocean. It covers an area of 3200 square miles and is 120 miles long and 50 miles wide!
The tour consisted of numerous visits to different islands as well as a homestay. I was incredibly thankful that I had the time to complete the homestay and experience real life on the lake. I would recommend to anybody the option of an extended stay on the lake as it is peaceful and tranquil and quite the opposite to the narrow, busy streets of Puno.
Uros Islands (Floating Islands)
Perhaps the most famous of the Titicaca islands, the floating islands are habitable islands that have been created using totora reeds. They are known as the 'birthplace of the Sun' and are home to the Uros people.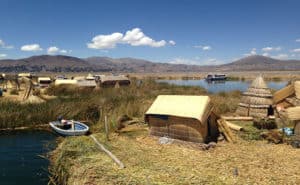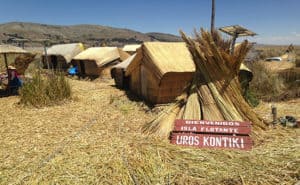 Soft underfoot and slightly unsteady, walking on the islands takes a little while to get used to. Before long however, you forget that you are standing on floating reeds and become immersed into the culture and the way of life. It is fascinating learning about their techniques for weaving, building and fishing in order to survive the simplest way of life.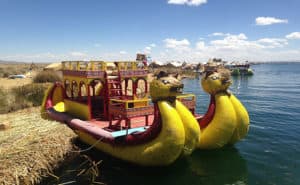 The people are proud to tell their story and demonstrate how the islands were created by attaching blocks of soil and totora reeds together using the roots. Once attached they would wait for the different roots to become integrated increasing the strength. Finally they would layer up more levels of totora reeds on top before building houses, also out of the reeds. Most importantly once completed they anchor Islands!
For information on booking a tour on Lake Titicaca, comparing operators and reviewing prices we recommend to use
FindLocalTrips.com
a comparison website for tours and activities across South America.
La Isla Amantani (Home stay)
I am incredibly thankful to Bolivia Hop that I had the opportunity to complete a homestay on the Lake. As a solo traveller I'm not particularly comfortable with the idea of using apps such as 'couch surfing' so this was a great way to experience first hand the culture but in a much safer environment.
When we arrived I was paired with a couple of Italian girls and introduced to Victoria our host for the night. Victoria was incredibly friendly and welcoming and invited us into her quaint little home.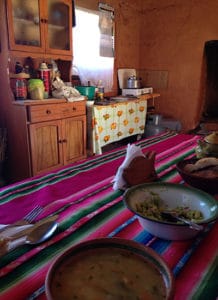 We spoke in Spanish over lunch and the views from her house were just incredible (see what I mean about it looking like the sea not a lake!)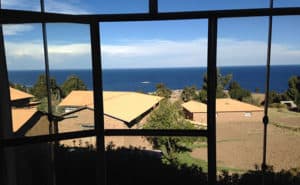 At 4pm we met up with the group to trek to the Pachamama temple to watch the sunset. Becoming more accustomed to hiking at altitude I was quicker than expected and had time to soak in the 360° views of the lake before the sunset. Although aware of other people around you, it was easy to find your own space to take in the peace and tranquility of the beautiful island.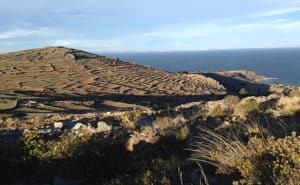 ---
ENTERTAINMENT TIP:
If looking for fun at night, or to watch sports during the day, or even a taste of home, visit the
Wild Rover Hostels
for great food, sports and beer! Entrance to their bars is free even for non-guests
---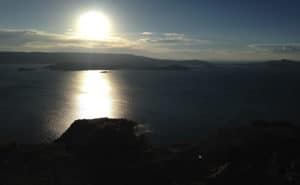 After dinner, we were invited to join in with a cultural evening of music and dance; this included wearing traditional clothes. It brought back memories of staying in Ecuador and it was interesting to see the similarities between cultures that are so very far apart.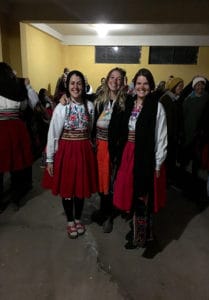 Taquile Islands
The next morning after breakfast we said goodbye to our families and we took the one hour boat ride to the Taquile Island.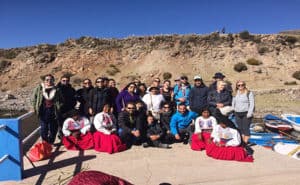 After a 45 minute uphill hike to the Plaza de Armas I spent some time people watching and observing the way of life. It was interesting to see that the men and women kept themselves separate with the women weaving while the men were playing games. The plaza de armas is the main square and a hub of activity with a handicraft/textile markets, small restaurants and town hall and a church.We learnt that every Sunday after the Catholic service there is a meeting which all attend to discuss potential issues for the week.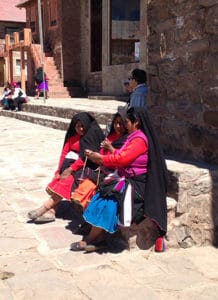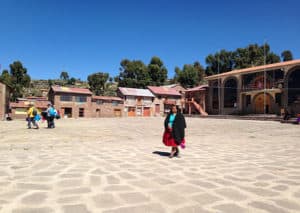 Following this weaved through a local market and headed to a local guesthouse to learn more about the production of textiles.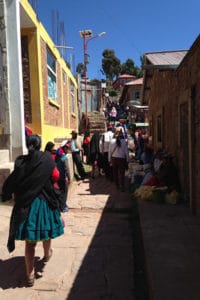 Although the processes were similar to those used within the sacred valley, here a different type of plant (churro) is used as a natural soap as it can be sourced on the island.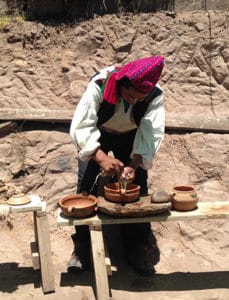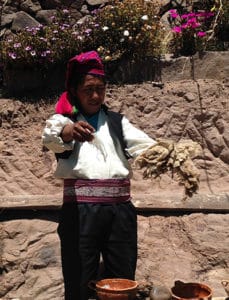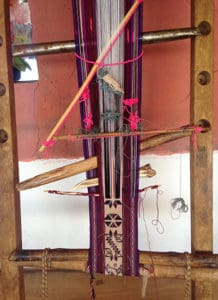 Lunch was a typical quinoa soup starter, followed by delicious rainbow trout with chips and rice (they love the double carbs here!)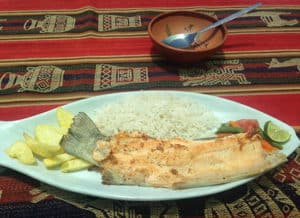 Walking back to the boat it was difficult to believe that we were still in Peru with the scenery giving off an almost Greek feel. It is crazy that out of the 103 ecosystems recognised in the world Peru has 84. It is only when you are here travelling from desert to mountain ranges to the tranquil lake that this figure begins to make sense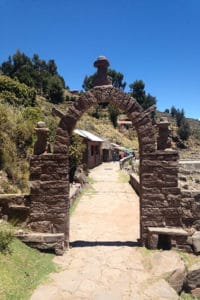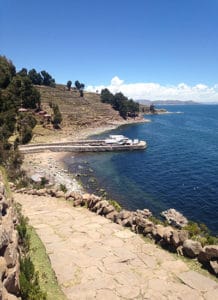 Although most people have a whistle stop tour of Puno and the Lake I am so glad that I took the time to slow down and appreciate the beauty a little longer.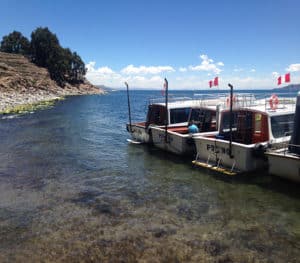 Author Bio:
Danni Strange – Travelling Strange Blog: A young blogger from the UK documenting her travels!
https://travellingstrange.wordpress.com/2017/10/10/lake-titicaca/
Contact Details: danni.strange@hotmail.com
---
To book a Tour in Peru we strongly recommend that you use
FindLocalTrips.com
a search and comparison website for tours across all of South America.