The Hotel Colonial in Trujillo, Peru
The historic center of Trujillo is all about colonial charm and republican-era elegance. It seems fitting, therefore, to stay in one of the city's many restored hotels, former casonas that now offer graceful rooms to moneyed tourists.
Moneyed? Aye, there's the rub…
Many of Trujillo's hotels, such as the Libertador, Torre Norte, Gran Bolivar and Los Conquistadores, have scary prices. They're the kind of hotels that advertise their rates in dollars rather than nuevos soles.
If, like me, you think S/.100 is pretty damn expensive for a single room (and US$100 is just plain crazy), then you might decide that a night of colonial comfort in Trujillo is not for you.
If that's the case, give Trujillo's Hotel Colonial a try. It's a welcoming place located just a block and a half from the Plaza de Armas, with an elegant interior and friendly staff. The rooms, meanwhile, offer that colonial feel without plundering your wealth in true colonial style.
A Walk Through Trujillo's Hotel Colonial
Behind its blocky but balconied facade, the Hotel Colonial spreads back into an impressive array of rooms, hallways, tasteful lounge areas and a grassy central square.
When you walk in, there's a good chance you'll see a bearded backpacker flicking through a book while a touristy couple talk tours with the staff from the Colonial's handy tour agency next door.
You'll also notice the Colonial's cafe-restaurant behind the reception area, a place that a) won't serve your free breakfast because breakfast isn't included at the Colonial and b) is kind of overpriced so you'd do better eating elsewhere.


The lack of breakfast is a downer, but there is free Wi-Fi throughout the building, all rooms have cable TV, a telephone, room service and hot and cold water. Fair enough.
Rooms and room locations are varied to say the least. If you're walking in without a reservation, it's worth having a look round before taking a room. A balcony and a street view may sound tempting, but it doesn't sound all that great during rush hour traffic.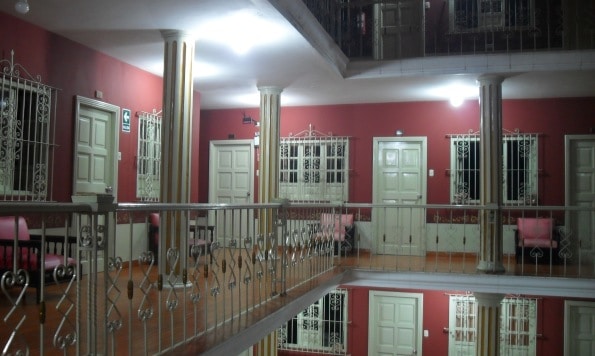 The photo above shows the three floors surrounding the grassy central courtyard inside the Colonial. These rooms are quite quiet because they are away from the busy street at the front of the building. You don't get views of Trujillo, but the courtyard and the general ambiance make up for that.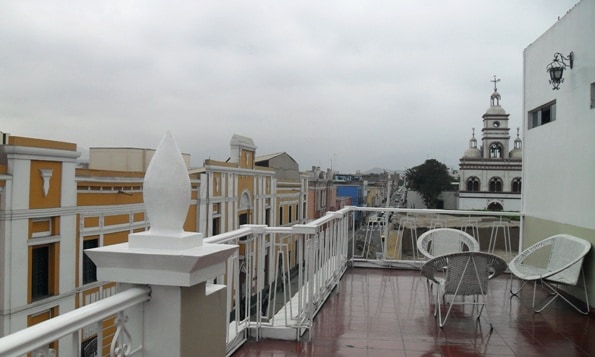 Above is a third-floor balcony area overlooking Jr. Independencia with the Santa Clara Convent in the background. Things look a lot perkier on a brighter day, but the traffic noise remains a problem.

Rooms throughout the Hotel Colonial are decorated in fairly uniform fashion, nothing too fancy, but you do get three-star comfort at very reasonable prices. Prices are as follows: S/.50 to S/.60 (US$18 to $22) for a single; S/.90 ($33) for a double or matrimonial; S/.120 for a triple ($43). Those are good rates for Trujillo's historic center, especially considering the lackluster accommodation options available to shoestring backpackers.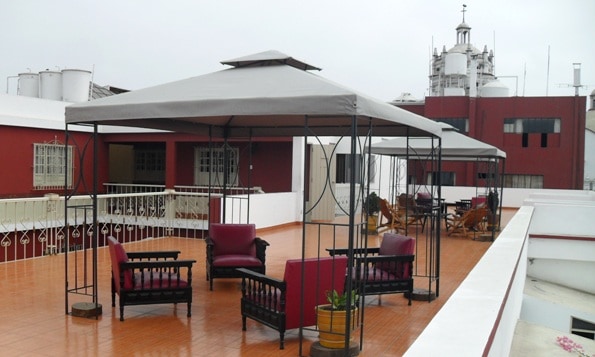 If you don't mind walking up four flights of stairs, consider a rooftop room. It's pretty nice up there, with good views, sweet seating and plenty of space for yoga (I mean beer, but I can't remember what the drinking rules are in the hotel, so I'll say yoga).
Quick Tip:
  If traveling to or from Lima Airport, it is strongly recommended to use the luxury
Airport Express Lima
bus to get to or from your hotel. Safer and cheaper than a taxi with no baggage limit as well as Free WiFi and USB chargers onboard, it is ideal for travelers.
Hotel Colonial Details:
Address: Jr. Independencia 618, Trujillo, La Libertad
Website: www.hostalcolonial.com.pe
Phone: (044) 258261 / (044) 223410
Email: hostcolonialtruji@hotmail.com