Hostels and Hotels in Iquitos
Accommodation is quite expensive in Iquitos, a city where prices tend to be higher than normal due to the isolated location and the fact that Iquitos, to a certain extent, is a bit of a tourist trap.
I spent about two weeks going from one hostel or hotel to the next, and I really struggled to find many cheaper options for backpackers. You will find a few reasonably affordable places below, but if you know of a good cheap hostel in Iquitos, please leave a comment below.
And by the way, some of the more expensive hotels listed here have swimming pools that can be infiltrated by non-residents, so don't skip over them entirely if you're looking for a place to swim.
All photos © Tony Dunnell.
Quick Tip:
  If travelling to or from Lima Airport, it is strongly recommended to use the luxury
Airport Express Lima
bus to get to or from your hotel. Safer and cheaper than a taxi with no baggage limit as well as Free Wi-Fi and USB chargers onboard, it is ideal for travellers.
Hostels in Iquitos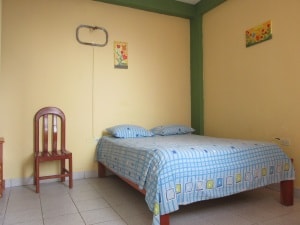 Hostal El Colibri — This is probably the best budget option I stayed at in Iquitos. For S/.50, you can get a private room with bathroom, which includes cable TV and decent Wi-Fi. The single rooms have reasonably large beds and a fair amount of character.
For S/.70, you can get a similar room with air conditioning. If you're traveling as a group, the triple room (S/.70 with fan or S/.90 with a/c)  is a good deal.
There's no dorm at El Colibri and breakfast is not included, but it's secure and the staff seems friendly enough. Good central location at Raymondi 200. El Colibri Facebook page.
__________________________________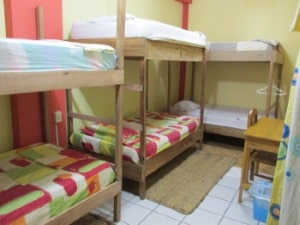 Green Track Hostel — Green Track is a comfortable, colorful hostel with a family atmosphere, but there are some quirks. The single rooms seem strangely unfinished (no sink or shelf in the bathroom) and there are some annoying additional charges (S/.2 for a towel).
A room with a bunk bed and fan is S/.70, while a matrimonial room (one large bed) with air con is S/.85 per night, which isn't too bad by Iquitos standards. But there are no locks on the doors. Seriously, you need your own padlock or you can buy one at the hostel for S/.10. To lock your own door? Bizarre.
Apart from these little oddities, it's a nice place with very friendly staff. I'd say the dorms (S/.25 or S/.30) are better value than the single rooms. It's not the most central option either, being about seven blocks from the square (Ricardo Palma 516 ). www.greentrack-jungle.com
__________________________________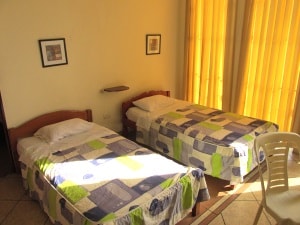 Hostal Terra Bella — A simple but central option with a lot of potential, Hostal Terra Bella is more of a midrange hotel than a hostel (I'm not sure how they make these classifications in Peru).
A single room will set you back S/.100 per night, but that includes breakfast, air conditioning, cable TV, fridge and good Wi-Fi (matrimonial S/.120; double S/.140). Some of the rooms lack character, so have a look at what's available before booking if possible. The location is excellent (Jr. Putumayo 442), just a block and a half from the Plaza de Armas. It's a no-frills option at present, but it's secure, the staff is professional, and the hotel is friendly and family-run. www.terrabellaperu.com
__________________________________
Recommended Hotels in Iquitos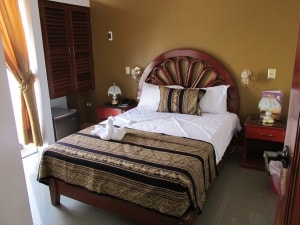 Emperador Terraza Hotel — The Emperador Terraza Hotel is probably one of the best deals in town. I stayed in the matrimonial room on the third floor (room 301), a beautiful room with a balcony and a small hot tub in the bathroom. Street noise was a real problem (not a problem in the interior rooms), but it was still a bargain at S/.140.
The service was impeccable, with an excellent balance of professionalism, local knowledge and friendliness. At just half a block from the Plaza de Armas (Fitzcarrald 191) and with rooms starting at S/.70, this place is well worth considering. emperadorterraza.com
__________________________________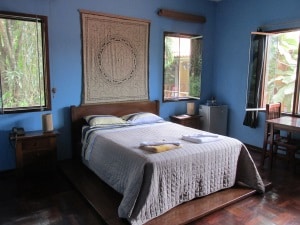 La Casa Fitzcarraldo — I love this place. Hell, it has its own three-floor treehouse, what's not to love? And Mick Jagger slept here. And there's a miniature leopard. And an awesome pool. Great food. Good people. OK, I'll write a separate article for La Casa Fitzcarraldo, it deserves one.
For now, know this: rooms range from S/.180 to S/.300; it's a short ride away from the center; you can visit (S/.8 entry) and use the pool even if you're not staying. Oh, and this is where the main cast and crew stayed during the production of the movie Fitzcarraldo. www.casafitzcarraldo.com
__________________________________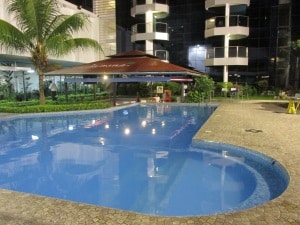 Samiria Jungle Hotel — The Samiria Jungle Hotel is one of the more expensive places in Iquitos, and definitely not a place aimed at backpackers. Standard rooms begin at S/.240, while the presidential suite will set you back a hefty S/.740. So even if it's your birthday and your grandmother has just given you $50, treating yourself to a room at the Samiria might still be a step too far. But if you want to read more, you can see my full review of the Samiria Jungle Hotel here.
In terms of pool infiltration, this place has definite potential. Anyone can use the pool as long as they "consume" something, so buy yourself an overpriced beer at the bar and make it last for an hour or so while you relax poolside with wealthy locals and prosperous tourists. www.samiriajunglehotel.com
More Potential Places to Stay in Iquitos
As mentioned earlier, I struggled to find many cheap places to stay in Iquitos that I could actually recommend. I did have a brief look at some other hostels, but without actually staying the night. Some of these might be good if you're on a tight budget:
---
ENTERTAINMENT TIP: If looking for fun at night, or to watch sports during the day, or even a taste of home, visit the Wild Rover Hostels Chain for great food, sports and beer! Entrance to their bars is free even for non-guests
---
Flying Dog (Malecón Tarapacá 592) — A great location on the boulevard with a spacious and colorful lobby. All the rooms were full so I didn't get to see any, but the vibe was positive (if perhaps a little backpacker-cliquey). Dorms for S/.25, single room with bath for S/.75. Could be good.
Mad Mick's Trading Post and Bunk House (Putumayo 163) — Perfectly located just off the Plaza de Armas, this second-floor dorm is nonetheless one of the cheapest options I saw. It's literally just one dorm with a handful of bunk beds, connected to a slightly cluttered travel agency office. It's all very basic, but the people there seemed friendly enough and you can get yourself a bed for just S/.15 a night.
Hobo Hideout (Putumayo 437) — This place is just across the road from Hostal Terra Bella, so I popped in for a quick look. At first, I stood alone in the reception area, wondering if it was actually a hostel or just someone's house. Then an old lady made her way down the stairs, and promptly started showing me around with great gusto. She was great, and the hostel looked OK too, albeit a bit dated. It could be worth a try.
La Casa de Samantha (Nauta 787) — I went to this place to visit some friends I met on the boat from Iquitos. They stayed at La Casa de Samantha for over a week, during which time I heard tales of dirty bedding, kitchen cockroaches and theft. Despite sounding like an absolute hell-hole, they seemed to kind of like it. It was cheap, at least.
______________________________________
Upon picking your preferred hotel in Iquitos you may want to sample the other areas. We also suggest taking a trip to Pacaya Samiria National Reserve or the Amazon Jungle to maximise your time in Iquitos.
If you have any other hostels or hotels in Iquitos to recommend — or any remarks about the places mentioned above — please leave a comment below. All opinions are more than welcome.
Full disclosure: I was given free accommodation at some of the above hotels in Iquitos. In no way did the complimentary service influence my final opinion.