With its incredible mix of Spanish colonial architecture, vibrant culinary and arts scenes, and a spectacular scenic coastline, Lima is a can't-miss destination in South America. And to truly discover the history and culture of the city, you'll have join the Free Lima Walking Tour!
---
Summary of the tours
All tours are FREE and last around 3 hours of walking led by a local and friendly guide, teaching you about the spots that make up the amazing districts of Lima.
Tours available (EVERY DAY):
Historic Center of Lima Tour, Miraflores Tour, Barranco Tour, and Central Market & China Market Tour.
Starting point:
All tours start from both Tourist Information Centers in Miraflores (Av. Jose Larco 799 / Kennedy Park)
Starting times (meet 5 minutes before start):
Historic Center of Lima Tour: 10:30 AM
Miraflores Tour: 3:30 PM
Barranco Tour: 5:00 PM
Mercado Central & Chinatown Tour: 9:30 AM
Instagram page:
For more details on each tour keep reading below!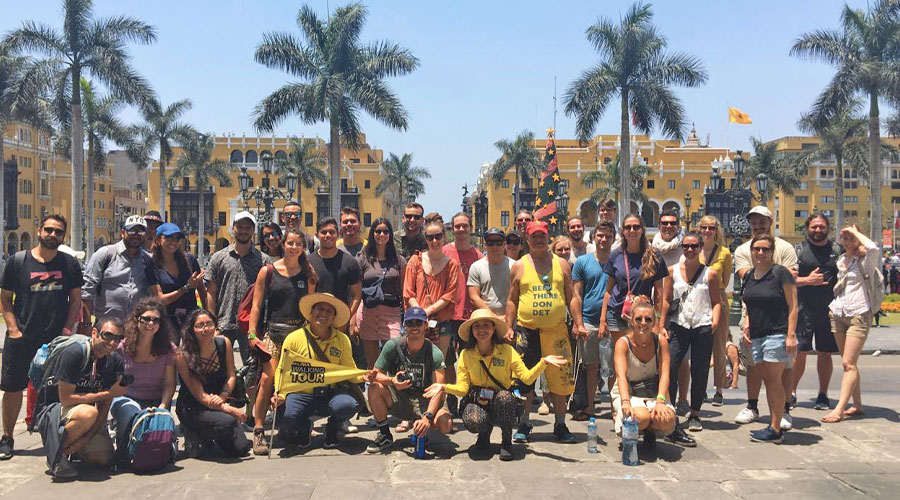 Historic Center of Lima Walking Tour
The most historically rich district of them all! The Center of Lima is home to many important landmarks and buildings that have made the city what it is now. Here's a quick peak of some of the spots you'll discover on this tour:
What you need to know
Departure: 10:30 AM
Meet at any of the official Tourist Information Centers in Miraflores 5 minutes before departure
You'll take the Metropolitano bus with the group for a truly local experience (take necessary cash 3.20 soles – one way)
San Martin Square
Built in the early 20th century, the square gets it name from the South American liberator Jose de San Martin who's statue sits at the middle. You will learn a little about Jose de San Martin and the history of popular gatherings in the square.
You'll also noticed a great amount of bars and restaurants around the square which is good to take note for another night!
Jirón de la Unión
For many years Jirón de la Unión was the most important road in the city. Characterized by being the most aristocratic and where the most famous inhabitants were meeting, it's now a popular street to walk through. Now it serves more as a commercial street but the history still remains.
Plaza de Armas (Main Square)
Lima's most important square. You'll get to enjoy the beautiful plaza and get views of the Government Palace. The main cathedral is also located in the square which adds to its charm.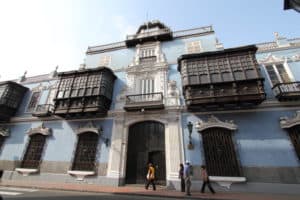 The House of Peruvian Literature
Located in a former train station, The House of Peruvian Literature is one-part museum, one-part library. The perfect place to learn about some of Peru's famed writers and of Peruvian literature.
Basilica and Convent of San Francisco
It is one of the most extensive religious complexes in Lima. It was built in the second half of the 16th century (1535), of Baroque and Mudejar styles. This particular style has Arab influence and the use of bricks as the main material.
Parque de la Muralla (The Wall Park)
The last stop at the remains of the historic wall. Built in the 17th century, it now stands at an area with a perfect view of the neighboring district, Rimac.
---
The tour group returns to Miraflores at around 2:30 PM, unless you decide to stay to continue exploring. To find out more about these sites listed above, you'll definitely join the classic Lima Free Walking Tour. Don't miss out!
Miraflores Walking Tour
The tourist hotspot of Lima known for its beautiful coast. For many travelers, Miraflores is the district where they'll likely be staying in. But not many get to discover all of its charm and history when here. Join the tour and see why it's such a great district!
What you need to know
Departure: 3:30 PM
Meet at any of the official Tourist Information Centers in Miraflores 5 minutes before departure
You'll get to know where the best bars, restaurants, and shops are located
Parque Kennedy
Kennedy Park is one of the principal touristic spots in Miraflores. Many locals go to relax and walk around the area that boasts a variety of restaurants, bars, and cafes. Curiously enough, it's also known as "The Cat Park" since it's home of approximately 100 well-kept cats, which you can see sleeping around the park.
Parroquia Virgen Milagrosa
The structure built by the Polish architect Ricardo de Java Malachowski after his arrival in Peru in 1919 is a beautiful design. Inside the church, we find stained glass decorations based on the life of Jesus Christ and the Virgin Mary.
Inca Market
The market is made up of a series of small shops that sell 'traditional' Peruvian handicrafts and souvenirs. These included alpaca colorful woven textiles, embroidered cushions, ceramics, jewelry, and musical instruments.
With low prices, it is a great place to visit if you want to buy some souvenirs of your trip. Spend a little time shopping around for the best deal and then ask for a discount.
Pasaje San Ramón
Pasaje San Ramón, traditionally called Calle de las Pizzas, is a pedestrian street located in near Kennedy Park. At night, this passage becomes a nightlife center with its many pubs and bars. The corner of Avenida Diagonal with Calle Berlín marks the end point of this pedestrian path and the busiest area of the avenue.
Choco Museo
Hear all there is to know about the Peruvian cocoa and see the process of making chocolate, from the cacao tree all of the ways to the wrapping of the delicious treat. Tourists can take the opportunity to taste chocolates, chocolate jams, Peruvian pisco, and cocoa tea.
The whole group enjoys the cacao tour and trying all of the different flavors. You have option to buy some of the products like chocolates, body lotions, lipsticks, candles, and cocoa beans.
Parque del Amor (Love Park)
Miraflores' most beautiful park. In the middle, you can see a beautiful sculpture dedicated to love, "The Kiss" which was created by the Peruvian artist, Victor Delfin. The park is bordered by a colorful mosaic wall containing romantic phrases from the best known Peruvian poets.
Larcomar
This shopping center has 115 stores,17 restaurants of all flavors, and if you're looking for fun it has a cinema, bars, clubs, and plenty others. It's the most famous commercial center in Miraflores.
---
Chances are pretty high that if you're staying in Lima, you will be staying in Miraflores. The Free Lima Walking Tour of Miraflores is a great way for you to get to know the area that you are staying in!
Barranco Walking Tour
Barranco is famously known as the Bohemian District and it's easy to see why! Art flows through its streets, as can be seen in murals and events that take place constantly. Join the tour and enjoy the creative scenes that Barranco offers.
What you need to know
Departure: 5:00 PM
Meet at any of the official Tourist Information Centers in Miraflores 5 minutes before departure
The group takes a local bus "La Chama" to Barranco (take necessary cash 1.80 soles – one way)
Artwork Stair
Here, you can find murals of many different artists. A place where artists of all disciplines and backgrounds have gone to nurture their creative inspiration. Lately, Barranco's streets have become something of a canvas, as the local government continues to allow more murals to be painted on the streets' walls, Barranco is morphing into a colorful and lively street art gallery.
Bajada de los Baños
The Bajada de los Baños is considered a Colonial and Republican Real Estate Cultural Heritage. Formerly it was a small ravine that crossed the Bridge of Sighs, currently it is a road but it continues to cross the famous Bridge of Sighs. Its name, Bajada de Baños, is due to the path that leads to the sea and in ancient times to the Baños de Barranco.
Casa de los Suspiros – Jade Rivera Paintings
A good place full of good taste and avant-garde that brings together an interesting variety of crafts and art of all kinds.
Puente de los Suspiros
In the heart of Barranco is the Puente de los Suspiros, a traditional wooden bridge wrapped in an air of romanticism, for having been the site that began countless love relationships in Lima.
Balance del Equilibrio – Achorada place
Equilibrio is balance, and in this part of Barranco the cultural reality of Peru is shown, under the bridge we find a mural called "the mural of the races", since Peru is a multicultural country.
The Barranco Fair
The Barranco Independent Fair is an initiative of independent creatives and merchants from Lima located in the district of Barranco. The Fair supports and promotes local artists, entrepreneurs and SMEs.
Sanchez Carrion Boulevard
A street with a long tradition that housed different families, today converted into a boulevard, it joins Bolognesi Avenue with Grau and the Municipal Park. Ideal for night owls who like fun as it is a meeting place for all people from Barranco on weekends. Pubs, clubs and clubs are waiting for you.
Main Square of Barranco
Barranco is a district that has a strong entertainment offer. This district of Lima with old mansions, cheerful people and lively nights is known as "the artists' neighborhood". It was founded in 1874 and borders the Miraflores neighborhood. In the Plaza de Armas is the National Library and there you can get maps of the area with tourist information on bars, restaurants, shops and hotels.
---
The Free Lima Walking Tour will return to Miraflores at around 8:00 PM, unless you decide to stay in Barranco to continue exploring. Make sure to include this tour during your stay in Lima!