Peruvian customs regulations are fairly reasonable. Unless, of course, you want to enter the country with two Chihuahuas (one is fine) and a scandalous bottle of non-Peruvian pisco…
Firstly a quick tip: If travelling to or from the airport to Miraflores Lima. There is now a direct bus link between the two with the new official Airport Express Lima. Free wifi, usb charging ports, no baggage restrictions and a cheap price make this a really good option for travellers.
HOW TO PERU TRAVEL TIP
: Save money and stay safe when going to/from Lima Airport by using the Official Bus service inside the Airport called
Airport Express Lima
Did you know: Peru Hop was setup by 2 Irish guys in 2013 and has been voted #1 Travel Company in Peru for 2023 – Click here for more info!
The Peruvian Baggage Declaration Form
When you enter Peru, you'll have to fill out a baggage declaration form before you pass through customs control. The English version looks like this: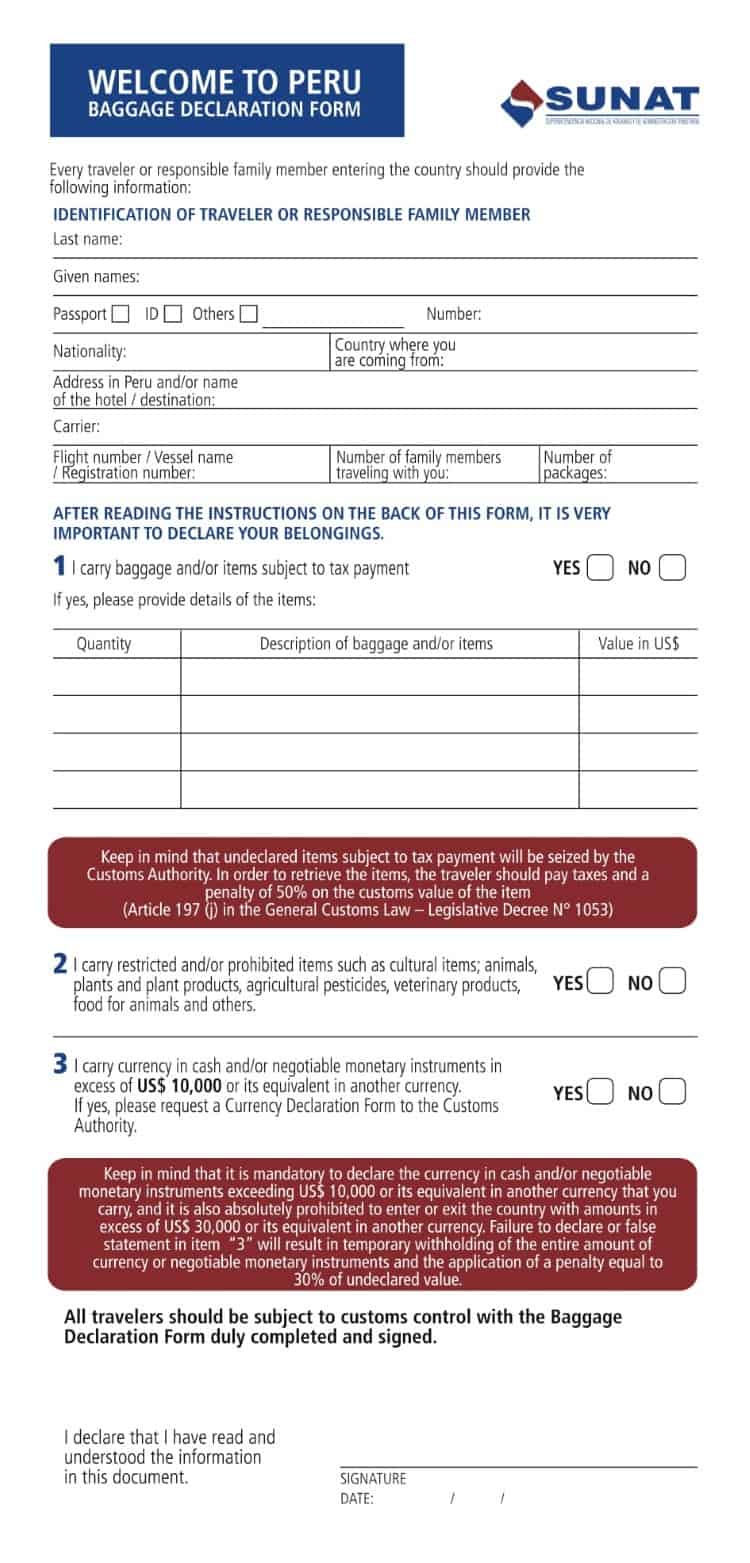 You can print out Spanish and English versions of the form from the SUNAT website.
The first section — identifying yourself — should be easy to complete, unless you drink too much on the plane and forget who you are. Try not to do that.
Sections 1, 2 and 3 are where you must declare certain belongings: anything you are carrying in your bags or on your person that might be subject to a tax payment, or that's on the list of restricted or prohibited items.
We'll deal with all of these below.
What You Can Take into Peru Without Paying Customs Duties
Travelers can enter Peru carrying all of the following items (for personal use) without any additional tax payments:
clothing and accessories
toiletries
medicines
one unit or one set of sporting goods
books, magazines and printed documents
two "portable electric appliances for hair"
one shaver or electric hair removal device
one portable musical instrument
one radio or one "recording sound player" or one set containing both, provided it is portable, non-professional and has its own power source [I guess that means you can bring in a small portable CD player or small stereo system, battery powered]
up to 20 CDs
two photo cameras
one video camera, provided it is portable, non-professional and has its own energy source
one portable DVD player
two external hard drives for a PC; four memory cards for a digital camera, video camera and/or videogame, only if you carry them; four USB pen drives; 10 cassettes for a portable video camera; and 10 digital disks for video or videogame
one portable electronic video game for home use
one portable electronic agenda or electronic tablet
one portable computer with its own energy source
two mobile phones (cell phones)
one portable electronic calculator
cigarettes and liquor: "Travelers over 18 years old are allowed to enter up to 20 cigarettes packages or 50 cigars or 250 grams of chopped tobacco or tobacco fiber and up to 3 liters of liquor" [I guess that means you can take 20 packs of cigarettes, each containing 20 cigarettes]
one live domestic animal as a pet, which should be previously subject to compliance with sanitary regulations
disabled or ill travelers can freely carry any equipment necessary for their medical control and mobilization
items for use or consumption by the traveler or to be given as gifts, as long as they are not intended to be used for commercial purposes, and as long as their total value does not exceed US$500.
Anything not on the list, or in quantities greater than noted on the list (the second Chihuahua, for example), should be declared and is subject to "a fee of 12% on customs value."
If you choose not to declare something (we've all done that, right? Even if it was by accident…) and the customs official finds it, then they can seize the item. To get it back, you'll have to pay the taxes and a 50% penalty on the customs value of the item.
Looking to travel Peru? Now is the perfect time to start planning your trip to Peru! And it seems like for many, the perfect start to their trip is one of the Day Trips from Lima operated by Peru Hop!
Restricted and/or Prohibited Items
Peruvian customs regulations consider all of the following to be restricted items (this is not a complete list):
cultural items
animals/wildlife
plants and plant products
agricultural pesticides
veterinary products
food for animals
weapons and ammunitions
In order to enter Peru with restricted products, travelers must first be granted authorization from the appropriate authority. Entering Peru with unauthorized restricted items can lead to fines and/or criminal prosecution.
Peruvian customs regulations are a little odd when it comes to prohibited items, which aren't nearly as state-threatening as you might imagine. They include:
"used clothing and footwear not considered as part of the traveler's baggage"
used spare parts
beverages manufactured abroad which are named "Pisco"
Any of these will be seized and not returned. If you are caught smuggling non-Peruvian pisco brandy, you shall be stripped naked, flogged and publicly humiliated on Lima's Plaza de Armas (maybe).
Bringing Large Amounts of Cash into Peru
You must also declare if you are carrying cash in any currency that exceeds US$10,000. It is also "absolutely prohibited to enter or exit the country with amounts in excess of US$30,000 or its equivalent in another currency."
If you are carrying in excess of $30,000 and need to exit Peru, I'll happily help you spend it before you leave. I know some great bars in Lima.