It's the last day of the month, so it's time to catch up with the best Peru-related articles published in September 2011. Read about trekking in the Cordillera Huayhuash, the Mistura gastronomic festival, the trials of ordering Pardo's Chicken and more…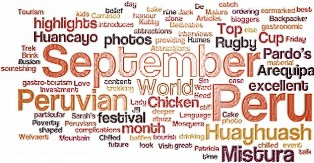 Peru Articles, September 2011
Let Them Eat Cake: Mistura and Poverty in Peru: Peru was abuzz with talk of the Mistura festival in September. Not content with a photo post alone, Camden Luxford (The Brink of Something Else) delves deeper with an excellent examination of the event, its spoof counterpart (Misiura) and Peruvian gastro-tourism.
Peru Dedicates $142.5 Million in Investment to its Top 9 Attractions (2 Parts): The Peru for Less blog highlights nine Peruvian tourist attractions earmarked for future investment.
Arequipa: A photographic tour of the "White City" by Ward Welvaert and Patricia Carrasco (Life in Peru).
Why Would I Cancel My Order?: Language difficulties cause complications when Xavier Humes (Sin Polaris) and his wife phone for Pardo's Chicken…
________________________________________
That's it for this month. Thanks to all the bloggers above for providing plenty of great reading material (and photos) during September. In case you want something else to do, I leave you with a trippy illusion (just because I can…).